How to embed a video file in a Word document

This article explains how to embed a video file as an object in a Microsoft word document which can be send as an attachment in Email in a secured email server.


How to attach a file in word document

When you send a video file as an attachment in a secure network like a company environment it will be blocked by the Email server as it might harm the computer. But some time when we need to send a video in the secured Email server and it is possible using a small trick.

Attach the video files in a word document and then attach the word document in Email and send the document. Many of the servers will not read the attached embedded file.

In Microsoft word there is an option to include any files as an object in the word document. Open a word document in which you want to attach the video files. You can attach multiple files in a document.
Once the word document is opened select Insert tab and you can see the Object button. Check the below image





Click the dropdown box of the object button and select Object… option to open the Object dialog box. Check the below image





Once the object dialogs is opened select the Create from file tab and click the browse button to select the required video file to attach as an object in word document. Click the OK button to embed the selected file in word document. Check the below image.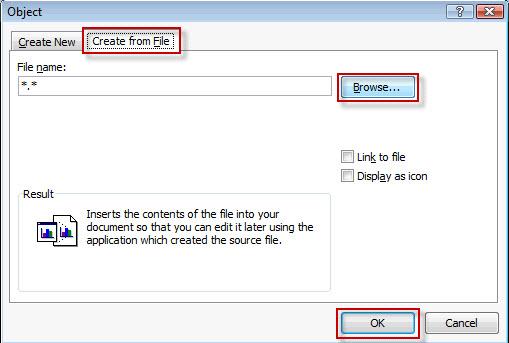 Once the file is added to the word document it will be show as a icon with file name like the below image





Now you can attach the word document as an attachment in Email instead of the video file. Now it is safe to send the word document.
In order to download the embedded attachment from the document, select the embedded object and right click the mouse button and click copy and again right click at the folder which you want to paste the object will download the attached video from the word document. Check the below image