How to clear recent browser history from Firefox

In this resource, I would like to introduce the steps for clearing the recent browsing history from Firefox which would make your public browsing safe and secure.


Many of us at times browse internet from a public cafe or a public computers. This makes us a bit worried at times when we need to access our bank accounts and similar secure stuff from such places. There are also times when we click on remember password option when prompted for and later repent on it thinking our mail account would be public. There are also situations when we return home without logging off our account on the public computer or we might just close the session without logging off properly and all our mails would be accessible by the next person sitting on the computer.

To avoid all such situations it is always a good practice to clear the recent browsing history from the browser before we leave the place.

In this resource I would like to introduce the steps for clearing the recent browsing history from Firefox browser.

1) Open Firefox browser.




2) Go to tools option on the menu bar as shown in the image below and click on "Clear Recent History"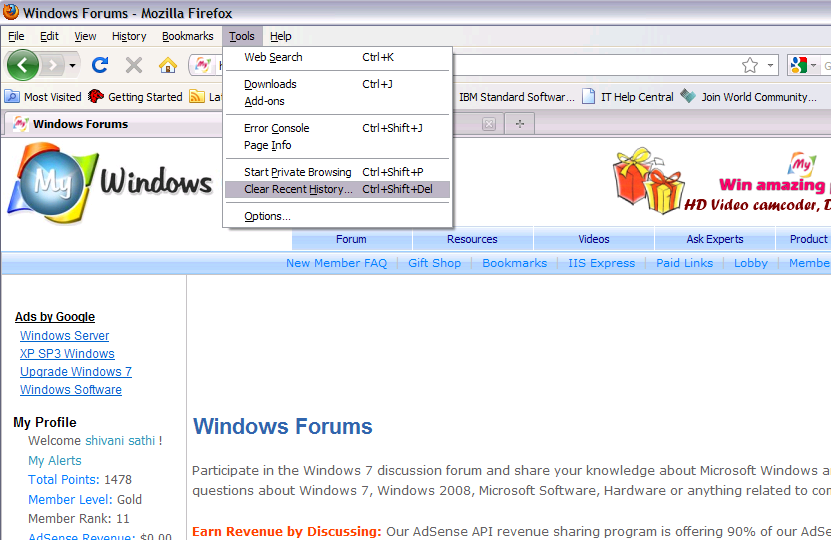 3) Once you click on that, you will be presented with a small box as shown below. This can also be initiated just by clicking ctrl+shift+del after opening the Firefox browser thus avoiding to navigate through tool bar.




4) There are 6 options to be checked/unchecked based on our requirement.

The different options present delete the information as described below:

Browsing and Download History: This consists of all the websites that we have visited and the list of all the files or attachments that we have downloaded during our session.

Form and search history : This consists of all the details that we enter while our registration at sites or while filling some online forms and all the searches that we have performed via google.

Cookies : These are nothing but the traces of websites that are saved to the hard disk as and when we visit the website to facilitate of using them when we visit the same websites in future.

Cache : The cache of Firefox consists of the website URLs that we visited, images we viewed and other stuff that we viewed online.

Active logins : Sometimes we tend to check the option where we want an account to be active for few days without our knowledge or tend to close a session without logging off from a particular site. These are known as active logins and as soon as we type the website URL , for example gmail.com we find that we are logged in to our account.

Site Preferences : The settings that we apply to few sites are stored here.

Now, as we know what options means what we can check all the options that we want to delete and click on clear now. We also have the option of selecting the time range for which we want to delete all the stuff that we have checked.


Alternate method for maintaining privacy and security at public places

Sometimes there are also chances that we even forget to clear the recent history and leave the place due to some or the other urgent situations. To avoid such situations also we have a solution with Firefox.

1) Open Firefox browser.

2) Click on Tools option on the menu bar.

3) Click on options on the Tools menu.

4) A window opens up as shown below in which you have the choice for selecting the option "Never remember history" which should be selected.




This can also be termed as Private browsing where you need not worry about your privacy being stolen after you leave the system.