How to include Indian Rupee symbol font in MS Word applications

This article explains how to include Indian Rupee symbol in MS Word applications.


Indian government has selected a new symbol for the Indian rupee in July,2010. The symbol is derived from Devanagari "र" (Ra) and looks like the Roman "R" without the stem. Here are the steps to use the new Indian Rupee Symbol as a font in the MS word applications in your Windows 7 computer.


Download the attached font 'Rupee.ttf' which is attached with this resource. Just click on "Attachments' link of this resource.
You will see the 'Indian Rupee font symbol' under the list of attachments. Click on that link and save the font in your Windows computer as shown below
Now right click on the font saved, and click on "Install" as shown below. The font is installed automatically in your Windows 7 Computer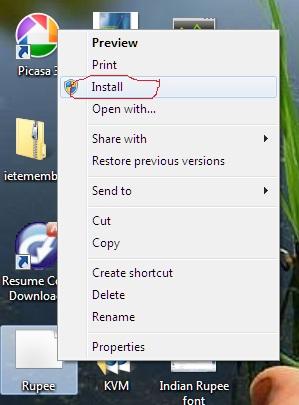 Open any Microsoft Office application (For E.g., Microsoft Office Word). Select the font type as Rupee or Rupee Foradian.
Now click on `(Grave accent) symbol. This key is just above "tab" button in your keyboard.
You can see the new Rupee symbol in your office application.