Audacity Audio Editor Review

Audio editors are often needed in ones life for many various reasons to normal people. People need it to make ringtones out of proper song, professionals need it to make good music, so if you need it in your life get a hold of Audacity then!





Audacity has long been hailed as one of the best audio editors in the world being an open source software it draws more support from normal users. Audacity has the most basic user interface. Audacity allows the user to edit, trim, crop, cut, paste and so much more to the user to edit the song as you wish. Audacity was founded by a college student who now works for Google but still maintains Audacity.

Audacity is a very powerful audio editor, it can make the audio files smaller in size if the user wants by just reducing the quality of the audio. It can remove unwanted noise from the audio for fine refinement of the audio. Audacity can also be used in your language by just downloading a ZIP file which has all the worlds top languages. Audacity won the SourceForge.net 2007 Community Choice Award for Best Project for Multimedia for being the 6th ,most popular tool with 63 million downloads!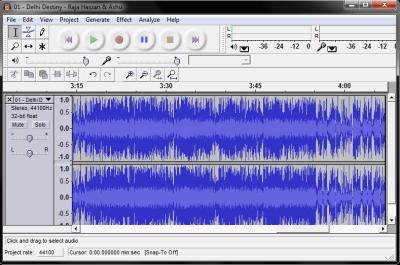 Features of Audacity
Importing and exporting WAV, AIFF, MP3 (via the LAME encoder, downloaded separately), WMA, AAC, AMR and AC3

Recording and playing audio

Editing via Cut, Copy, Trim, Crop and Paste

Multitrack mixing

A large array of digital effects and plug-ins

Amplitude envelope editing

Noise removal

Support for multi-channel modes with sampling rates up to 96 kHz with 32 bits per sample

The ability to make precise adjustments to the audio's speed while maintaining pitch, in order to synchronize it with video, run for the right length of time, etc.

The ability to change the audio's pitch without changing the speed

Contains major features of modern multi-track audio software including navigation controls

Huge support for various OS like the Windows, Mac OS X, and Linux