Best Free Antivirus for Windows 7

Read about the best and free Antivirus software available for Windows 7. Learn how to protect from Virus attacks.


Choosing an antivirus is a personal decision, based on personal tastes. Be sure to read the recommendations listed at the bottom of the page to complete protection of your computer.


AntiVir Personal Edition

Good antivirus and compatible with Windows 98, Me, 2000, XP, Vista and Seven (32 bits & 64 bits) as well as Linux, FreeBSD and Solaris. Free for private use, monitoring of Internet downloads, identification and repair of viruses in macros and housed on the boot sector of hard disk, customizable scans and automatic updates of virus definitions. It also includes a detector rootkit and anti-spyware. It has the advantage of being very light and have a detection rate of recent threats high.However, in free version, an ad appears with daily updates.


Avast Home

Regarding Avast HOME version 5.0, there is no need to register to receive updates. Simply register for the installation of Avast, then repeat the recording directly through the program via the icon in the lower left of the taskbar.

For users of Avast 4.8: If you have a valid license key yet, installing Avast 5.0 does in no way requires the uninstallation of version 4.8 (the installation procedure will overwrite the Avast 5.0 4.8 directly) and the date of registration is renewed automatically after installation.


NOTE

Registration is rather for people continuing to operate under Avast 4.8 , or with no internet connection, the procedure for registration is possible from another computer and the license key (received in the mail box) may be incorporated directly program. Below is the link to register Avast:

Registration Link: http://www.avast.com/fr-fr/registration-free-antivirus.php

Regarding the manual updates, it will fetch the file on the site of Avast, through this link:

Link updated manual: http://www.avast.com/fr-fr/download-update


AVG

It allows updating of its scheduled and manual database (updated regularly). It enables complete analysis and customized network (as long as it has mounted the hard drives as network drives).


Microsoft Security Essentials

Microsoft Security Essentials provides a real-time protection to defend your computer from viruses, spyware and other malware. This result is promising, but output only since late 2009.

Microsoft Security Essentials is available for free download from Microsoft. It is a simple component to install, easy to use and always current so you have the guarantee that your PC is protected by the latest technology. You can easily tell if your PC is secure when the light is green, all is well. It's as simple as that.

Microsoft Security Essentials operates efficiently and quietly in the background to let you free to use your Windows PC as you want: no interruptions or long waiting times.


Comodo Internet Security

Developed by a world leading security providers, Comodo AntiVirus uses multiple technologies (including scans emails and blocking worms and malware). It covers you against the 360 degree internal and external threats by combining a firewall with an advanced intrusion prevention. The new interface makes it easy to search and allows you to quickly access all important parameters. The proposed software is a version of "freeware" compatible with Windows Vista and XP.


Panda Cloud

Panda Antivirus Cloud serves as antivirus, antispyware (spyware) and antirootkits.

His major argument is simple to use and especially it's antiviral database which is updated second by second. The installation of Panda Antivirus Cloud requires prior registration on the website of the publisher. Further improvements have been made to this new version including bug fixes.


Moon Secure Antivirus

Moon Secure Antivirus is antivirus open source (and therefore can be legally used as a professional) with a monitoring module in real time.



It is based on the renowned (and open source) ClamAV, which it provides real-time detection of more than 270,000 virus signatures, but compared to the number of previous anti-virus signatures is much lower. This automatically checks for virus updates virus database every hour.


Rising antivirus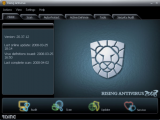 RISING Antivirus protects your computers against all types of viruses, Trojans, worms, rootkits and other malware. Easy to use Active Defense technology used by RISING Antivirus will keep your computer away from these malicious software. It performs a complete scan of your PC and scans all the threats faced. It also performs access control of all applications, detects suspicious behaviour and hidden processes that run without your knowledge. This antivirus software is offered free, it works with all versions of Windows.

Namely: the free version has all the features of the paid version, except the firewall!


FortiClient (TM) Endpoint Security Suite

Their site http://www.forticlient.com/standard.html

This is a free suite developed by the company Fortinet English
It contains a firewall, antivirus, antispyware, rootkit essentially a brief on.
Now for the effectiveness of the future we should benefit test


Compatibility and memory required for proper operation:

- Windows 2000: 128 MB
- Windows XP 32-bit and 64-bit: 256 MB
- Windows Server 2003 32-bit and 64-bit: 384 MB
- Windows Server 2008 32-bit and 64-bit: 512 MB
- Windows Vista 32-bit and 64-bit: 512 MB
- Windows 7 32-bit and 64-bit: 512 MB


Clamwin

ClamWin Antivirus is a free open source.It provides a graphical interface to the Clam AntiVirus engine. The ClamWin Free Antivirus includes a system for simple installation and open source code for free.

It has features like:
Analyses virus programmable.Automatic update of the database definition virus. ClamAV team updates daily virus database and almost immediately after the release of a new virus or a new variant of an existing virus.Virus detector independently.Integration via the context menu to Microsoft Windows Explorer.
Plugin for Microsoft Outlook.

Please note that ClamWin does not include real-time scanner, that is, you must manually scan a file to detect a virus. The extension for Microsoft Outlook, however, delete an infected attachment automatically.

This virus does not yet sufficient knowledge base to be used alone, especially since it has no real-time protection as has already been said.


Recommendations

Remember an antivirus alone is not enough to protect your computer fully! It is important to have an antivirus and a firewall. Windows includes a default firewall. If you want a more comprehensive firewall (but also more complicated to use), you may go for third party software.