How to earn from X (formerly Twitter) as publisher

Are you on X (formerly Twitter) and looking for the best options to earn a decent income from the microblogging website? Twitter offers you several options to help you monetize your current content. You can make a significant income with high-value content.


With millions of users, X (formerly Twitter) is a huge platform for sharing micro-content and letting you monetize it. X has several users who have been making a lot of money on the platform. Let us find a few top-end ways to make a decent income on X or Twitter.


Opr for Premium membership and earn Revenue

X, after being taken over by Musk, has added several new features. You can opt for X premium membership, and check if you are eligible for the revenue-sharing option on the microblogging platform.

The revenue sharing program on X is specifically rolled out for the Content creators among the X premium members. You can go with X premium membership at Rs. 900 per month, and get access to revenue sharing from the ads displayed in the replies to their content. There are several Indian content creators who have reported that they have earned the amount to the tune of Rs 3 Lakhs.

You need to have at least 500 followers and 15 million organic impressions on your posts in the last three months.
If you are a small content creator, you can benefit from the X monetisation option. The best part of the X monetisation program lies in the fact that it works with both text and video content. That would mean as long as your followers keep engaging with you, there is no dearth of the possibility of earning.


Other Best ways to make money on X (or Twitter)

There are multiple ways to make money on Twitter. Here are a few ways that you would find quite exciting in letting you monetise your content.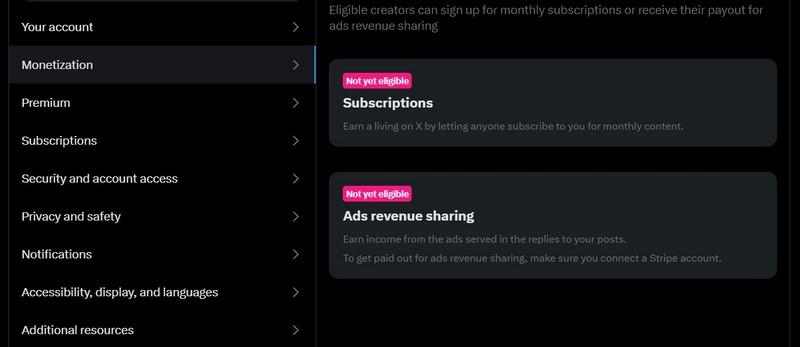 1. Accept Tips

One of the best ways to earn money on X is to accept tips. If your visitors find your content helpful, encourage them to provide you with tips. You can let your visitors send you tips through Bandcamp, Cash App, GoFundMe, Patreon, and Venmo.

The feature may or may not be available in every region. Check if your region supports it.


2. Setup subscriptions

X lets you get the content subscribed if you have subscribers willing to pay. You will need to satisfy a few conditions to be eligible for the subscriptions and subscribed content. You should have a minimum of 500 subscribers and be active on X for at least 30 days.

You can create subscriber-only tweets and other content. You can specify the specific pricing for your content. The account owner also needs to be at least 18 years of age.


3. Use Affiliate products

Yet another great way to earn money on X is to promote the affiliate products on the platform. In fact, it is the most convenient way to make money on Twitter. It is quite easy and simple to create affiliate posts. You do not need to have a huge knowledge of marketing to earn money on Twitter.

You do not need to have many subscribers to earn money through affiliate marketing. Amazon Affiliates should be one of the best options to help you earn good affiliate money. You can even focus on a specific niche to avail the benefits.


4. Sell your own products and services

If you are providing some sort of services and products, X is the right platform - just like every other social media platform to earn money. You can promote your brand or services through Twitter and enjoy good traction for your products.

Create enticing tweets and sell your services and products. The best part is that it does not need you to pay any money.


5. Promote your exclusive content

There are several platforms that offer you the option to create exclusive content. The platforms include Patreon, Substack, and Rumble. These platforms come with the possibility of providing your content to paying subscribers.

Once you have published content on these platforms, you can promote your content through tweets. Make sure that you have provided the correct link in your tweets. It may also be a good idea to pin your profile on these platforms in your X profile.


6. Post Sponsored Tweets

You can tie up with brands and post sponsored tweets. You can charge the businesses a specific fee based on your own popularity. Once you have developed a decent following, you can find several sponsors vying for your content.

You will need to post about their products and services. You can charge them based on the number of followers you have, the level of engagement you show, and a few other essential factors. You can earn anywhere between $10 to $10000 for a single sponsored tweet.


7. Buy Twitter Ads

At times, you may need to spend a small amount to be able to earn money. You can buy Twitter Ads for monetising your content and video. You can check the Creator Studio on Twitter and find the best options available for monetising your posts on X.


8. Grow your email list

Twitter or X is the best way to help you grow your email marketing business. The huge user base the platform enjoys is what would help you in your email marketing quite efficiently. Make use of the X platform to help grow your email list.

You can provide information on the services you offer and make people subscribe to your business - whether it is a website or any other forum. It can be one of the excellent choices for promoting your brand or service or even to help promote traffic to your website.


9. Run Twitter contests and giveaways

Running contests and giveaways can be one of the best options to help you earn a decent income on Twitter (or X). While it may appear to be counterintuitive, it can help you earn more engagement with your brand or service. Even when you may be spending some money on prizes and giveaways, you will find the returns a great option.


10. Use ticketed spaces

Ticketed Spaces is yet another feature that lets you earn some decent income. It is a free built-in feature that enables you to earn enough money through your events. This feature is a part of the monetisation program on Twitter called Twitter Spaces (now called Spaces).

If you have more than 1,000 active subscribers and run a specific number of Spaces every month, you can choose to run the ticketed spaces in one or two of your live programs. You will, however, need to apply for this monetisation feature. If approved, you can earn a good passive income.


In Conclusion

Twitter is an excellent microblogging site that has created a good name for itself. The vast user base that was only limited to celebrities when it just began has now grown to include everyone who wants to join it. Now called X, it does let you monetise your content and thus provides you with a great way to help you monetise your tweets or posts.
We assume a few of the options that we have outlined in the above discussion should provide you with a great way to help you earn a good and decent passive income. Even when it may not help you with direct income, you can stand a chance to earn better traffic to your business or website and thus let you enhance your business as a publisher.