Noise cancellation headphones that audiophiles use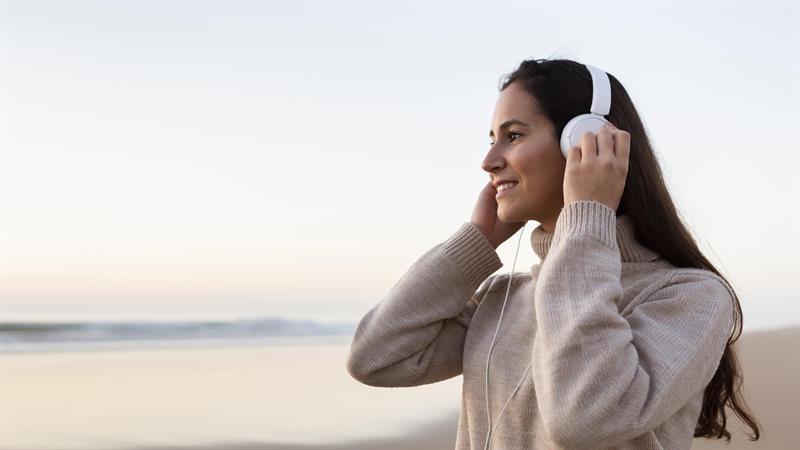 If you are a frequent traveler or music buff who desires that nothing sort of disturbance comes between you and your favorite track. Noise-cancelation headphone is a must for you. We have listed some of the best ANC headphones in this article for you.


Noise-canceling headphones are a must-have if you are a frequent traveler or like to listen to music without any outside disturbances. With this prominent noise-canceling feature on the latest headphones, audiophiles can enjoy uninterrupted music by blocking all the disruptions around them. Its main feature is to cancel all kinds of noise by using microphones before they reach your ears. So, an immersive experience is something we all look for while listening to our favorite tunes in our personal space. A good quality noise-canceling headphone not only makes things quieter but is also easy and comfortable to wear for long hours. It is important to make the right choice if you are an audiophile who wants an acoustic experience while listening to soulful music. You not only need help with clarity with sub-standard headphones but it also invades your private space with unwanted interruptions. You will find the ANC feature with both over-ear and earbuds design.

These noise-canceling headphones have taken over the market with all the best benefits. What becomes more difficult is choosing the right noise-cancellation earphones from a large range available that fits into your budget. While making the right choice a lot depends on the features and style apart from your budget. We have mentioned some of the best and budget-friendly headphones in this article for you. Let's have a look:


1. Bose QuietComfort 35 II/QC35 II Wireless

This wireless over-the-ear headphone from Bose offers a very comfortable fit, versatility, and wireless convenience. Due to their long battery life and outstanding noise isolation performance, they are perfect for long days on the go. Once the battery runs out, an additional 2.5 hours can be gained with a quick 15-minute charge. They can accommodate a wide variety of audio content due to their neutral sound profile. They are equipped with Bose AR, which promises to deliver a more immersive acoustic experience. Thousands of songs, playlists, and more can be accessed instantly with Google Assistant and Amazon Alexa built-in. You can ask anything you like with your voice assistant. With such good features, Bose QuietComfort 35 II is the perfect wireless headphone for you.


2. Sony WH 1000XM5

The fifth generation of WH-1000X features a more comfortable design, improved sound quality, and USB-C charging. The design of the latest WH 1000XM5 is also different from the previous models. The smooth matte finish made with high-quality plastic gives it a decent and attractive look. There is so much similarity between the latest and the previous models including a battery life of up to 30 hours. You can get 3 hours of battery life with just a 3-minute charge. The headphone is powered by both Sony's QN 1 and V1 chips giving it a dual processor instead of a single one of the XM4. It is also equipped with Bluetooth 5.2 and supports SBC, AAC, and LDAC codecs. Another improvement, you will find is the call quality which is undoubtedly better than XM4. It's really impressive how well they can handle noisy environments when it comes to calling. All and all it's a good pick.


3. JBL Tune 660NC

JBL Tune 660NC can be another best bet when choosing the right Noise-Cancelation headphone from a broad range. Despite the lack of a companion app, the JBL 660NC does everything that it is meant to. A Bluetooth 5.0 connection makes the Tune 660NC compatible with almost any device. Also, a Bluetooth multipoint connection enables you to connect the JBL headphone with two devices simultaneously. This earcup headphone has five physical buttons on its right side. It takes some time to become familiar with them but once you get used to it, adjusting playback will be more simpler. Using this feature you can rapidly switch between watching video and answering a call on two separate devices. Wired listening is also possible thanks to its 3.5mm jack cable. This pair of on-ear headphones are also more battery efficient offering a 44-hour battery life with active noise cancelation. All in all it's a good choice for casual music listening.


4. Focal Bathys Wireless

If you are ready to pay some extra bucks, Focal Bathys Wireless may be one of the best choices available for you. This first pair of noise-canceling headphones by Focal is good for travel and commuting. Along with good noise isolation performance, they are also very comfortable to wear. As far as the battery life is concerned, it lasts up to around 31 hours with ANC turned on. They sound right at home thanks to Bluetooth 5.1 which includes codecs for SBC, AAC, aptX, and aptX adaptive. You will need to use either the 3.5mm jack on the bottom of the right earcup or a USB-C cable to listen to them with the highest constancy.


5. Bose Noise-Canceling Headphone 700

This is one of the best noise-canceling headphones ever released by Bose. A sleek new design along with much-improved sound quality, noise-canceling headphones 700 stand out among its competitors. Their noise cancelation is superior to those of their competitors, also they can be adjusted more thoroughly in comparison to their rivals. With their lightweight design and easy-to-use control, these Bose over-the-ear headphones are easy to wear for long hours. However, the battery life can be on the downside as claimed by Bose that it lasts for around 20 hours under standardized conditions. Bluetooth 5.0 is used to pair the Bose NCH 700 with your Android or iPhone and only SBC and AAC codecs are supported by it. Also, if you prefer wired listening you can use the 2.5 to 3.5mm aux cable. As long as the sound is concerned, even in the absence of aptX the sound feels good. Even it's better than Bose QC 35 II to some extent.


How to choose noise cancelation headphones?

It is important to weigh several options while choosing the right Noise cancelation headphones. The best noise-canceling headphones combine comfort, feature, battery life, and audio quality. Your individual needs and preferences will dictate how you weigh the advantages of each category. If possible, you should have a trial of the ANC headphone, you want to buy to make sure they work as you expected them to. Decide the budget you want to spend and try out all the features if you want to make the best use of your headset. The battery is also a major factor to consider when choosing the ANC headphone because high power is required for the audio processor.


Bottom Line

So, we have narrowed down some of the best ANC headphones for you. Even though they are often expensive, you don't have to spend a fortune on them. It is possible to find a pair of headphones that are decent and reasonably priced that will allow you to focus. You will definitely find a perfect set that matches your needs after a bit of homework like reading several reviews and all.