Easy Android phone settings to make them friendly for senior citizens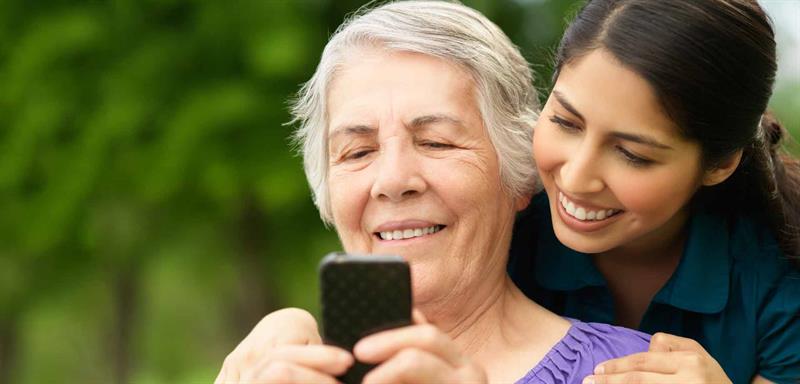 Many Android devices offer advanced features that may be confusing to seniors who are just trying to make phone calls and send text messages. Do your parents or grandparents also have trouble understanding their Android phones? Let's make things easier for them with these simple Android settings and launchers.


The use of smartphones can be pretty challenging at times for those new to them, especially the elderly. It can get quite confusing due to many settings and features that aren't used. The most 'basic' smartphone usage patterns are often found among senior citizens. You can help senior citizens who use Android phones by setting the following five settings:


Enlarge the Font Size on the Phone

It isn't fair to seniors to strain their eyes when reading from their smartphones. Therefore, the first thing you need to do is increase the font size. There are a few basic steps that need to be taken to accomplish this. Some of the settings may differ based on the brand of phone they have, but generally, they should follow these steps. Go to Settings > Display > System Font > Text Size. Once you have established what is most comfortable for an elderly person using the phone, you may be able to adjust the text size.


Do Not Use Gesture Navigation

Even though gesture navigation is a great feature, it can be quite difficult for the elderly. The navigation system should be returned to the classic three-button design to make it more user-friendly. The triangle back button, the round home button, and the square overview button are the three buttons. The three-button system can be enabled by following these steps: System > Gestures > System navigation.


Delete or Uninstall the Unwanted Apps

Senior citizens especially aren't likely to need many of the apps that come with Android phones. In addition to creating confusion, unnecessary apps can also consume extra storage space. Many of these apps are bloatware, so deleting them might take a few extra steps depending on your smartphone.


Increase the Size of the Keyboard

There is an option to make the keyboard bigger and broader on Android phones. The option is available, however, depending on the smartphone you're using. The Users of Gboard enjoy multiple options for changing the keyboard's height. Gboard is often preloaded on Android phones.


Make Use of Android Launchers

A great feature of Android phones is their level of customization. Android launchers are very useful for decluttering your home screen or customizing them. You should choose launchers with an easy-to-use interface, where icons are large and text is large enough. The Simple Launcher, Big Launcher, and Help Launcher are a few of the launchers that are ideal for senior citizens. You can easily download all of these from the Google Play Store.

This app re-styles a theme by adding large icons and text, usually in a minimalist layout of six icons. If you download these apps or launchers, it will transform your phone into a user-friendly interface that is specifically designed for those who have difficulty using smartphones. Your smartphone can get a completely new look with the help of these launchers. There are large colorful buttons to help those with shaky hands. The most frequently called contacts are available at a single touch. You don't have to worry about making calls, sending texts, or receiving them. Here are some of the easy and best Android launchers for seniors:


BaldPhone



With the BaldPhone platform, you can replace the phone's interface with one that's larger, simpler, and more friendly. BaldPhone is designed for elderly users, people with motoric or vision handicaps, and anyone who has difficulty using a smartphone daily. BaldPhone is free and open source. There are no ads and no charges. It is purely a goodwill product made to help the community.

BaldPhone's interface is large, simple, and accessible for seniors and the elderly. This application includes a launcher, alarms, pills reminder, dialers, contacts, photos and videos, a notification area, and more. Seniors and the elderly can customize BaldPhone according to their specific needs.




Senior Safety Phone



Because of its classic design, the Senior Safety Phone is a popular Android launcher for elders. The most common shortcuts at the bottom of the screen, such as phone, SMS, and all apps, make it easy to navigate. Additionally, there are icons for alarms and emergency calls on the rest of the screen. Easily accessible Settings can be locked down to prevent accidental changes to settings and volume levels. The Senior Safety Phone launcher also has additional features such as making emergency calls and an easy-to-use alarm. You will, however, have to deal with ads almost everywhere on the free version.




Senior Home Screen



The app is specifically designed to help senior citizens use their smartphones. Usually, they only need a couple of apps, and this app does just that. There are three apps configured by default, but you can change them to whatever you need. It is ideal for someone already familiar with smartphones to handle the setup.




Square Home



Square Home is not designed with elderly phone users in mind. Its simple launcher nevertheless makes a good option for those who want a Windows-style home screen. Grandparents and parents can easily distinguish and launch apps with colorful square tiles. It is possible to place as many tiles as you want and customize them according to their priority. Furthermore, Square Home offers a wide range of widgets, including its own. The home screen can be customized with everything from music controls to WhatsApp shortcuts. You can lock the arrangement to prevent the user from accidentally changing it. Square Home offers a wide range of personalization options. Users can edit the look of the app to match their preferences, and tiles and apps can be sorted based on how often they are used. Additionally, each tile can display the number of notifications pending from an app. The free version of Square Home has the most features, but the paid version has a few more.




ICare Launcher



The ICare Launcher application was developed by an independent programmer with the intent of facilitating the use of mobile devices by the elderly from the beginning. This has been achieved through the development of three different functionalities within the launcher:



An SOS screen where two emergency contacts can be saved so that the user can call them with just one click, or send them a predefined message.


Users can save information regarding their health for emergencies, or any other relevant information.


A specially designed alarm screen for the elderly to remind them to take their medication.





Help Launcher



This app is designed to make it easier for the elderly, blind, or visually impaired people, etc., to use their smartphones. Simple menus that are accessible to everyone, bold, identifying colors, large icons, and the perfect font size for perfect display on any device. With Help Launcher, you won't lose track of any app. Additionally, you will be able to access apps like Whatsapp®, Telegram®, Skype®, etc. directly from the "Messaging" menu. All the features of high-performance devices are combined with the simplicity of a basic telephone in this launcher. Due to its different colors, the user can easily associate the symbol with the button. Consequently, understanding a text becomes less important, making the device more intuitive to use.




Simple Mode



Simple Mode is another app that attempts to simplify using the Android smartphone. You'll be able to see information and apps in large, semi-transparent blocks, just like the other launchers on this list. Text is easily viewable and read with this theme, which matches any background you choose. The home screen displays the time and date in a large font, with easy-to-read text underneath. On your smartphone, you will find a list of other apps with an uninstall button on the right. Your favorite contacts and other apps can be added to the other screens. If your grandparent uses a more basic phone, Simple Mode's launcher is perfect for them. It is only 2MB in size.
Bottom Line

These third-party Android launchers make it easier for older users to navigate through their smartphones. Icons and text are displayed in large sizes for easier viewing and accessibility. Android launchers like these are great for older users who need access to the phone's apps such as text messages, phone calls, and the camera. Additionally, they are helpful for people who have eye problems or other vision issues. It's no longer necessary to worry about pocket dials or accidentally opening the wrong app when you want to do something simple on your phone. Check out these launchers with your parents or grandparents to see how easy they are to use.