Top Cell Phone Spy Apps in the market
The Internet was a game-changing invention for the globe. It allows individuals to have infinite access to information and pleasure. Everything, however, has two sides. People use the Internet and cellphones to engage in hazardous or even unlawful activities.

As a result, mobile phone tracking applications are becoming increasingly popular. They're useful for keeping your children, spouse, or close pals in check by monitoring their activities.




mSpy is an iPhone/Android phone tracking and monitoring application. It runs in the background without causing the target device to become aware of its presence. It monitors text messages, phone calls, GPS, WhatsApp, and other activities without draining the battery. You may also control applications and programs from afar.

Tracks on call logs, location, emails, SMS, WhatsApp, and other features stand out. It also informs customers on how to use the dashboard and protects smartphones from theft.

One of the app's advantages is that it works on both iPhone and Android smartphones. Before you install mSpy, you may try it for free for seven days. The subscription options, however, are somewhat costly. Rooting an Android handset is required to monitor and install messaging applications. Furthermore, mSpy only supports a limited set of functionalities on Android devices.


Spyera

Spyera is an excellent option for keeping tabs on someone's phone. You may use the software to intercept live conversations, record live calls, and use a camera to monitor your goals. You may also record calls made over other social media platforms such as Skype, Viber, Facebook, WhatsApp, and Hangouts.

Spyera offers two different programs. For three months, you'll pay $59.00 per month for the premium plan and $189.00 for the premium plus plan.

It's worth noting that Spyera may track your whereabouts in real time. This program also allows you to access call logs, WhatsApp messages, and social media-related information.

Spyera's password Grabber tool lets you crack the target phone's password. The control panel will provide you with notifications and alarms. However, there is no live customer assistance available, and Spyera is rather expensive.


FlexiSPY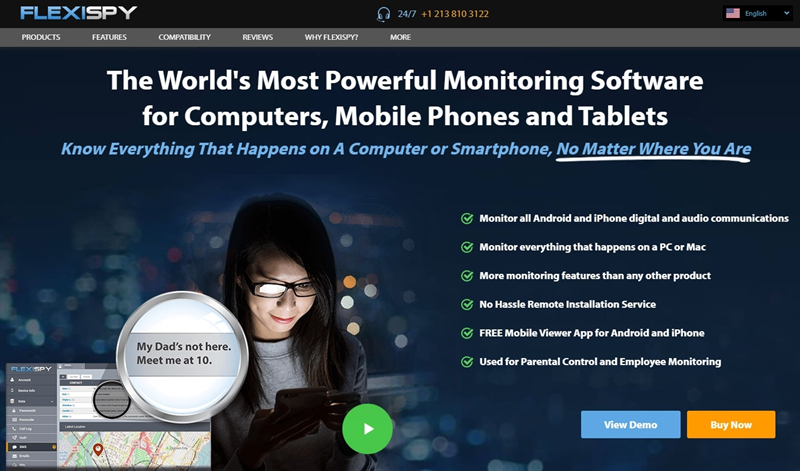 FlexiSPY is an excellent monitoring program that is compatible with both Android and iOS devices. The program allows parents to keep track on their children's phone activity, including SMS, calls, and WhatsApp chats. With GPS location and a free mobile reviewer app, you can spy on two phones at the same time.

FlexiSPY monitoring app has a number of functions, including access to the phone camera and keylogging. It also allows you to easily check your instant messages, is compatible with Android, and requires no jailbreak for iPhone.

It also gives you access to the target device's contacts and messages. You can also collect screenshots of calls and texts from anywhere. Unknown numbers, on the other hand, cannot be blocked remotely.


Qustodio

Qustodio is billed as a simple and effective parental control app. It is an excellent program for keeping track of your children's phone activity. The app works on any form of mobile device as well as a computer.

Qustodio aids in tracking multiple mobile phones and accessing different accounts, which is one of their outstanding advantages. You may also obtain precise information about your calls and texts. Furthermore, users may set a timetable or a daily restriction on how much Internet usage they are allowed.

Qustudio is well-known for its user-friendly interface and account options. It also allows you to control several users. However, Qustodio is a costly program that just monitors Facebook for social media monitoring. For me, one of the deal breakers is that the VPN bypasses the web filter on desktop browsers.


MobiStealth

Viewing text messages, tracking location, emails, photographs, keylogging, Gmail logging, and recording conversations are just a few of the surveillance options offered by MobiStealth.

Furthermore, it just takes three minutes to set up using three easy steps: join up, connect to your target device, and begin monitoring.

In addition, the website has a help area and a live chat option for any questions. They also provide a 30-day money-back guarantee if their goods do not meet the needs of clients.

The app has a SIM change notification function that alerts you when the object's SIM is changed or removed. MobiStealth also allows you to capture the surroundings of your phone. It has PC and smartphone monitoring capabilities.

It also offers a substantial amount of functions at a reasonable price. Android phones now include advanced capabilities such as Facebook Messenger, WhatsApp, Snapchat, and keylogger tracking.

However, it is vital to note that this surveillance tool does not allow for contact or website restriction, and there are no keyword alert features.


Conclusion

All of the applications listed above are excellent and operate on both iOS and Android smartphones. Consider their features, weigh the benefits and drawbacks carefully, and choose the best software for your requirements.