How to extract columns from multiple sheets and merge in new sheet in Excel?

Do you ever wonder how to merge multiple Excel files into a new worksheet? Using Excel Column Extractor, you can extract data from multiple Excel files at once and merge them into a single Excel workbook. Read on to learn more about this useful tool.


Did you ever think about how to extract and merge column data from multiple Excel files for free? Many Excel files you encounter every day contain the same type of data, such as name, email, address, etc., but they are in different columns. Is it possible to extract the same type of column data from multiple spreadsheets and then merge it into one Excel worksheet when doing data aggregation or merging? Here comes the Excel Column Extractor.


What is Excel Column Extractor?

This app will help you if you work with Excel for your job or at home for a variety of reasons. Enter the name of a column or columns into Excel Column Extractor, and it will create a new worksheet with those columns. This is a great time saver. Depending on the job requirement, Excel Column Extractor can set the column headers to be extracted as well as the row number where the column headers are located (usually the first row). Furthermore, it's capable of extracting all the data from all the files added and merging it into one spreadsheet. The program will combine the columns instantly if you leave the column headers blank.

It will be an excellent addition to the tool bag of any Excel user who needs to extract specific data from one worksheet and compile it on another worksheet regularly. The software supports several languages like English, French, Greek, Polish, German, Dutch, Korean, Italian, Norwegian, Japanese, Russian, Chinese, Spanish, Portuguese, and Swedish.


Excel Column Extractor Features:
The columns in multiple Excel worksheets can be extracted and merged into one


Combine the contents of multiple Excel tables into a single document


Merge the contents of multiple Excel tables into a single document


Set the headers of the columns in the rows


Extraction order can be adjusted


XLSX, XLS, CSV, ODS, XML, and more table formats supported


It does not require Microsoft Office or Excel to function


Multilingual
What is the best way to extract columns from different Excel files and merge them into one spreadsheet?

You will find two Excel files below: 1.xlsx and 2. xlsx. You will need to extract "Contact E-mail", "Contact City", and "Contact Country" from those two Excel files and combine them into one.



1. Add Excel Files to the File List
Simply drag and drop two Excel files onto the Excel Column Extractor file list, or click the "Add" button and select them.

2. Enter the Column Headers
Select the column headers you wish to extract from the "Column Headers to Extract" list. You need to type "Contact E-mail", "Contact City" and "Contact Country".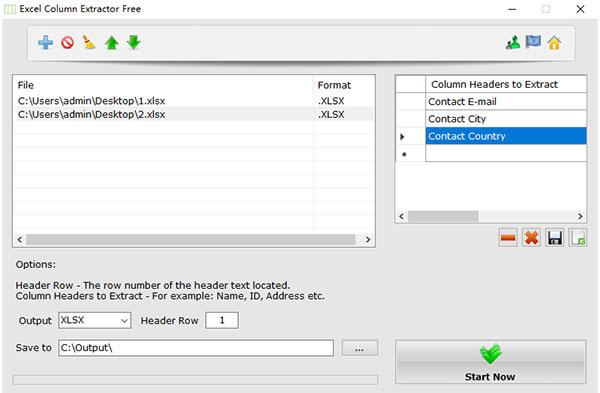 3. Start Extracting Data
The "Start Now" button will take you to the start page. In the new worksheet below, you can see the merged and extracted data.

Final Words
All in all, the Excel Column Extractor is an excellent tool for any user who regularly utilizes Excel and needs specific data extraction and the compilation from a primary worksheet. Since it was designed for online exporting columns from Excel files, downloading or installing any software is not needed.