5 Best Keyboard Testers Available Online (Absolutely Free)

Is your keyboard giving you issues and do you want to verify that the issue is with your keyboard only and not something else? Know how keyboard testers can help you and which are the best rated keyboard testers in the market.


A keyboard tester is a perfect tool to help you find out if your keyboard has any issues. Since the keyboard is an essential part of the computer system, it must work perfectly since a problem with even a single key can be very annoying. The keyboard tester can lend a helping hand in understanding any of the issues you may be facing with your keyboard.

From this perspective, let us explore a few best keyboard testers available online for absolutely free.


1. IObit

IOBit is a popular and one of the prominent online keyboard testing tools that provide you access to an excellent set of diagnostic tools. The convenient testing features make it a tool that you can trust. The keyboard tester comes with a simple interface. When you press the keys on your physical keyboard, the corresponding keys on the virtual keyboard on the screen light up. You can even press multiple keys together.


It is a very easy-to-use tool that is entirely free. You have no ads or pop-ups or any other hindrances whatsoever affecting you. The tool is safe and secure. It does not keep a record or history of your testing, and whatever you test is between you and your computer.


2. Keyboardtester.io

Available on the web for free, the Keyboardtester.io is a fantastic keyboard testing tool. It can be used to test a large number of keyboard types that include gaming keyboards, laptop keyboards, and even PC keyboards. It is completely safe and secure and can work with any device that you can think of.


The keyboard tester is quite responsive and does not save any of your information or your test history. The simple and fast operation offered by the keyboard tester can be quite an asset if you are looking to test your keyboard and you are in a hurry.


3. Keyboard Checker

The next tool in our list is Keyboard Checker. It provides you with a very decent keyboard testing utility. Being a web-based tool, it can help you test any of your keyboards without hassles of any nature. It can work seamlessly across multiple varieties of keyboards that include wireless, Apple, gaming, and many others.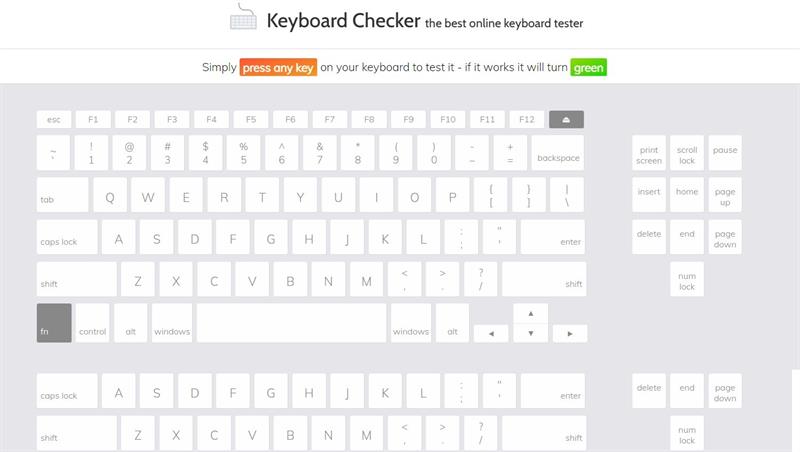 The way the keyboard tester works is similar to most other online keyboard testers that we have discussed here. You have a virtual keyboard on your screen, and it displays and records all the keypresses on your physical keyboard. That way, you can quickly check whether your keyboard is working as it should. The tester also provides information on the keys that you have pressed and the ones that you can press.


4. Online Mic Test

The Online Mic Test is yet another worthy option to help you test your keyboards with ease and a few simple steps. Being a web-based tool, it does not need you to install any application on your device. That means you can instantly begin testing any keyboard without having to wait for any software download or installation.


It has been regarded as the best option to test your keyboard effectively and quickly enough. It features a virtual keyboard on your screen, and you will be able to test your keyboard by pressing the keys and checking the corresponding keys on your screen. The best part is that the online tool provides you with plenty of troubleshooters to help you fix a few issues with your keyboard.


5. Key Test

Key Test is the last, but not the least keyboard tester in our list of the best online keyboard testers. The larger virtual keyboard on the screen offers you a very easy-to-use interface for testing your keyboard more effectively. The keyboard tester is effective and efficient in testing almost all the keys on your keyboard.


The tool is completely safer and secure. All the data that you enter on the tester tool is encrypted, and your privacy is protected. The tool does not have any unwanted ads or harmful links. The keyboard tester can also help you understand a few specific problems and helps you address them with ease.


The Parting Thoughts

Given the fact that the keyboard is one of the most essential parts of a computer system, it is very much essential to analyze and fix any of the issues that your keyboard may have. Since the functionality of the keyboard single-handedly affects the performance of your work, it is quite essential to check the issues that you may be facing with the keyboard.

Check out each of the keyboard testers outlined here and find which among them appeals to your individual preferences. Share your input with us.


FAQs

1. How can I test if my keyboard is working?
The simple option is to open a Word Processor software such as Google Docs, Microsoft Word, or any other similar software. Press the keys on the keyboard and check if the keys are working fine. However, to get a more insightful analysis of the keyboard and its functioning, you can use a capable online keyboard tester.

2. What are the common issues that can affect the keyboard?
In most cases, it is the hardware issue that affects the keyboard. In almost every scenario, it is always necessary to change the keyboard when it malfunctions.

3. What are the most used keys on a keyboard?
The most used key on a keyboard is the spacebar. The next key is Backspace.