Top 13 Best AI Image Generators To Create Art From Text

In this article, we take a lot of the best AI Image generator tools that can create art from just text. Know the pros and cons of each of these tools and select the one that suits your needs.


AI image prompt generators are taking the internet by storm. A picture does speak a thousand words but now with one word, you can create a thousand images. Yes, anyone can now create text prompt AI-generated images by using a plethora of websites and software available online. Long gone are the days when you had to plan and create an art piece from scratch. Now, you just have to think of what you want and with one click you can receive an AI prompt image.


Part 1. What is an A.I. text-to-image Generator?

A program that you can use to create realistic graphics from texts is the AI image generator. A classification algorithm trained on a sizable collection of photos and the captions that go with them forms the basis of this tool.

AI picture producers are used for various things, including developing ideas for creative endeavors, visualising your thoughts, investigating abstract approaches or circumstances, or just having fun with the AI. You can also use the Discord AI drawing bot to get the images generated.

Nowadays, creators are facing the issue of being unable to create accurate prompts but do not worry, as we are here to help you!


Part 2. How do I create accurate and detailed prompts quickly?



With the creation of specific prompts, text-to-image conversion is made simple and cost-free!

The best free extension for an AI art generator is AI Art Prompt Lucky Dice.

AI Art Challenge Using the online application Lucky Dice, you may produce specific and thorough text-based suggestions for AI art generators. Click the lucky dice to create text without spending any money. You can keep clicking the lucky dice until you're pleased with the formed versions! Mostly this free plugin is for text-to-image generators to maximize the use of your limited AI art generator online credits.


How to create prompts using AI Art Prompt Lucky Dice

Step 1. Click on the Lucky dice to get started.
Step 2. Continue clicking until you find the result you want.
Step 3. Choose the version you like the best.


Part 3. Top 10 AI Image Generators review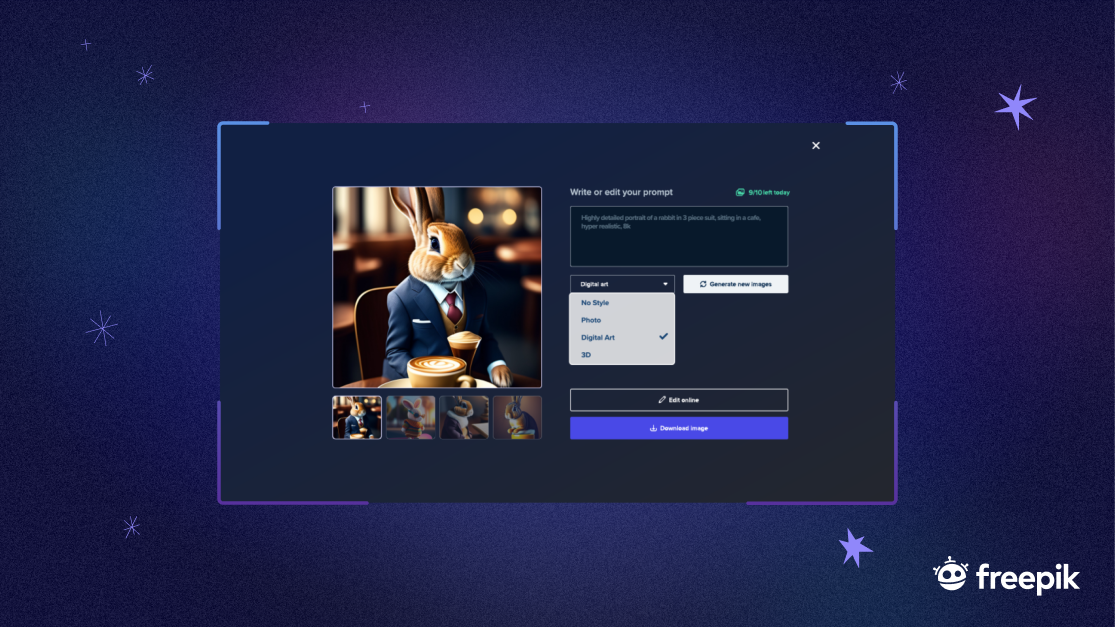 Freepik's pioneering AI image generation tool, with the full support of its vast asset library and creative features, provides a rewarding experience for its users, no matter what level of talent. The journey starts with a clear and detailed prompt for the AI to interpret, followed by selecting from five visual styles and clicking the generate button. Picking from the options provided, you can download or take the visual into Freepik's online editing tool to customize it on the fly. Save vast amounts of time creating the most specific visuals with this awe-inspiring technology.

Feature: It's free, and it has a premium model

Available: Web-based tool on https://www.freepik.com/ai/image-generator with no mobile application.


2. Wepik AI Image Generator

Experience endless visual creativity with Wepik's text to image AI generator. Thanks to its intuitive interface, transform your text into vibrant art pieces with just a few keystrokes. Plus, its user-friendly AI Generator menu simplifies the process of creating detailed prompts, catering to your creative needs thanks to its pre-made options - Photography, Cyberpunk, Golden Hour, Vintage, Portrait - you'll get the pro out of the prompt. Unlock your imagination with Wepik and discover the power of AI image generation.

Available: On iOS, Android and Desktop.


Shutterstock's AI Image Generator is a highly sought-after tool. Shutterstock is already a well-known company that provides images that are widely used in online and offline media houses. It is a professional-grade online app that can be used by UX designers and media houses. It allows you to be descriptive while generating images. For example, instead of saying "heavy traffic on a bridge", say something like, "heavy traffic on the Golden Gate Bridge at sunset on a foggy night." and you will have your descriptive image generated in a few seconds.

Feature: Professional tool that only has a premium model.

Available: The application is only available as a web-based tool on Shutterstock.com with no mobile application.


4. MidJourney

A Discord membership is all that you require to use the MidJourney Beta. The Midjourney bot will receive text commands from you there. The Discord website offers a free account registration form. Following that, you can still use Discord in a web browser or download the iOS, Android, Microsoft, Mac, or Linux client.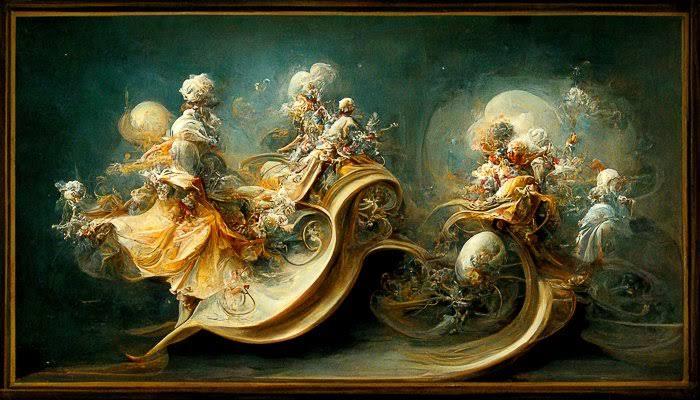 Feature: It is free, secure and has a freemium model.

Available: On the website midjourney.com, you can also download Midjourney on your devices.


5. Nightcafe

Feature: An app called NightCafe Creator uses several AI art generation techniques. You may create a marvel out of your photo by using neural style transfer. One can produce art with text-to-image AI utilizing no more than a text prompt.

Available: Nightcafe AI Generator is available for free online. You can also install it on your iOS and Android devices.


6. StarryAI

Feature: StarryAI is an AI art generation app. Their AI will create pieces of art from the text you submit by just following the prompts.

They simplify and intuitively guide users through the typically technical and complicated process of creating AI art.

Available: On iOS and Android, Starry AI is free to download.


7. Dream by Wombo

Like many other generative art applications, Wombo Dream's app is primarily built on two artificial networks collaborating to produce the visuals. These two networks go by the titles VQGAN and CLIP. A neural net called VQGAN is used to make an image that resembles other pictures. It is available on both iOS and Android.


8. Deep Dream Generator

Deep Dream Generator is another AI generation tool available online. You can use it to create very trippy and colourful images by adding your keywords.

DeepDream is a machine learning tool that employs computational pattern recognition to detect and amplify similarities in photos, giving the purposefully heavily processed pictures a dreamy aesthetic similar of a psychedelic session.


9. Photosonic

Using a cutting-edge text-to-image AI model, Photosonic is an internet application that allows you to create graphics or creative pictures from any word description.

The concept is founded on latent diffusion, a method that progressively converts an image of random noise into a picture that conforms to the text.

By changing the specification and replaying the program, you can regulate the resultant images' level of excellence, variety, and design.

You must register for a free account and log in to use Photosonic.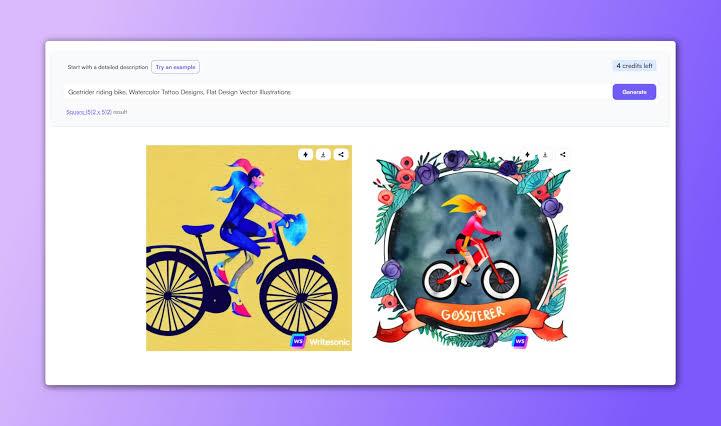 10. Jasper Art

Jasper is a subscription-based online AI Photo Generator. You can now sign up for a price of $20/mo and use Jasper Art to create the artwork of your dreams.

With Jasper Art's new text-to-image feature, you can produce stunning, unique AI graphics. Art can be seen in the app's toolbar. After choosing, you'll see several possibilities for image creation:

To describe the picture you wish to produce, use the empty image caption area.

Use the drop-down menus to build your artwork when choosing a theme, media, creator, genre, or keywords. It will provide you with additional direction if you are having trouble.


11. Pixray

Pixray is an AI technology for creating images. It incorporates earlier concepts, such as Perception Engines, which employ picture augmentation and repeatedly improve images in comparison to a group of classifiers.

Both a free and a premium version are available.


12. Fotor

Fotor uses AI technology to convert your words into professional artwork. You can also upload existing pictures and turn them into artwork. You can now create the most creative and colourful AI-generated pictures with them now.


13. DALL-E 2

DALLE 2 is capable of generating creative, realism-based artwork from text descriptions. It can mix ideas, traits, and fashions. It can also create new compositions for your pictures.

DALLE 2 has figured out how images relate to the text that describes them. It employs a technique known as "diffusion," which begins with a sequence of dots and eventually transforms that pattern into a picture as it picks up on particular details of that image.


Conclusion

We recommend the Lucky Dice AI prompt image generator to anyone searching for a successful photo generation using their ideas and texts. It will provide you with the highest-quality images of your choice for free!