10 Best Free Video Watermark Remover Tools Online/Offline/Phone

Looking for tools to remove that pesky watermark on an image? Know which tools can help you do that online, offline or on your smartphone or tablet.


You might want to remove a watermark from a video for many reasons. Maybe you downloaded a movie or TV show watermarked by the site. Perhaps you have a video that you want to upload to YouTube or another video-sharing site, but you don't want the watermark to show up.

Whatever the reason, there are several ways to remove watermarks from videos depending on whether you want to remove them online, offline, or on your phone. We've tried many of them and found the best ones for you. In this blog post, we will examine the pros and cons of different types of video watermark removers.

Pick your favorite tool from our recommended list!


Part 1. Top 5 Best Free Video Watermark Remover Online

Watermarks can be distracting and may even deter people from watching your video. Several free video watermark removers online can help you quickly and easily remove watermarks from your videos.


1. Apowersoft

Apowersoft Watermark Remover is the free online video watermark remover tool to remove watermarks from videos. It is simple and effective to use. The program allows you to select unwanted objects and preview the final result after importing files. By clicking "Convert," you can quickly remove them from your photos and videos. It supports all commonly used photo and video file formats.

Pros
You can remove watermarks magically
Easily add image or text watermarks
Multi-watermark batch processing
Cons
Supports only smaller videos
Videos take a while to upload

Watermarks are a common way to protect images from being reused or stolen without permission. Aside from its easiness and efficient performance, HitPaw Watermark Remover ranks higher than other similar apps. There are many watermarks, including logos, text, photo stamps, etc. The process is simple: upload the image, select the watermark area, hit the "remove" button, and video watermark remover without blur.

Pros
A very user-friendly interface
Multi-format support
Saves the highest quality after watermark removal
Video length is unlimited
Cons
Videos and photos require registration
3. Vidmore

The Vidmore Free Watermark Remover Online is available on the internet. This program removes text, images, logos, etc., from your photos without leaving any traces. It uses powerful artificial intelligence technology to locate the watermark accurately and remove it completely. Moreover, video watermark remover online supports multiple popular image formats, including JPG/JPEG/PNG/BMP/TIFF, etc.

Pros
Privacy is guaranteed
After removing watermarks, images are of high quality
Using AI to remove watermarks
Deletes watermarks like a pro
Cons
It has limited editing features
4. Fix the Photo

The free video watermark remover for PC can easily remove any watermark from your picture; you don't need to worry about it. To remove watermarks from an image, upload it, select the appropriate tool, and slide it across parts. Several clicks are all it takes to remove any photography watermark. It is possible to draw some watermarks with a few clicks, while others require more time and effort.

Pros
Intelligent watermark removal
Modify the editor to your liking
Free tools impose no limits
You can import more than 15 formats
Cons
The editing capabilities are limited
5. Inpaint

Watermarks provide copyright protection, but restoring an intact image from a watermarked image is a pain in the neck. Watermarks can be removed from a photo when you have lost the last copy of the original picture and need it desperately. With Inpaint Online, you can now remove watermarks from any number of photos, whether on your desktop or mobile device. With Inpaint, intelligently-generated textures will magically fill the selected area.

Pros

Inpainting algorithm improves restoration quality
Process in batches
Easily used and started
No technical knowledge required
Cons
The maximum file size is 10MB
Part 2. The 3 Free Video Watermark Remover for PC

Are you looking for a free video watermark remover for PC? Here are three great options that you can use to remove watermarks from your videos.


With HitPaw Watermark Remover, you can remove watermarks from photos and videos. It makes the video look perfect and appealing as if these elements were never there. It works very well and only removes watermarks while keeping the rest of the image intact. It ensures high-quality image output without pixel damage. Install the HitPaw Watermark Remover on your computers to remove the watermark.

Steps to video watermark remover online gratis:

Step 1: Get HitPaw Watermark Remover and install it.

Step 2: Click the 'Remove Video Watermark' button after launching the program. To import your file, click 'Choose File.'


Step 3: Click 'Remove & Export' on videos to remove watermarks.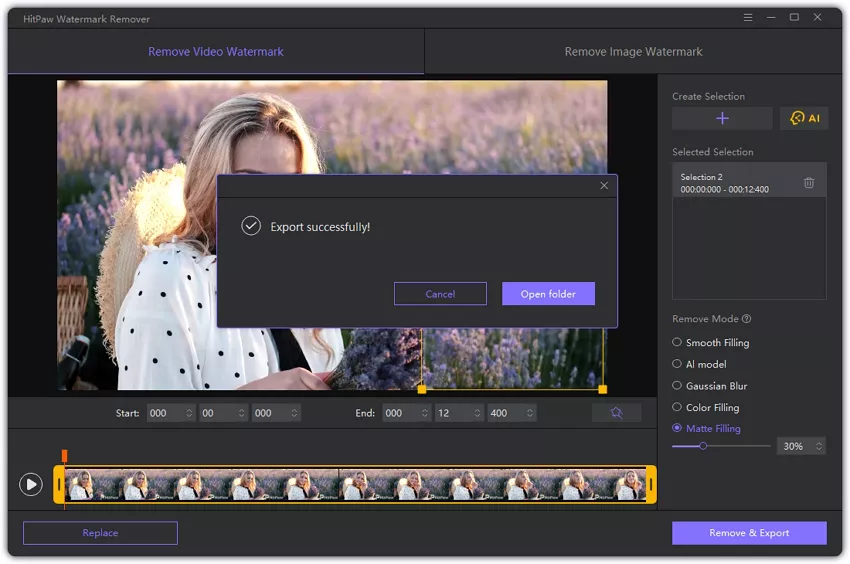 2. Remove Logo Now

When an algorithm superimposes the logo onto the video, the Remove Logo Now software simply removes it. The developer had to do a great deal of difficult programming to remove inpainted algorithms and hardcoded subtitles. Consider paying for this tool if you struggle to remove logos from videos.

Remove Logo Now removes watermarks in the following steps:

Step 1: Download Remove Logo Now first.

Step 2: Download the zip file and extract it using WinRAR or WinZip.

Step 3: Run the software after installation.

Step 4: Choose the files you want to remove and follow the on-screen instructions.




Step 5: Select the 'Find Logo' icon to locate all the watermarks in the video. Switch to manual mode if the automatic process fails.


Step 6: You can manually highlight the video's watermarks. Simply click the 'Clear Section' button to remove the watermark after adjusting the marquee's radius.


3. WorkinTool

With WorkinTool Watermark Eraser, you can easily remove watermarks from videos. Install the watermark remover on your Windows PC and select the corresponding option to remove video watermarks. Using WorkinTool Watermark Eraser, you can remove logos, dates, text, and other patterns from videos. Drag the timeline to shorten or extend the period when watermarks are not visible.

Step 1: Click Remove watermark from video on WorkinTool Watermark Eraser.


Step 2: Select watermarks from a video and adjust their disappearance time. You can make unlimited selections.



Step 3: Click Save to export your video.

Part 3. 2 Best Watermark Remover App for Android & iPhone
1. Video Eraser

With Video Eraser, you can remove watermarks from videos easily. You can remove video and image logos and clean up background images. Additionally, you can add texts, watermarks, icons, or drawings to their videos, crop video size, and capture video. This free app can easily remove video watermarks, icons, and logos from videos. You will, however, have to pay if you wish to remove ads or unlock editing features.

Pros

A user-friendly interface
A fast and efficient service
Various features are available
Cons
Pay to remove ads or unlock editing features
2. Background Eraser

Background Eraser is another Android application that removes backgrounds and watermarks. The app is extremely easy to use and can be a great way to make your videos look more professional. Simply select the area you want to remove, and the app will do the rest.

Pros
Use the magic button to remove parts of the background
Photo superimposition is possible
Filters and effects are included
Cons
Periodically, it lags
Internet users often see pop-up ads
Conclusion

Free online video watermark remover offers both advantages and disadvantages. Depending on your needs, you can choose the best one for you. Despite that, one of the most popular and most used watermark removal apps is HitPaw Watermark Remover. If you are looking for a new, convenient, user-friendly, easy-to-use, and simple-to-use way to get the watermark out of your photos or videos at any time you need, this HitPaw Watermark Remover may be the one for you.