Shed Your Fears and Find the Perfect Business Name With This Detailed Guide
Today, you'll definitely come across tons of ads from various businesses as you navigate through YouTube, Facebook, TikTok, Instagram, or any other social media platforms. And if we were to ask you how many of them you could recall, you'd definitely struggle to come up with a response.

The reason is that there are just too many businesses vying for your attention that it's easy for a business's ad to get lost in the crowd.

Gone are those days when anyone could just add "& Co." or "& Sons" to your name and call it a great name. The digital ecosystem demands that your potential customers know who you are and are eager to do business with you.

And the first and most crucial piece of your company's identity is your brand's name. Your brand's name is so essential that there are several platforms and business name creators solely focused on assisting entrepreneurs in finding the best company name.

And even though this procedure is essential, it doesn't have to be a demanding experience. We've helped name over 35,000 businesses, and today, I'd be showing you the three steps that helped us achieve these fantastic results at Squadhelp.


1. Know Your Brand

The most important component of your brand is its name. So it's impossible to avoid researching and understanding your brand when naming your business. You need to understand that what you do is your venture, but how your customers connect with and regard your business is your brand identity.

We'd use Accenture as an example. When you initially hear or see the name, what comes to mind? To me, it sounds high-end, stylish, and modern. For one of the top ten consulting companies in the world, this name is highly effective and works really well.

But you couldn't name a common tech item like the iPad or Alexa the same way. The name would not do justice to accurately describing who they are and what they do.

Therefore, the first piece you must possess to name your business correctly is exceptional brand imagination. Brand imagination is the capacity to picture the nature of your brand. Surprisingly, brand imagination is the most underutilized naming tool there is.

To cultivate your brand imagination, start by knowing:
How does my brand appear and feel?
What does my brand value?
What's the perfect tone?
What feelings do I want to stir up in my audience?

When you are aware of these vital characteristics, you will be significantly more prepared to begin a proper business name generation process.

I'll give you another fascinating example. SquattyPotty's mission is to "improve bathroom health around the world." The services that SquattyPotty offers are both medical and scientific. However, their name is an unmistakable indication that they did not want to be perceived that way. Additionally, it is clear from their website's use of bright colors and clever puns that they wish to come off as exciting and amusing.

Obviously, a thorough understanding of your brand is a vital necessity, but where do you start? Well, consider the following three items as a starting point:

Who are you as a company?
Who are you in your customers' eyes?
Who are you compared to your competitors?

Imagine you want to build an online jewelry business.

So, you run a jewelry business. Who are you to your clients? Are you a very respected and high-end jewelry company? Are you a jewelry store that caters to middle and lower-class customers? Are you a locally owned business? Do you sell jewelry to people with uncommon skin conditions?

And last, how do you compare to your rivals? Do you offer lower prices? Do you provide limited edition jewelry? Or is there something special about you that no one else has yet accomplished in the jewelry industry?

By responding to these questions, you can better understand your brand identity and how others should view you.

Now that you know your identity, it's time to consider what tone best suits your business. The tone of your brand will determine its style or attitude. It should appeal to your corporate goals while also striking a chord with your audience.

I suggest choosing one of the following five more comprehensive tones: modern, emotionally charged, practical, playful and fun, or pre-eminent. For instance, the name, Louis Vuitton, sounds luxurious, powerful, and pre-eminent. It perfectly fits what the company does and its target market. However, a name like Slack comes across as a modern, playful, and fun brand.

This initial step in naming your company will take the most time. The next phases will appear much simpler once you have addressed who you are, how you want people to perceive you, how you compare to rivals, and the best brand tone for your business.


2. Start Brainstorming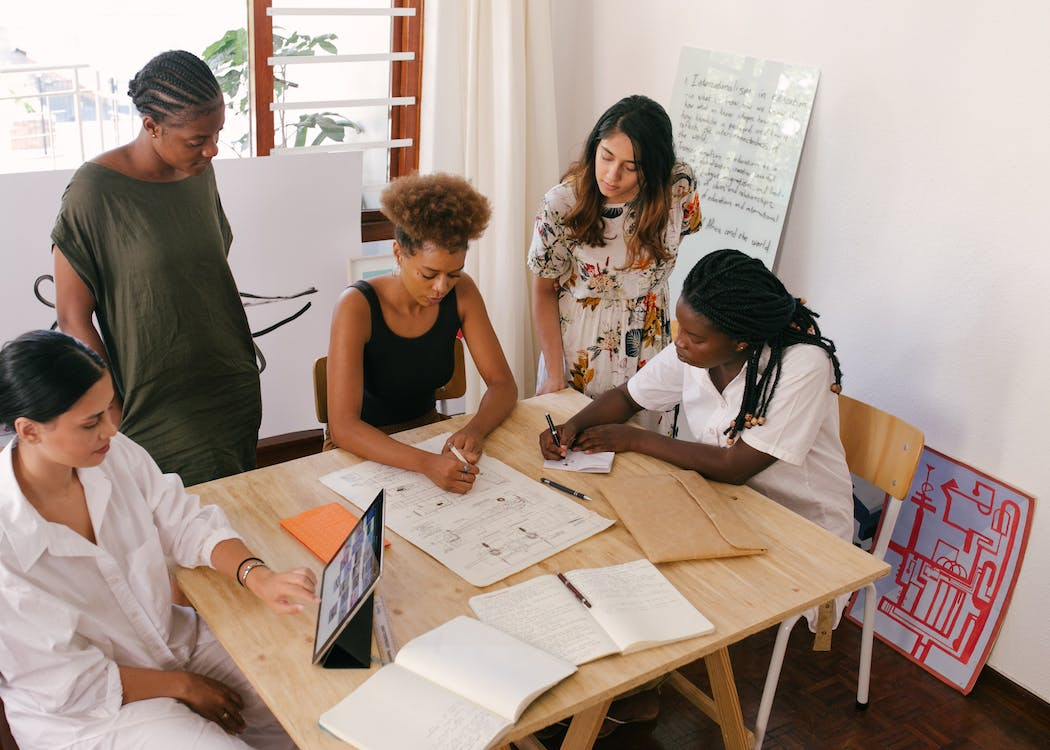 Here's where things start getting much more enjoyable! Grab some markers and a board, gather your squad (if you've got them at this point), and let your creativity flow. The brainstorming procedure is free of analysis. So, at this level, there is no need to review whatever names you find or create. Simply focus on turning on your imagination and let your imagination shine.

Don't be hesitant to record words you're not sure of. In fact, I highly suggest you record every weird name you create. You can never predict what will come of them.

That said, here are some essential tools that'll make your brainstorming much more fun and effective.

Thesaurus
Rhyming Words
Common slangs in your niche
Visual names, perhaps something color related

To come up with a catchy and brandable business name, you can also employ a few root words (common words often joined to other words). We looked into root words at Squadhelp and discovered that the most common ones among our clients are gen, omni, casa, spot, and door.

Additionally, it's beneficial to involve individuals of different ages in the brainstorming process because they have varied ideas regarding traditional and classic names vs. fresh and creative ones.

In a poll we conducted in 2021, we learned that while older age groups—45–65 years old—were more inclined to trust historical and traditional brands, the younger age groups—25–34 years old—tended to go for businesses with new and creative brand names.

Meanwhile, the 35 to 45 age range sat in the middle. Therefore, having a broad range of ages would help you consider other perspectives while brainstorming.

Before your brainstorming session ends, try your best to record at least 200 potential names. Gathering lots of words will give us a lot of materials to work with as we focus on trimming this list.


Shortlist Your Top Potential Brand Names

We now match the names we came up with to our brand tone and value proposition. A naming brief that illustrates your ultimate tone and brand identity should be available to the team helping you.

You can evaluate the names you've gathered based on how well they reflect your brand's identity, how they sound and appear on various platforms, such as social media and on paper, and how energized they make you and your team feel.

Gather your team's opinions on every name you've generated, consider whether or not a word is memorable and catchy, and aim to have less than ten names left after this phase.

For example, reduce emotionally charged names to a minimum if you want to be perceived as a practical brand, reduce emotionally charged names to a minimum. However, you can experiment within a category. Even if you like a practical and solution-focused name, you can still play around with different spellings like Lyft or short, lively names like Zoom.


Validate

How we all hope your top pick from the list of finalists was the awesome company name you've been searching for! But before you can rejoice, your best choice(s) must pass a few necessary tests. Validation would help you with determining the viability of your intended company name(s):

Feedback from your core audience is essential for verifying your brand name. When you started the process, you probably wanted a name that would resonate with clients, mainly if you intended to run your business primarily online. So, whichever name you choose should be appealing to your intended audience.

To achieve this, you could gather input from friends, relatives, or even strangers you could well have met at a restaurant or bar. Don't be reluctant to describe what you're doing. Make sure you capture your audience's input in writing or even conduct a poll on your preferred social media platform.

We've always advised entrepreneurs on how critical it is to distance themselves from the brand names since the name their audience may love may not necessarily be their first option at this point.

Also, perform a linguistics test to ensure the name you're picking is pronounceable and does not have a different meaning in another language.


Check Domain Availability: Websites are essentially a necessity for any business. So, you must determine whether your chosen brand name has a domain name that's accessible online. In an ideal situation, you'd have quick and easy access to nameofyourbusiness.com. But this doesn't happen often, and acquiring your domain name can cost you quite a lot of money.

If you can't afford to get the ".com" domain name, you can try techniques like alternative spellings and omitting vowels. You can also try the ".co" URL or modify the domain names by adding "the" or your name as a prefix.


Trademarks: Although you might not like this step, it will help you avoid a lot of future issues. The majority of words in use have some level of trademark protection. So, make it a priority to determine whether your company name can be trademarked. At this point, it'll do you a world of good to get the assistance of a legal advisor. Avoiding this check might result in future cease and desist letters.
Follow Nike's Lead

Nike remains a great example of what a company can become with the right investment in its name. The company was founded in 1964 under the brand name "Blue Ribbon Sports," which didn't do much to capture the brand's essence.

Yet, after only five years in existence, they were back to rebranding. And Phil Knight made the right choice in choosing Nike as their new brand name, and coupled with their excellent products; the brand started its ascent to the top of the industry.

The decision to choose Nike, the Greek goddess of Victory's name, was a creative stroke of genius since it gave Phil's business new life and made their shoes the perfect definition of high performance and standards.

But Phil didn't just stop with acquiring a fantastic name; he also worked hard to establish his company's reputation and came up with an excellent idea of signing players. Doing this helped Nike solidify its position as the preferred brand for the best and most accomplished athletes.

And as the years went by, Nike not only stayed true to its branding strategy, and helped it succeed in its ventures.

Nike is today one of the largest fashion corporations, and its instantly identifiable "swoosh" logo has established itself as a sports industry icon.

This shows that if you can invest the effort in creating a powerful identity for your brand, your company will gain favorable recognition among customers.


Conclusion

Brand names can transform your business's fortune since they have the power to boost sales and also influence your business's financial performance. An amazing company name that's in harmony with your company's tone and identity and resonates with your target client can generate excitement and draw clients to you. Without the appropriate name, even a fantastic company with a unique product will fail on social media.

Therefore, ensure you commit the time and effort needed to choose the ideal name. To do this, you should fully grasp the personality of your brand and the perception you want to convey; brainstorm pleasant and unpleasant business names; shortlist names after careful analysis; and confirm your top brand names using audience feedback, as well as domain and trademark availability.

You can be confident that using this simple but detailed approach will result in a name that accurately describes you and propels your brand to success.

Grant Polachek is the head of branding for Squadhelp.com, 3X Inc 5000 startup and disruptive naming agency. Squadhelp has reviewed more than 1 million names and curated a collection of the best available names on the web today. We are also the world's leading crowdsource naming platform, supporting clients from early-stage startups to Fortune 500 companies.