How to get Aadhar, DL, Voter ID, and certificates on Whatsapp?

With Digilocker, you can get your Aadhaar and PAN delivered to your WhatsApp. You can use Digilocker to access CoWin services like vaccine appointments, vaccination certificates, etc. through MyGov HelpDesk chatbot on WhatsApp.


MEITY, the Ministry of Electronics and Information Technology, recently announced citizens of India will be able to get their Digilocker access via Whatsapp. Through the mobile app, they will also be able to access the MyGov Helpdesk. You can now download documents such as your PAN card, Driver's License, Class X mark sheet, Class XII mark sheet, and Vehicle Registration Certificate through WhatsApp.

DigiLocker can be set up to work with your WhatsApp account easily. You can read more about how to set up DigiLocker here if you've never used it before.


How To Download These Documents Using Whatsapp- A Step-by-Step Guide
Step 1: Save the MyGov WhatsApp helpline number

Put "9013151515" into the dialer application of your phone. Put "9013151515" into the dialer application of your phone. On WhatsApp, you'll be able to easily find the number once it has been saved.

Step 2: Messaging the MyGov helpline on WhatsApp

Click on the new chat button in the bottom right corner of WhatsApp. Then, tap the three-dot menu in the top-right corner of the subsequent page and select 'refresh' to sync WhatsApp with your phone. You should now be able to access the MyGov helpline number among your WhatsApp contacts after saving it.
Enter the name you saved the above number by in the search bar on top; in this case, I searched for "DigiLocker Service" and found the number instantly. You will receive automated services in a few seconds after sending a "Hi" or 'Namastey' or 'Digilocker'to this number.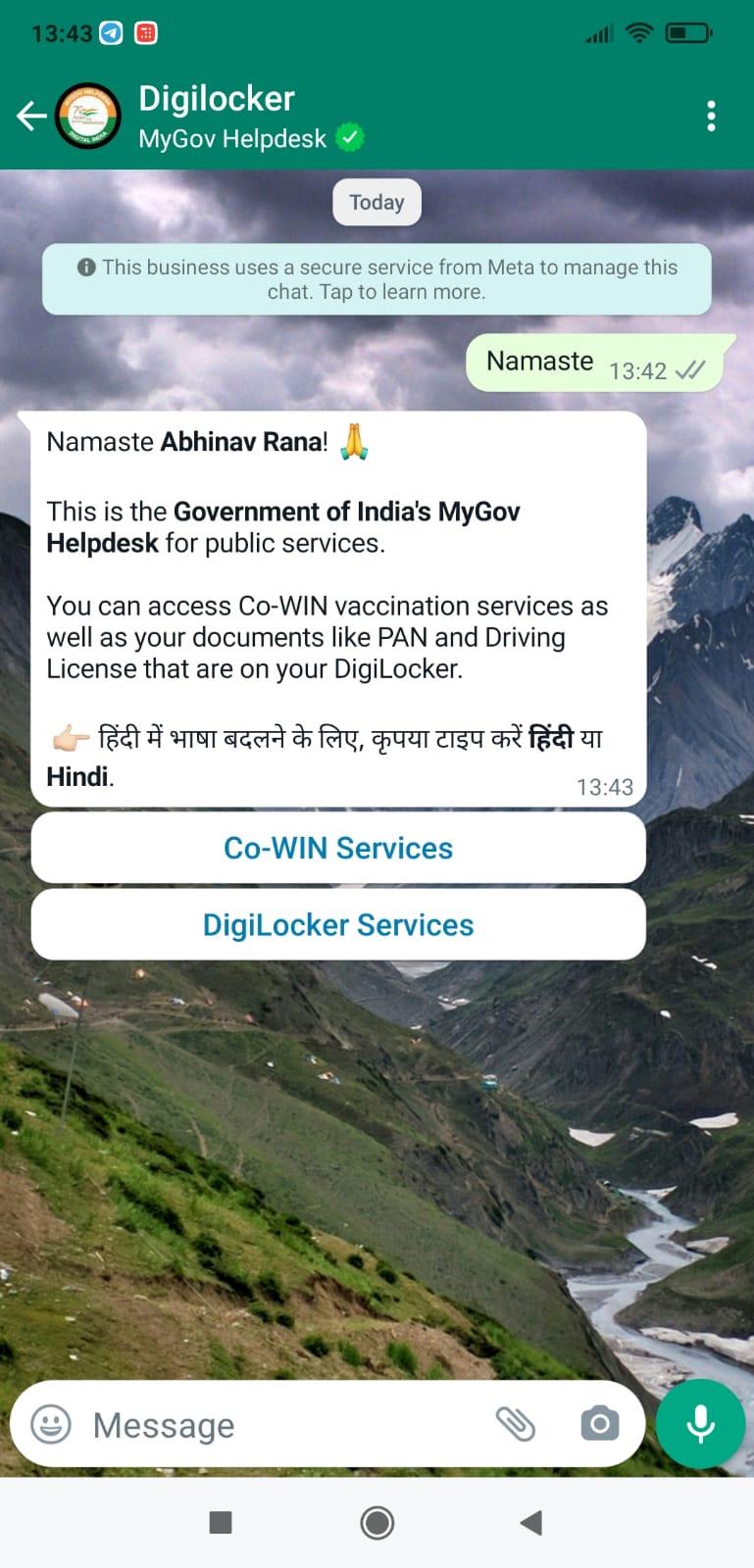 Step 3: Configuring your DigiLocker account for WhatsApp

Once you message Hi, a message beginning with Namaste will greet you. You can use this automated message as your main menu. At the end of this message, you will see two clickable text elements, one for Cowin services and one for DigiLocker services.


DigiLocker can be opened by clicking it and following the instructions that appear. You can choose No if you don't have a DigiLocker account. An OTP will be sent to your registered mobile number after you enter your 12-digit Aadhaar number to bind and verify your DigiLocker account. It is necessary to enter the 12-digit Aadhaar number without a space. The same applies to DigiLocker accounts.


Upon entering the OTP, you will be able to access your account. It will be possible to download existing documents saved in DigiLocker. Your driving license and PAN card, for example, can be viewed if you have them saved. DigiLocker can also provide your Aadhaar details.

As of now, you can collect the following documents from Digilocker via the chatbot: the PAN card, the driving license, the CBSE Class X Passing Certificate, the CBSE Class X mark sheet, the CBSE Class XII mark sheet, the vehicle registration certificate, the insurance policy for two-wheelers, and the insurance policy document.


What is DigiLocker on Whatsapp?

The MyGov Corona Helpdesk, originally launched in March 2020, served as a vital source of accurate and timely information about the pandemic. The helpdesk also handled bookings for vaccinations and the distribution of vaccine certificates. A new feature will make it easier for citizens to access resources and essential services through the MyGov chatbot.


Important FAQs about DigiLocker
What is Digilocker in Mobile?

Digital Locker is a digitization online service offered by the Ministry of Electronics and Information Technology (MeitY), Government of India as part of its Digital India program.


How safe it is to use DigiLocker?

You can use DigiLocker with complete confidence. Your private data is safeguarded with all security measures built into the app. The app uses 256-bit SSL certificates, which means that the information you provide to issue documents is encrypted. You can be assured that your personal information is secure because it is hosted in accordance with ISO 27001 standards.


What I can do using DigiLocker?

The DigiLocker Keypad lock variants allow the user to select their own code, eliminating the need to issue and assign physical keys. Due to the advanced keying technology, setting up and registering keys for the locks is easy.


How can I find my DigiLocker ID?

Log in with your mobile number or Aadhaar number followed by the OTP. Else click on "Forget Username".

Select "Non-Aadhaar User".


Enter your Mobile number.


To get your user name just click on "Verify".
Can I delete DigiLocker account?

It is not possible to delete a Digilocker account. Thus, your Aadhaar number will be permanently associated with your Digilocker account. Also, you cannot delete documents pulled into Digilocker from other departments (Income Tax Department, CBSE, etc.).


Can I change DigiLocker mobile number?

The mobile number used during the DigiLocker signup process can be changed. You can access this option in the profile section (only if DigiLocker is not linked to Aadhaar).


Is DigiLocker accepted at the airport?

AVSEC Circular No. 15/2017 has been amended by the Ministry of Civil Aviation. Upon entering the airport premises at the time of departure, government documents/id proofs issued in the DigiLocker app, such as Aadhaar, PAN, and driving license, will be accepted as valid identity proofs.


What are the disadvantages of DigiLocker?
DigiLocker can only be used by Aadhar cardholdersTo create an account on DigiLocker, an individual must provide his or her Aadhar number. DigiLocker cannot be used by someone without an Aadhar card.


DigiLocker is not available to NRIs To create an account with DigiLocker, the mobile number must be registered in India.


Security ConcernsDigiLocker recently confirmed that the account data was vulnerable. DigiLocker has admitted that nearly 3.68 crores of documents were at risk and anyone with the username could access the files. A PIN or password is not even required for hackers to access the account.


Registration restrictionsIf you wish to use DigiLocker, you must enter only the mobile number or email address associated with your Aadhar card.
Conclusion
It has proven beneficial for the people of India to use DigiLocker. It has solved the problems of having no physical documents, losing them, being unsure of their authenticity, and carrying them. This platform should be promoted by the government so that a large number of people will be able to take advantage of its features and secure their documents in their DigiLocker accounts. The government also uses citizen data in various service-delivering schemes and analyses, so a platform with nearly all of a citizen's important documents is needed. In addition to assisting India's development, DigiLocker simplifies government and civil administration.