Best smartphone cameras in 2022 for making reels and shorts

Which phone has the best camera? It may be more beneficial to have a camera phone than to purchase a DSLR sometimes. But choosing the right one may be a difficult task sometimes. So, just to help you out we've gathered a list of the best smartphones for taking holiday snaps if you enjoy taking pictures and videos with your phone.


Your smartphone is the camera you carry with you wherever you go. Most of us are keen on taking pictures or making videos with our phones while holidaying or partying with friends. Especially, young users are now choosing phones that help effortlessly shoot short videos and reels. The market is flooded with high-end camera phones which can make more stable, smoother-looking videos and better pictures also in low light.

The smartphone is the perfect tool for adventure lovers to record and upload all kinds of experiences. Video recording and rendering are quick and lag-free on smartphones equipped with reliable hardware. The entire camera app functions efficiently as a result, making the whole process effortless. OIS (Optical image stabilisation) is one of the key features that help short video and reel creators.

We must say smartphones are great for sharing videos and pictures online since you don't have to transfer files from a camera to a computer. Digital platforms also tend to degrade the quality of images and videos. So, with the right phone camera, you can share great pictures and videos without having to transfer videos from one device to another. But not all smartphone cameras are equal. So, we have compiled a list of phones that can be used to shoot short videos and reels.


Samsung Galaxy S20 FE 5G

A video camera isn't the only factor that affects video recording - software, image stabilization (whether it's digital or hardware-based), and the display are all equally important. Samsung's Galaxy S20 FE 5G packs a punch when it comes to camera hardware - a triple camera setup with an ultra-wide lens, a wide lens, and a telephoto lens.

You can say goodbye to blurry pictures and jittery videos with the wide-angle and telephoto cameras' OIS. The Qualcomm Snapdragon 865 octa-core processor and its AI capabilities also allow the camera to take impressive photos. As you take pictures and videos, you can edit them as you go, thanks to the 8GB of RAM in the phone.

The photos taken in daylight come out bright, vibrant, and quite saturated. The colors pop quite a bit whether you are taking a picture of flowers, fruits, or even scenery, which is typical of most Samsung smartphones. Dynamic range is also quite good.


Apple iPhone 13 Pro

This list of smartphones is topped by the iPhone 13 Pro because of its excellent camera system. It's one of the most expensive phones on the list, but it takes excellent photos and produces smooth, steady 4K video at 60 frames per second. There are three cameras on the rear of the 13 Pro Max (and the price 13 Pro Max). Once again, the main camera features sensor-shift stabilization on a smartphone, keeping your videos steady - and is a 12MP unit with an f/1.5 aperture. The iPhone 13 Pro has excellent still image quality – building on Apple's excellent portrait mode – but its video capabilities are the best. In addition to capturing 4K video at 60fps with support for Dolby Vision, no other smartphone can come close to this level of quality when it comes to video.


OPPO Reno6 Pro 5G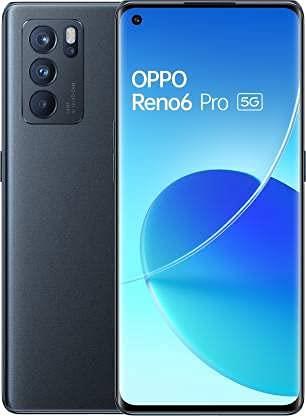 An immersive viewing experience is offered by this phone. Despite its ultra-thin bezels, the display on the phone appears bigger than it is. This phone has a screen that flows out to the sides, giving it a highly premium appearance. A tiny camera hole punch is set to one side of the screen, so it doesn't interfere with consuming content, using other features, or playing games. The phone is also equipped with a 120Hz display and 256GB of UFS 3.0 storage, all of which work together to make it a reliable performer. With 4 cameras at the back, you get simple, straightforward, and easy-to-use software that is ideal for creating videos and reels.


IQOO 7 5G

Featuring an octa-core processor, 8GB of RAM, a triple camera setup, a fast screen, and 5G support, this is a mid-range smartphone. The combination of these features provides a highly efficient user experience. It comes with a Snapdragon 870 octa-core processor that is quite fast and offers a flagship-like mobile experience. Due to its efficiency, the processor conserves battery life while still delivering top-notch performance in applications and games. There should be enough space for your apps and data on the 128GB storage if you have a lot on your phone. There is quite a bit of reliability with the triple camera system. A triple rear camera on the iQOO 7 is equipped with a Sony IMX598 48MP primary sensor, a 13MP ultra-wide angle camera that also functions as a macro camera, and a 2MP monochrome lens. There is a 16MP front-facing camera for taking selfies and recording videos. In the daylight shots, you find a lot of detail and rich colors. As a result of artificial intelligence, photographs seem more natural.


Xiaomi Redmi Note 11 Pro 5G

The Xiaomi Redmi Note 11 Pro continues Xiaomi's reign of technological wizardry. Xiaomi has managed to launch a budget phone with a 108MP camera, which is pretty amazing for a phone of this price, and it impressed in testing. With this phone, you can take Instagram-worthy pictures in a variety of lighting conditions and environments for a fraction of the price of the most recent iPhones and Samsungs. On the back of the phone, that signature 108MP camera takes center stage, standing out from the other cameras. While video recording is limited to 1080p at 30fps, the Redmi Note 11 Pro 5G barely falls short in any other area. This means you get strong performance, a great display, a great camera, and good endurance with the Redmi Note 11 Pro 5G.


OnePlus 10 Pro

Though OnePlus may lack the same level of brand recognition as Samsung and Apple, its flagship beaters are frequently praised as great alternatives, and the OnePlus 10 Pro is the culmination of its achievements. As we tested it, its trio of cameras provided consistent color balance, good detail, and relatively little visual noise. In some instances, it even edged out the iPhone 13 Pro, capturing clean, crisp photos in well-lit situations. The night shots on the OnePlus 10 Pro are also much improved, though they are a bit soft. There are also improvements and new additions this year, such as the ability to take still images in 10-bit color as well as RAW+, which is a Hasselblad-tuned mode that combines three RAW frames to create images with even greater dynamic range. Additionally, the camera can capture fisheye images with a 110-degree angle and a 150-degree angle.


Samsung Galaxy S21 Ultra

Do you remember when phones had only one camera? They now have five. Even today, the Samsung Galaxy S21 Ultra is one of the best Android camera phones. Four cameras arrayed on the rear provide phenomenal power. This camera has a 108MP sensor that provides digital zooming and cropping capabilities, as well as an improved autofocus system that fixes the S20 Ultra's sharpness issues. The camera is equipped with two 10MP telephoto sensors and a 12MP ultrawide lens. Wireless charging, a water-resistant body, and a top-notch processor make the S21 Ultra a great smartphone. As a desktop alternative, Samsung's DeX interface can be connected to a monitor, and Samsung's S Pen can be used for drawing and taking notes.


End Note

Everyone has different tastes, and there are multiple options for everyone out there. Yet, in the list, above we tried to cover the best camera phones including both Apple and Android devices. Still, we suggest that you indeed read several detailed reviews before purchasing a device because it's important to ensure that your investment pays off since good camera phones are expensive.