Things to know before buying a TV [Buying Guide 2022]

Are you planning to buy a TV? If you are, and doesn't have any idea about what to look for in a TV, then this article will help you. This writing explores many terms related to TV, and helps you in choosing the right kind of TV.


From being a bulky box to an ultra slim body, TV's have come a long way. It used to occupy a lot of space in our living rooms, and we even placed things above it, from photo frames to dolls, but now it's a thing of the past. Just like we hang a painting into the wall, we can easily put them without any hassle, and depending on our budget, we can decide how much area of the wall it should cover. From streaming movies to playing games and browsing social media, they offer so much than our traditional TV sets. All that is needed for taking full advantages of our modern TV's are a stable internet connection, and enough bandwidth to stream high resolution videos like 4K and 8K. In this article, we are going to discuss some of the basic things we should be aware of while choosing a TV.


LCD or OLED, which is better?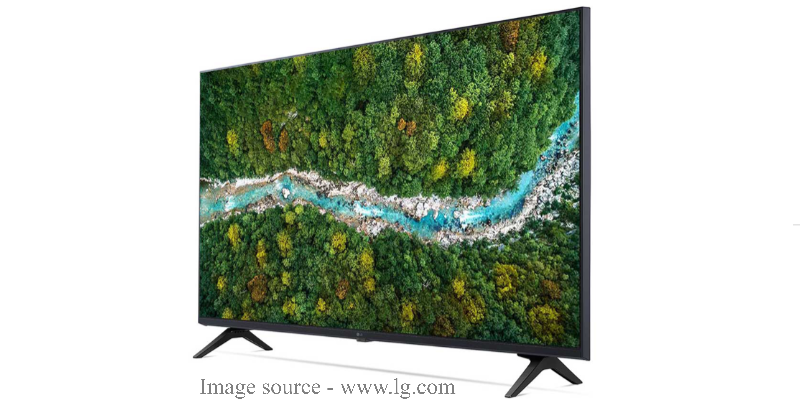 When you enter into a TV showroom, you will see so many acronyms such as LCD, QLED and OLED. All of them may seem similar with three or four letters, but the technology behind them is entirely different. If you ask the salesman in charge about the costliest one in the list, he will point you to an OLED TV. The main reason for that is its picture quality, LCD's and QLED's are no match compared to OLED's picture quality. OLED TV's comes with higher contrast ratio, because of that the videos we watch appears more realistic and natural compared to LCD's. In OLED, each individual pixel produces its own light whereas in LCD, it uses an LED backlight to produce light. This difference in technology makes all the difference in the picture quality. Also, OLED can deliver better performance while showing dark scenes with its ability to turn off individual pixels, giving you the perfect black and delivering the minute details otherwise we miss. But, in LCD, you might find it hard to see the perfect black as you find in OLED, and it will be missing all the little details. Another reason to opt for the OLED is the viewing angles. In LCD's, you have to sit at the centre of the TV to get a richer TV experience, but in OLED's case, you can watch it from extreme viewing angles, and there won't be any problem with the viewing experience.


Number of HDMI ports


While considering the TV, you have to check how many HDMI ports it offers. It is important because more ports let's you connect many devices to your TV. As these ports can be used up very quickly, it's crucial to choose a TV that has many ports, so that you don't have to remove one device from the port to connect another. For instance, if you have only one HDMI port, and you want to connect a sound bar and gaming console, you have to remove one to connect another. In such scenarios, more HDMI ports offers you a great advantage.


Refresh rate


Refresh rate is one important thing you should be aware of when buying a TV. It tells you how many times an image is refreshed per second, and with higher refresh rate, you can watch your content without any blurriness, and the videos will be very smooth. Normally, all TV's offer a refresh rate of 60 Hertz, it means that it refreshes the screen 60 times per second. Many modern Tv's are capable of providing more than that, and it's particularly useful when watching sports and scenes with lots of movements. Gamers also benefit from TV's with high refresh rate as PlayStation and Xbox are offering a lot of games with 120 Hertz support.


HDR Compatibility


HDR helps in generating better contrast, resulting in more accurate and realistic colours. So, when choosing a TV, always look for an HDR compatible set as it enhances your TV watching experience. You can get access to HDR content easily as it is available in major OTT platforms such as Netflix and Amazon Prime Video, and the content is growing.


Sound limitations


Most modern TV's follows an ultra thin model with small bezels or no bezels at all, and you can imagine the size of the speakers they offer. So, it is always wise for you to go for a sound bar when you buy a new TV, and with a sound bar, you don't have to go through the troubles our old sound systems had, like messy wires, and if you happened to be not a big fan of sound bars, you can setup a 5.1or 7.1 sound system as old times.


Possibility of burn-in


OLED's are more susceptible to burn-in's when compared to LCD's. Burn-in's happen only when static images are on the screen for a long time, like a channel logo or scoreboard of a sports game. It doesn't happen with normal use, but when you watch TV without changing the channel for days, there is a possibility that it might occur. Still, people choose OLED over LCD for its picture quality and because of the fact that burn in does not happen with normal use.


Wrap up


Most of the modern TV's are reliable, and there is nothing wrong in paying some extra money on OLED screens, for it provides the ultimate viewing experience. With OLED, the content seems more lively than LCD screens, and even if the chances of burn-in happening is more in OLED screen, normal viewers doesn't need to worry as it happens only with unusual use.