How to monitor your kid's WhatsApp activity without them knowing

Want to know of an app that can monitor WhatsApp messenger installed on another mobile and keep you updated on all the activity on that phone? Read this article to know about KidsGuard Pro, an app that can provide you with a tool to safeguard your young ones.


WhatsApp Messenger is one of the most popular and fastest-growing social media apps, with over 2 billion-plus users. Out of this over a billion are teenagers who are using this app and are using it constantly for informal communication. WhatsApp messenger is popular for sharing messages, images, texts, audio, video, gif, status or to make audio and video calls. The benefits are numerous but added with it comes the security and privacy concerns of this platform. Teens, as well as children, get exposed to a plethora of information and one cannot always judge its impact on them. As a parent, you may want to know your child's online activity, not out of curiosity but out of concern. This concern is valid and can be very well achieved with WhatsApp parental control applications. Read through the article to know about such an application that can take care of your concerns and keep your child's WhatsApp messenger activity under check.


When Setting Parental control on WhatsApp Messenger Becomes Necessary

When you begin to notice a change in your child's behavior and doubt the negative effects of online activity, then it seems to be an apt time to set up parental control on WhatsApp. Few of the signs require your intervention.

Mobile Addiction:Your child may be spending too much time on messaging apps and has started to ignore his/her daily routine which may lead to several health issues. Grade of your child may drop as well as eyesight becoming weak, then your intervention is a must.

Sensitive content: Your child may not be mature enough to judge as to what kind of content is sensitive or adult and sharing them may put them in danger.

Online bullying: The virtual world is full of many predators who rejoice in bullying others. Their bad intentions in form of rude words, images, or videos may affect your child.

Privacy threats: A possible security threat may render your child's data being leaked on the web. Such private data can be manipulated and misused by predators as already stated above.

These potential threats can render any doting parent to take guard and protect their child from any harm that may come from such social app(s). Direct intervention may cause your child to hide even more. So, as a parent, you may want to read text messages on your child's mobile or want to know who they are talking to without them knowing it. Even then, you may not want to alert your child that you are keeping a tab on their WhatsApp activity. All these concerns can be taken care of with a reliable 3rd party application. To keep a tab on online activity without alerting your child following app can be trusted upon.

KidsGuard Pro for Android is an excellent app that is trusted and used by over 4 million parents to safeguard their kids from the ill effects of social media apps. This app can monitor all your child's activity that takes place on their WhatsApp and all the data is recorded and uploaded on your online account for monitoring. This app works in real-time and hence you can keep your child safe from online dangers lurking around 24/7.

Since kids today are smart enough to find out about the app and its functionality and even uninstall this app, hence, this app has taken care of this threat by working silently in the background. Your children will continue using their apps as usual without being alerted about the parental control running on their mobile and tracking their online activity. Following are the functions performed by this app.


1. Read text messages of WhatsApp and detect inappropriate content

This is the first thing one would like to go through to detect any inappropriate content in WhatsApp chat history. One can scan exchanged messages, and even read deleted WhatsApp messages. Even multimedia files like images, videos, audio clips, documents, and others can also be monitored. Parents can scan and search if any indecent messages are exchanged or any sensitive media shared and take steps to curb it.


2. Become aware of persons with whom your kid is talking through the WhatsApp audio or video call feature.

Verifying people with whom your kid is communicating can be done by combining WhatsApp call and WhatsApp call recorder feature. The parent will be able to obtain the list of all call details including duration, date, time, caller names, incoming and outgoing calls. Recorded calls can also be heard to know the kind of calls made and ensure the safety of your child.


3. Parents can verify shared WhatsApp status including private ones.

When it comes to expressing, teens like to share most of their emotions through status. Although, disappearing text chats and photos can be a tad risky when safety and transparency is concerned. Even such disappearing public and private status of one's children can be monitored with ease with help of the KidsGuard app for WhatsApp Messenger.


4. Even more features

KidsGuard app features are not just limited to monitoring WhatsApp Messenger on the target phone but it has several other features that are worth mentioning here.

Time spent by your kid on WhatsApp, Instagram, Snapchat, Facebook, Tinder, etc. can be known by the parents using this app including the frequency, time, and date too. This will ring an alarm in your mind that, does your child really need to spend the amount of time on WhatsApp Messenger or it needs some intervention.
As the KidsGuard app works in real-time, it can capture live screenshots when your child is on any social networking app. It intuitively displays the details of use by your child. It's not limited to just this, but it also deletes the screenshot from the target mobile without a fuss.
Kids won't be able to deviate from parents by telling that there was no Wi-Fi signal or battery was low as Parents will have the full status of their kid's phone through this app and more.
The application works in stealth mode and is completely hidden from your kid's eyes. It is 100% hidden.
KidsGuard Pro for Android keeps your live GPS location of your child's phone. No longer do you need to worry about your kid lying to you about his/her current location.
Not only can you track the current live location, but you can also check the location history wherever your kid has gone.
You can set up a geofence with this app which will give you an alert whenever your kid ventures outside your set geofenced location.
Wi-Fi location tracking helps you track the location of your child when their Location setting is turned off by they are still connected to some Wifi network.


This application has provided the user with an option to try a live demo without purchasing the software at once.


Complete Guide to Setup KidsGuard Pro for Android and apply the Parental Control

Setting up the KidsGuard Pro for Android is not a difficult process although the functionality it provides is rather webbed through complex programming. Setting up the KidsGuard Pro for Android can be done in a matter of few minutes, but you must have access to your kid's mobile to complete the setup. Follow the below steps to get started and monitor your kid's WhatsApp through the inbuilt function of the WhatsApp call recorder feature, read the text messages on his WhatsApp messenger and keep your kid safe from any bad event before it can escalate.

Step 1: Go to clevguard.com on your mobile or desktop and click on KidsGuard Pro for Android. A new page will open, then click on Monitor Now. Register with your email address and log in. You would like to buy a Pro version to get all the advanced features of this app.

Step 2: Take your child's phone and download the app on mobile by navigating to www.clevguard.net. You will see the following image.


Step 3: App once installed on your kid's mobile sign in to your account. This will connect the target device to your online account. This will also complete the verification process.
You will have to complete some configurations while setting up the app which is depicted below for reference and correct installation.


Step 3.1: Need to disable Google Play Protection for full functionality.
After sign in a prompt will appear for disabling Google Play Protection. Tap Proceed to Settings. Click disable Scan apps with Play Protect and Improve harmful app detection. Go back to the KidsGuard Pro app and tap Already Set, then continue.


Step 3.2: Need to provide Accessibility Access
Go to settings in the next prompt once Activate Accessibility page opens. In installed services click on System Update Service and tap Allow. You will see a message that System Update Service wants permission to Monitor your actions and retrieve window content, tap Ok.


Step 3.3: Next Activate App Supervision
Further will be App Supervision activation. On this prompt, click on proceed to settings, and find usage data access, now find System Update Service and tap on Allow Usage Tracking. Enable this service for the smooth functioning of this app.


Step 3.4: Grant Access to Notification Access
The next prompt will be Activate Notification Access. Tap on proceed to settings and then enable System Update Service. This will allow access to notifications and you can read text messages received on your kid's mobile.


Step 3.5: Next comes Administration Access
On this prompt again tap on proceed to settings and activate device administration permission to this app disguised as System Update Service.


Step 3.6: Next enable Screen Capture
On the next prompt, you will be asked for Screen capture activation, click on proceed to settings and tap Start Now. Do select Don't Show Again before proceeding.


Step 3.7: Next will be Data Access Permission
Now, Data Access to Messages, Contacts, Call Logs, Calendar, and Location will be asked for. You can either allow them with one tap or individually if prompted. This access is asked for by almost every app.


Step 3.8: Next will be Battery Optimization
Battery optimization kills the apps working in the background, hence to keep this app up and running you will have to ignore the Battery Optimization function. On the prompt box, click on Allow to stop battery optimization.


Step 3.9: Now enable Background Running or Auto Startup in select mobile brands, viz. Huawei, Oppo, Vivo and Xiaomi.

This is a selective functionality based on the brand of mobile your kid has. Assuming your kid has Vivo brand mobile then, you need to go to Settings, click on battery, then click High background power consumption, then look for System Update Service and turn it off. Similarly, for other mentioned brands you can refer to the website help page.

For other brands, proceed to settings, look for System update service, go to Advanced settings, then battery optimization, find System Update Service again and then disable it.

Step 3.10: Hide the App from Task Manager
As updated regarding Oppo mobile regarding Background Running above you must also hide the same from Task Manager. In Oppo mobile Go to settings and find System Update Service in Task Manager. Click the settings icon and then tap lock. Then return to the app interface.

Step 3.11: Begin Monitoring Process
Lastly, once all the requisite permissions are granted you can begin the monitoring process. Just click on the Start Monitoring button and the app icon will vanish. Although, for Android 10 and above the app icon will be replaced with a 'Notice' icon. It is advisable to hide this icon under some folder on mobile to evade attention.

Step 4: Once the process on mobile setup is done, you can access the same via your smartphone or computer. You can log in to the official website anytime and monitor the activity of your child on WhatsApp messenger without alerting them. Here is what the KidsGuard control panel will look like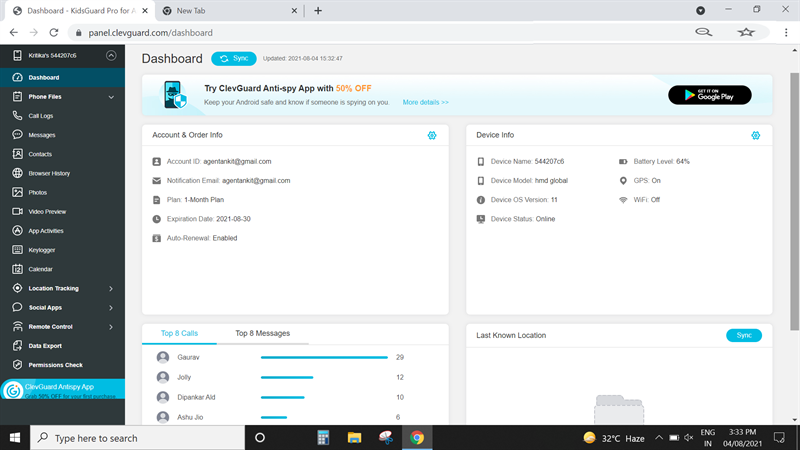 Now either on your phone or laptop, visit KidsGuard Pro for Android website and log in to the web control panel with your credentials. You will be able to monitor your child's all WhatsApp activity without them knowing.

It might seem a little difficult as to how to safeguard your child from online threats but, it is very much possible through KidsGuard Pro for Android and that too remotely without your kid knowing about it.


What Parents ought to know about WhatsApp

The younger generation is highly active on WhatsApp and other social media platforms and they use them every day and that too for a long duration. Parents must know some positive and negative effects of these apps to keep their child safe if, the negative side overshadows positive aspects.

Some positive aspects of WhatsApp are that it is free to use and is a fast mode of communication sharing, it allows video and audio calls, text exchange, it is an end to end encrypted all the media shared in form of image, audio, PDF, video, etc., can be seamlessly imported or exported for further use.

Some of these negative effects viz., distraction, low attention span, obsession possibility, laziness, sleep deprivation and in turn overall health hazard. The negative aspects of this app are what compels parents to keep a tab on their child's activity. Parents want to know how to receive text messages from another phone, or read text messages on their child mobile. Parents wish the best for their children and hence will always want their children to excel by protecting them.


Final Take

WhatsApp has its utility and so does most of the other apps, but anything in excess may become harmful. Young minds are easy to capture and once they get into something they get totally involved but too much may prove too costly if some tabs and checks are not there. If a child starts to behave abnormally or is keeping to himself/herself, then parents will get bothered and would like to know the reason why. In such situations applications like KidsGuard Pro for Android come to their rescue. It is a kind of antidote to addiction. It is a highly advanced and Parental control app that can meet all your specific requirements and help you monitor WhatsApp messenger. Parents will be able to monitor their kid's WhatsApp activity without them knowing.