Top 10 Best streaming devices available in India in 2021

Entertainment by watching movies or series has gotten much more easier with online streaming. Services such as Prime Video, Netflix and other services provide a great experience and host of options for most of us. Let us check out the best streaming devices in India in 2021 to enjoy these services to their full capacity.


You have several options for watching online content on your TV. While your TV may have apps specifically designed for providing you access to these great services, a few of the services may need you to connect a streaming device to your TV. Not to forget, you don't get a download feature on a smart TV. A good number of streaming devices come with an option for watching any online content or even the local content on your TV.


Best Streaming devices available in India in 2021

When it comes to the choice of the best streaming devices, you would find that there are a variety of choices available and picking the best among them can prove to be a little tougher. To help you in a situation where you are spoilt for choice, we thought of adding up the a few great streaming services for you to pick from.


1. Amazon Fire TV Stick Lite with Alexa Voice Remote

If you are on a budget, the Amazon Fire TV Stick Lite with Alexa Voice Remote is one of the best options for the perfect media streaming compatibility. The Fire Stick provides you access to a fast and easy to use functionality.


This streaming device does come with the options for all your streaming apps, and a remote controller. You will be able to stream your content in 1080p video quality. You will be able to find the content in different quality options viz HDR10, HDR10+, and HLG formats. Fire TV Stick also comes with Amazon Alexa support.

Pros
Full HD video and Dolby Audio performance
Faster User Interface
Easy to use remote controller
Budget pricing
Con
2. Airtel Extreme Box

A Direct to Home satellite service and a streaming device combination is what makes it one of the best options. It provides you access to more than 5000 apps and services. Some of the services and streaming content available on the streaming box include YouTube, Netflix, and Amazon Prime Video. You can install additional streaming apps as per your preferences.

The streaming box works on Android TV platform and since it uses the Android ecosystem, you can install additional apps from the PlayStore for streaming.


The streaming box provides you access to a Google Assistant powered remote as well. The Chromecast built in is yet another great feature that you would find useful. The remote comes with Bluetooth connectivity which helps you get rid of the need to point the remote to the box.
Pros
Combined options of cable TV and streaming service
Support for Google Assistant for searching and playing content
Compact design
Cons
3. Roku Express

Roku Express is one of the powerful streaming devices and provides you access to a very compact design. The minimalistic design makes it a wonderful option for practically all seamless integration options with your TV. You can get access to up to five times better HD streaming.


With support for the Roku interface and a wide range of Roku services, you can stream more than 5 lakh movies and TV episodes across paid and free channels. Some of the services supported on the platform include Netflix, Disney+, Apple TV, ESPN, Prime Video and YouTube. You can even add up more channels and services as per your preferences.

Pros
Ease of Use
Several streaming options included
Extremely affordable
A good companion app
Cons
Slow navigation
No Ethernet connection
4. Apple TV 4K

If you are someone who owns an iPhone, iPad and other iOS devices, Apple TV 4K is an excellent choice of streaming device that you can go with. The device is quite expensive, but lives up to the expectations. The compatibility with AirPlay 2, Siri, and HomeKit provide you access to a greater degree of experience. You can even pair it up with Xbox One or PlayStation DualSense Controller and play your favourite games.


You can use it to stream content in 4K and HDR. Obviously, your TV should be compatible to support this quality of streaming otherwise you can switch to a lower quality. Availability of both HDMI and ethernet ports is a good option from the connectivity point of view. Easy remote access is yet another prime feature that you would find much interesting.
Pros
4K video streaming with Dolby Vision, HDR10
Smoother User interface
Faster processor designed for an efficient gaming
Support for multiple profiles
Cons
5. Xiaomi Mi Box 4k

The brand Mi is known for providing you with an affordable access to the entertainment content. The Xiaomi Mi Box 4K is one of the excellent additions for an enhanced experience. It provides you access to 4K 60fps videos and supports HDR10. You will not find support for the options such as Dolby Vision, HDR10+, and Dolby Atmos.


The remote control functionality offered by the Box is one of the best options. The ease of installation and compact design are the two features that though don't affect the streaming quality, do get counted in the pros and cons of streaming devices. You will also find the image quality and streaming performance better than most of the competitors.

Pros
A simpler and easy to use User Interface
Affordable pricing
Google Assistant support
Chromecast support
Con
No Dolby ATMOS support
Remote seems a little cheap in quality
6. Amazon fire TV cube

The Amazon Fire TV Cube is one of the best options for controlling your TV through voice commands. Outstanding features such as wired infrared support, dual-band Wifi with MIMO and HDMI compatibility make it a great choice for most of the expectations you may have. It has been considered to be a great option for an innovative streaming compatibility.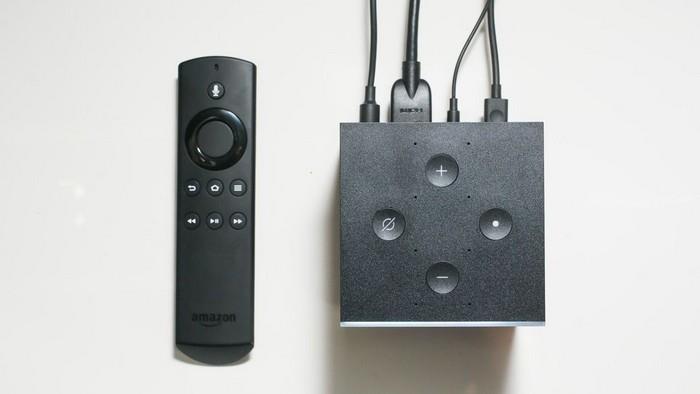 The Cube TV provides you access to a high degree of performance in terms of audio through eight microphones. Being an Amazon device, you get Alex, the voice assistant with this box that is controlled through the remote.
Pros
Powerful processor
A huge media hub functionality
A faster loading experience
A snappy and responsive user interface
Cons
We found not many cons as such
7. Tata Sky Binge+

Tata Sky Binge+ is the same option for a combination of cable and streaming service combination as on Airtel Extreme Box. The Android-based TV box is a streaming box from Tata Sky - which is a popular Direct to Home service in India. The service provides you access to a great service quality through access to Disney+ Hotstar, Netflix, Prime Video, YouTube, and many others.


Being powered by Android, support for Google Assistant and Chromecast is provided by default. The functionality may appear to be a little sluggish, but given the additional features, it can be a good option.

Pros
Perfect video streaming and HDR10
Access to DTH channels and streaming content simultaneously
Chromecast for media casting and screen mirroring
Cons
No support for Dolby Vision, HDR10+
A little sluggish
8. NVIDIA Shield TV streaming player

NVidia has been one of the promising brands in the gaming arena, but you will find it offering you a great degree of service quality with the streaming device as well. The impeccable features offered by the player definitely make it a powerful entry into the realm of the streaming devices. The aesthetic looks offered by the service can definitely prove to be a perfect service for most of your needs.


The streaming device provides you access to several popular streaming services that would include YouTube, Netflix and Amazon. The other additional features include 500 GB storage capacity and Google Assistant support. It also provides you access to an exceptional gaming experience as well.

Pros
Excelent set of streaming functionality
AI based upscaling capability
High definition quality performance
A responsive gaming performance
Cons
Expensive price tag
Best suited for PC gamers
9. Google Chromecast 3

This is the device made and sold by Google. It definitely makes it one of the most capable and exceptional streaming devices that you can go with. The service comes with a widespread fan base - thanks to the popularity that the streaming device comes with. The design of the streaming device coupled with the compact finish makes it one of the prominent devices ever.


You can mirror your screen from your smartphone onto your TV or other devices. The service can stream a wide range of content that includes Netflix and YouTube. You can even add up more streaming services if you want to. Google Chromecast is obviously there being a Google device. Compatibility with a wide range of devices and platforms makes it a highly effective streaming device.

Pros
Availability of ethernet port
Compact form factor
A great design and build quality
Google Assistant support
Cons
10. Roku Ultra

Yet another Roku device that forms a part of this list of the best streaming devices in India, the Roku Ultra is is powered by the quad-core processor. The perfect TV controls and upgraded voice-controlled remote prove it to be a great option ever. A faster functionality can further make it a capable device for your streaming requirements.


You can either check out the WiFi connectivity or decide to go with the Ethernet connectivity. The streaming quality offered by your device is quite impressive. This streaming device provides you access to HD, 4K, and HDR quality on your streaming device. One-touch control feature improves the usability further.

Pros
Advnced remote controller
Faster performance
A huge range of streaming services supported.
Voice control options
Compatibility with WiFi and Etehrnet
Cons
No Dolby Vision option
No voice feature
The Closing Thoughts

Choosing the best streaming service can definitely prove to be one of the toughest options. There are several factors that you would want to focus on when picking the best hardware and software quality. Features offered on the streaming service such as voice assistant options, compatibility with several home products, the best software compatibility and a wide range of other options make it one of the best streaming devices. It would be advisable to check out the prime features offered by your chosen streaming devices.