Your Complete Guide to Email Drip Campaigns

Capture your audience's attention with email drip campaigns that combine automation and personalization. Read the article to learn more.


Email drip campaigns are a scheduled sequence of automated emails that influence subscribers to take specific actions. Email drip campaigns are generally triggered when a customer performs a certain action. For instance, you can automatically send an email welcome sequence when a person subscribes to your email list.

Email drip campaigns are a form of marketing automation. They allow you to set up sequences of emails sent to subscribers based on how they engage with your company. You can set up completely automated email drip campaigns and one-off email drip campaigns with clear goals.

An example of a completely automated sequence is a welcome email that you send to all new subscribers. On the other hand, you can also set up an email drip campaign for a product launch that you use once.

This guide will walk through the most popular types of email drip campaigns, what those campaigns look like, and why you need to set them up for your business. Let's kick things off by considering some of the benefits of using email drip campaigns.


The Benefits of Using Email Drip Campaigns

Drip campaigns allow you to automate how subscribers engage with your company at critical touchpoints. For example, when a person signs up to your email list, you can send a welcome sequence. Your email sequences can serve a variety of purposes.

One of the principal benefits of a scheduled email sequence is that it saves time and automates important tasks. While saving time is one of the principal benefits of this type of marketing automation, it's by no means the only one.


Source: Constant Contact Blog

Email drip campaigns play an important role in turning people who have little knowledge of your brand into customers. You should set up automated email drip campaigns for every key touchpoint in the customer journey. You can set up email sequences for when people:
Join your email list
Add a product to the shopping cart but don't make a purchase
Ask for customer feedback after a purchase
Send upsell sequences to customers to increase sales
Stop engaging with the emails that you send

As you can see, drip email campaigns play an important role in audience development. While email drip campaigns are effective, they should not replace the regular emails you send to subscribers.

It's important to send general updates to your email list with interesting and up-to-date insights.


How to Set Up Your Email Drip Campaigns

Email drip campaigns boost sales and grow your business. You need to plan your drip campaigns. Here are some steps you need to follow as you set up your campaigns:


1. Research your audience

The starting point for any marketing campaign is getting to know your audience. You should gather relevant data such as audience demographics, gender, age, occupation, and location. I recommend you use this data to create a customer persona.


Source: Oberlo
The customer persona will help you consider your audience, their interests, and their pain points. Considering the needs of your audience and their interests will help you create more effective marketing material.

Creating a customer persona is an important step. You want to create email drip campaigns that your subscribers find interesting.


2. Consider the data you want to collect

You must consider what information you want to gather about your audience. At a minimum, you will collect the email details of your audience. Many sites will also gather the person's name, which allows you to add a degree of personalization to your emails.

There is a lot more information you can gather, though.

If you collect details like your subscriber's date of birth, you can use this information to set up an automated email drip campaign "birthday sequence." A birthday email drip campaign is a great opportunity to build a relationship with your subscriber.

There are other types of data that you can gather as well. For example, demographic information like the sex of your subscriber is important. Consumer purchasing habits are also a critical factor to consider.

As you get familiar with email drip campaigns, you can use demographic and other information to segment your audience and send customized email drip campaigns. For example, you could send different email sequences to male or female subscribers. Equally, you could send a different email sequence to people who made a $20 purchase at your store and someone who made a $1,000 purchase.


3. Identify important triggers

In the context of email marketing, triggers are actions that result in an email being sent to your subscribers. They range from "Welcome Aboard" emails that a person receives when they sign up for your mailing list to "We're Sorry to See You Go" emails that you send whenever a subscriber decides to unsubscribe.

One of the first things you should do is determine the essential email drip campaigns you want to set up for your website. Make a list of email sequences that you feel you need.

Once you have your list, determine which emails are critical to your business. I recommend that you start with a minimum number of essential email sequences. For example, you might start with just a welcome email campaign for new subscribers. Over time, you can build out your email sequences using the insights that you've gained.


4. Create the campaign

Most effective email drip campaigns are based on effective sequences. If you're just starting out with email marketing, I recommend using proven email sequences for your email drip campaigns.

Many marketers have a welcome email sequence of between three to five messages. Each message is sent with a gap of between one to three days. There's an example of an email welcome sequence below.


Source: BA6 Marketing
When creating your email sequence, consider the following:
What do you want to achieve with your email sequence?
How will each email in the sequence achieve that goal?
How much time should you leave between each message?

I recommend you create your email drip campaign outline. Then consider what each email in the sequence should achieve.

Once you have your outline, then you can start working on each email.

You will also need to focus on specific factors that will increase the chances of your emails being opened, read, and clicked on. For example, you should use a catchy, personalized subject line. Make sure that each email you send provides value to your subscriber.


5. Test and adjust your strategy

When you run an email drip campaign for the first time, you're bound to have a few hiccups here and there. For example, your subscribers might not open your emails as often as you like, or they might not be clicking on the call-to-action (CTA) buttons.

It's always good to test and adjust your strategy.

I recommend you break down your analysis into two stages. Look at how each email in the sequence is performing. You should analyze the open rate and the Click Through Rate.

Begin by reviewing and optimizing the first email in the sequence. You can make direct revisions or run A/B tests to check how any changes impact the stats. Your goal is to improve the results. Once you've optimized the first email in the sequence, you can then move onto the next email, and so on.

Each email in your sequence should have a high open-rate by the time you've finished your optimization. If there's a significant drop in the delivery rate over the drip campaign, consider shortening the campaign. For example, you might shorten an email sequence of five emails to four emails.


The Types of Email Drip Campaigns You Can Use

While the types of email drip campaigns you use will depend on your niche, there are some types of automated emails that you need to master regardless of your industry. Here are a few of them.


1. Welcome mails

Also known as onboarding emails, welcome email drip campaigns introduce your brand and your products or services to your audience. They are a way of establishing your brand identity.


Source: Mirasee

A welcome email drip series should introduce your company to the recipient. If you're providing a service, the welcome email series can also help with customer onboarding. For example, sharing tips on how to make the most of the services you provide.


Souce: Dotcom

Here's a nice example of a welcome email from Shopify. You can see they share relevant resources in the email. At the end of the email, they explain to subscribers what to expect from them in the future.
You should send a welcome email sequence after verifying the email details of a new subscriber.


2. Launch of a new product

Drip email campaigns are a great way to launch a new product. One of the most used sequences for launching a product was developed by Jeff Walker, who developed the Product Launch Formula.
The Product Launch Formula relies on you sending a series of emails where you build anticipation for your product when it launches. Each of the emails in the sequence sends the subscriber to a video landing page, where they learn a bit more about the product on offer.


Source: Funnelytics
The goal of these emails is to create a sense of excitement and anticipation for your offer. So, when you finally launch the product, you'll have people who are excited to buy your offer.


The email from Adidas above is a good example of a launch email. It provides just enough information about the product to make a person want to click on the link.


3. Customer feedback

You need to seek customer feedback if you want to ensure your customers are happy with your service. You can use customer feedback to monitor satisfaction, identify problems, gather testimonials, and learn what you are doing right.

A drip email campaign, launched after a customer has made a purchase, can help you gather feedback. Here's a nice example from Netflix.


Gathering and then acting on customer feedback is the easiest way to reduce customer churn and grow your business. You can use the insights you gather through customer feedback to improve your service and gain an advantage over competitors.


4. Abandoned cart

The abandoned cart rate for eCommerce websites is significant. According to data provided by BigCommerce, the abandoned cart rate can be as high as 15%. That equates to you losing roughly one in seven potential customers.

An abandoned cart email campaign helps you target and potentially convert some of those lost customers. You can automatically send emails to people who added products to their cart, started the checkout process, but didn't make a purchase.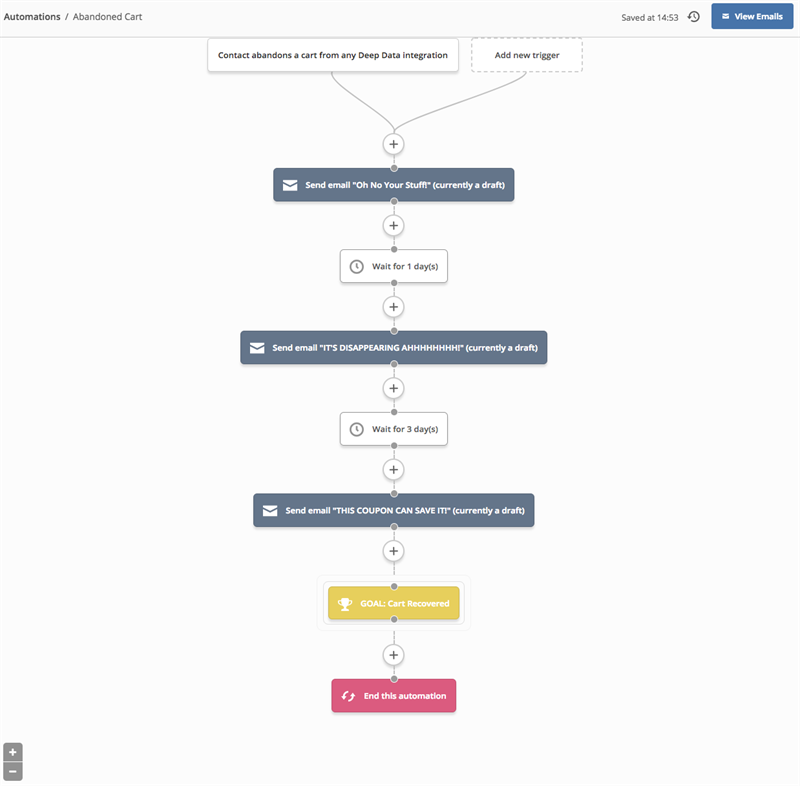 Source: ActiveCampaign

It's a good idea to send a sequence of emails, like the one above.

You may offer an incentive for the customer to complete the purchase, such as a discount or freebie. This approach is remarkably effective. A study by SaleCycle found that 50% of all abandoned cart emails get opened and one-third of opened emails result in clicks to eCommerce sites.


5. Re-Engagement

Over time many people stop engaging with your brand. The reasons are varied.
They might be busy with other things. They could have changed their email details.
Regardless of the cause, you need to remove inactive users from your list. A high number of inactive users on your list impacts your email delivery rates.

The best way to re-engage users is to set up a re-engagement campaign.

Re-engagement emails should contain information that influences your target audience to take action. There are many methods you can use for this purpose. For instance, you can promote new product features, offer discounts, or even use gamification:


The email above is an example from Grammarly. In this case, because I haven't used Grammarly for weeks now, I don't have any stats. The re-engagement email is supposed to make me want to log back in and use the platform.


In Closing

Drip email campaigns allow you to take your subscribers on a journey. You can nurture leads towards conversion and customers towards advocacy. For an onboarding sequence, email subscribers to reassure them that they made the right decision by signing up.

With a marketing automation platform, you can easily build and perform email drip campaigns without investing your time, efforts, and resources. You need a robust automation solution to start a drip campaign and get more from email campaigns.

Hopefully, this complete guide to email drip campaigns gave you insights into creating and executing drip email campaigns. Best of luck with your drip campaigns in 2021!

Bio
David Campbell is a digital marketing specialist at Ramp Ventures. He helps manage the content marketing team at Right Inbox. When he's not working, he enjoys traveling and trying to learn Spanish.