Unleash Your Complete Productivity With EssentialPIM

Know from this article how you can manage your personal information and emails with a professional tool that can collate all your business information and handle your meetings and alarms for you securely.


The workplace is growing more complex with each passing day as people are having to deal with bigger assignments. While a greater number of variables get added to your table, you might feel at loss trying to juggle the same. Often, you might end up forgetting meetings and appointments.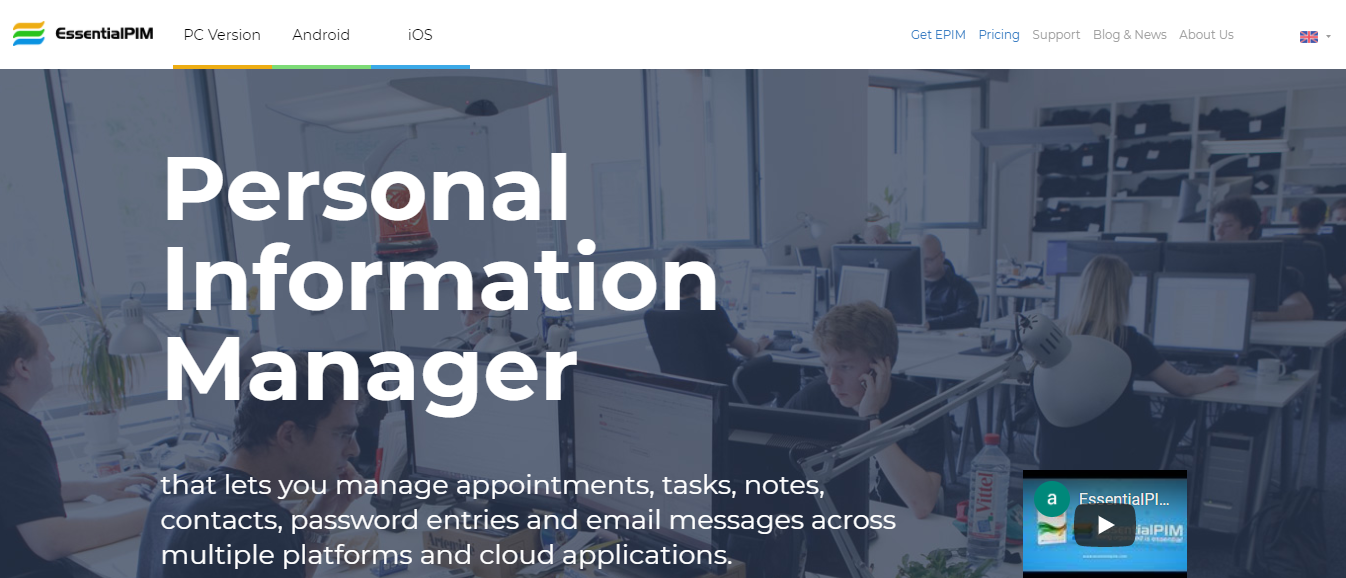 Settings alarms on your smartphone can seem like a viable option, but rescheduling the same when required might require greater time and effort which you may not be able to devote readily. Another option is hiring a secretary. But just like you, she/he will only be a human, prone to errors. Intuitive personal information and email management tool like EssentialPIM can fill in this void by collating all your information under one roof for easy access in an error-free way. Whether you are a businessman or a professional, you can immensely benefit from this software whose USPs have been listed down below:


Email Management

Whether you are a home user or professional, EssentialPIM can guarantee top-notch email solutions by synchronizing with other modules such as notes, contacts, tasks etc. Just logging into your account helps to synchronize emails from various mail providers. Once the permission for content access is provided, all your emails become a subset of the EssentialPIM system so that you can edit, link and search the same along with other data. Sensitive emails remain protected through PGP encryption to keep you completely protected against all chances of a data breach. All your data gets backed up automatically when the app is running as you add in greater productivity by customizing your emails using templates (canned response) and signatures. Since mass messaging is supported by EssentialPIM, businessmen can greatly benefit by sending newsletters and announcements to various contacts with a single click.


Synchronization & Consolidation

Have you been facing difficulty in accessing information across multiple cloud solutions, platforms, services and devices? If you have an affirmative response, then EssentialPIM can come to your direct rescue with its scalable database which allows storing everything ranging from tasks to appointments, contacts, passwords, notes and even email messages. You can access everything readily at your fingertips without having to toggle between different services, applications or devices. This can amp up your productivity as you get to synchronize data with different cloud services like Outlook.com, CardDAV/CardDAV, Toodledo, Dropbox, ownCloud/Nextcloud, Office 365 and iCloud by connecting your device with cellular or Wi-Fi network. Synchronizations usually run at the background without causing any disruption to your normal workflow. You can even schedule the synchronizations either after certain events or on a recurring basis. Irrespective of the type of synchronization, EssentialPIM retains the data structure so that no difference arises between the online and offline sets.


Better Control Over Data

EssentialPIM allows users to organize, access and handle data with more flexibility and convenience. Users can apply tags to the data for navigating easily through datasets and finding the required information. Cross-linking of data comes as another beneficial attribute allowing the establishment of connections between various data elements so that changes made in one field gets reflected in the other. EssentialPIM also stores external files which are attached to different items like notes, appointments, tasks, etc. for greater productivity. Any data stored in EssentialPIM can be printed in a variety of layouts once you have grouped, limited, hidden or added data as per your preference. Its open-source Firebird database engine allows writing applications and plugins without the hassle of proprietary formats or lock-ins.


Superior Data Protection

Online information often falls prey to security threats and surveillance activities. But you can expect maximum protection while using EssentialPIM, be it the Windows, iOS or Android variant as the data doesn't leave your device and will not be available over the internet unless the same is synchronized with different cloud services and applications. The data remains encrypted using AES (Rijndel) 256-bit key which is considered to be the industry standard. SSL technology which is commonly used in online banking protects data while data synchronization with cloud services.


Full Portability

A unique thing about EssentialPIM is that it can work directly from portable devices such as a USB flash drive. The data and related settings are stored in a dedicated folder of this removable media and don't leave back any trace on the host system.


Easy Migration

Extensive data import and export function of EssentialPIM allows compatibility with formats like XML, RTF, EML, TXT, HTML, vCard, CSV and iCal. The data doesn't remain locked and can be migrated easily.


Multiple Language Support

Even if you are not a native English speaker, then you can avail the EssentialPIM software which is compatible with around 26 different languages including Italian, Portuguese, Turkish, German, Spanish, French, Polish, Chinese, Dutch and Russian. This allows catering to a wider user base.


Windows, iOS and Android Support

EssentialPIM is a cross-platform software that is compatible with Windows, iOS and Android devices. People often complain about pestering advertisements while using such tools in their mobile phones. But this is not the case with EssentialPIM which is completely ad-free. The Android version offers customizable widgets and flawless integration with the Windows variant over cellular networks, Wi-Fi, USB cable or Bluetooth. The data gets synchronized automatically with different Google services like Tasks, Calendar, Drive and Contacts. Coming to the iOS variant, you can also expect a similar level of synchronization facilities. A hierarchical task structure allows organizing tasks into trees with sub-trees and leaves.


Conclusion

EssentialPIM offers an all-in-one solution when it comes to tracking activities, scheduling tasks, managing appointments, setting up emails, recording notes and even managing passwords. Its more like carrying a dedicated employee along to work and home for being your eyes and ears of all the pending tasks and assignments. You can bound to exercise greater productivity as all your work gets organized in a single platform.