Best Laptops For Travel & Remote Working for 2021

Not all laptops are great for travel and remote working. In this list, you'll be able to find the best ones for 2021. If you're planning to buy a new one, it's best to check this list out to find the best laptop for your needs.


Working remotely offers some exciting perks. It provides you with an improved work-life balance, less commute stress, and much-needed freedom.

Savvy digital nomads, however, know that to fully enjoy these benefits, they need the right tools. A good laptop helps you focus on what truly matters -- performance. It encourages you to be more productive, so you can get the most out of your workday.

You have to make sure that your laptop can deliver. It should be able to have the power to make the tasks it needs to do. And the best laptop should have all these characteristics -- and more!

In this guide, we've listed some of the best laptops for freelancers. Whether you're working on a depleted budget, looking to travel full-time, or you're just starting out, we've got a laptop for you.


1. LG Gram 17

Finding a portable laptop that's both durable and affordable can be difficult. The LG Gram, though, offers these benefits and much more. One of the fastest computers around, it has quickly emerged as a favorite for digital nomads.

For one, weighing at only 1.3kg, it's easy to carry and travel with. Its 17-inch display makes it suitable for all types of freelancing jobs. Whether you're doing some coding, video production, or light office work, you'll find the portable PC up for the task.

The battery life is also impressive for a laptop, even at its price point. The 18.5 hours it offers you lets you work for hours on end. And if you're one to work long into the night, you'll find the illuminated keyboard very beneficial.

Having a 25600 x 1600 resolution, the machine takes your entertainment to another level. It brings your videos to life and can make for a good companion in busy homes.

The LG Gram can be part of your freelancing arsenal well into the future, thanks to the durability it provides. Supporting displays as high as 5k, the machine can serve your binge-watching habits for years to come. It's designed with metal, so its components are safe. Its dust sealing further improves its durability, preventing any overheating problems.

PROS
Huge screen
Portable
Impressive battery life
Comfortable keyboard
Gorgeous display
CONS
Relatively high price
Has a rigid feel
Occasional misclicks from the centered touchpads
2. Lenovo Ideapad

If you're looking for a more budget-friendly option, then this Lenovo laptop is perfect for you. It suits freelancers who aren't overly concerned with powerful computer performances and prefer a simple machine that gets the work done.

The computer helps you accomplish light freelancing tasks like editing docs, browsing the web, and watching videos. Also being super-lightweight, it's easy to take with you wherever you go. To top it off, it has a decent battery life that can last a few hours.

At its pocket-friendly price, the laptop comes with its fair share of drawbacks. The touchpad has a low-quality feel to it and pales in comparison to the others in this list. You also get a relatively small storage space. But you can easily work around this problem by buying an extra drive or by storing your less important files in the cloud.

The best part is that you won't get too troubled if you lose it. Simply because it never jeopardizes your budget in the first place. In fact, if you're using it for work purposes, it may repay your investment in a short time.

PROS
Offers 1080p resolution
Slim and lightweight
Decent battery life
CONS
Poor quality touchpad
Bad speakers
Low storage
3. MacBook Air (2020)

Apple's newest Macbook release has been a success. It has improved on a lot of the issues that plagued its predecessors. The keyboard, for instance, which was once difficult to type on, has received major upgrades. Additionally, Macbook Air provides more storage options, at a much lower price.

Of course, there are a few things that could use a few improvements. For example, battery life could be much higher to accommodate long-distance travelers. But looking at the bigger picture, this laptop model is much better than others and is probably Apple's best business computer to date.

Looking at JUST Creative's list of powerful laptops, the MacBook Air is their top-rated laptop for graphic design. Apple's Retina Display makes colors clean and vibrant. This makes this laptop perfect for graphic designers on-the-go.

PROS
Powerful 10th Gen processors
Upgraded keyboard
Reasonable entry price
CONS
Battery life lower than most laptops on this list
Has muted screen colors
Subpar 720P webcam
4. Dell Inspiron 5000

Dell Inspiron computers typically offer good performance, even on their mid-range price points. Inspiron 5000 is the latest release and has slowly become the go-to choice for most programmers.

Programmers aren't always looking for over-the-top features when selecting a laptop. They can perform most coding tasks on simple yet powerful features. This machine comes with three essential features that may appeal to coders -- Full HD Display, powerful quad-core processor, and decent SSD storage.

It ticks most of the boxers in a coders checklist, offering impressive running performance. It can handle most computing tasks, even the more taxing ones.

PROS
Beautiful exterior design
Great screen
An impressive core i7 processor
Good build quality
CONS
Low resolution
Average battery life
Doesn't work particularly well with 3D
5. Lenovo Yoga C940

When it comes to premium 2-in-1 laptops for remote workers, the Yoga C940 takes the crown. It comes with high-end specs and a price tag that reflects its quality.

With 12GB Ram and a fast i7 processor, the machine also comfortably ranks as one of the best laptops for graphic designers. Designers can enjoy its 15-hour battery life, allowing them to work on their projects without any interruptions. At 4k display, it can last for an impressive 10 hours -- a feature that further endears it to designers.

Weighing at 1.5kg, it's slightly heavy for traveling purposes. Luckily it has a small power adapter that adds very little weight. And with a carry-on bag, you'll hardly feel its heaviness.

PROS
Good sound quality
Powerful processor
Long battery life
Strikes a healthy balance between work and play purposes
CONS
Slightly expensive
Bit heavy
6. Asus Zenbook 13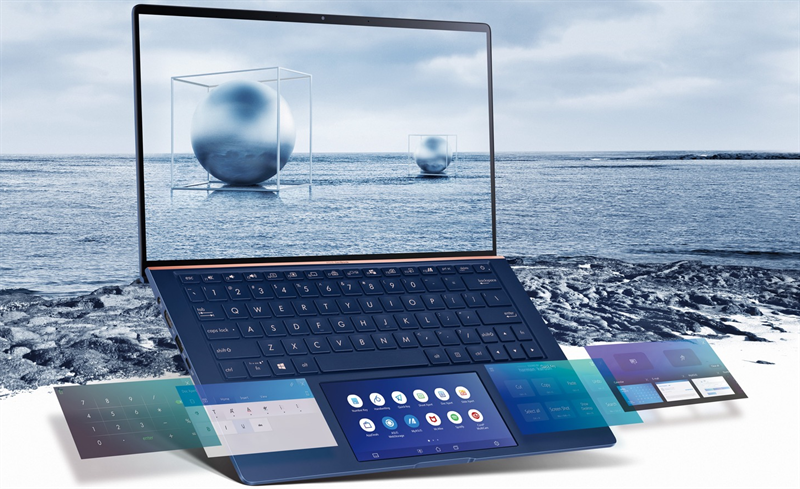 The Asus Zenbook 13 is among the line of laptops made by Asus. This laptop packs a punch because it features one of the most unique features out there. The touchpad of this laptop transforms into a secondary screen with one little tap. This mini-display can support apps like Spotify and Evernote.

This powerful laptop can last almost 14 hours over a continuous Wi-Fi connection and maximum brightness. What's even more surprising is that everything that this laptop has to offer is packed in a compact design that weighs only 1.22 kilograms.

The audio quality of the Asus Zenbook 13 is not too shabby. With Harman-Kardon sound engineering, this machine produces a rather impressive sound quality. And with Intel's 10th Generation CPUs, this laptop can run multiple apps at the same time. Perfect for remote working.

PROS
Great battery life for working on-the-go
Premium and classy design
ScreenPad is revolutionary and very handy
Powerful processor
CONS
Average brightness. It gets dim when used under direct sunlight
Keyboard spacing is narrower than the others
7.Dell XPS 13

The Dell XPS line is probably one of the most powerful alternatives to MacBook Air. By virtue of design, both machines feature an elegant and minimalist design. The huge 16:10 display and longer battery life contribute to the factors which make this competitive with Apple's MacBook Air.

The sound quality of the Dell XPS 13 is standard. There's nothing special about it. But sometimes it could be a problem especially when you're in an online meeting. It's not the worst sound quality out there, but it's not the best as well.

Also, the ports on this laptop are limited. You might want to invest in adaptors for other connectivity ports of your choice.

But this laptop still makes it on our list because all other specifications of this laptop are outstanding. With its Infinity Display, the screen looks like there is no bezel at all. The 10th Gen Intel i7 processors and 16GB of RAM that you can get in this machine are truly remarkable for remote working.

PROS
Infinity Display is stunning and really feels different from the normal 16:9 screens
Thin and compact design perfect for travel
Dell provides options for the specifications of the laptop you're going to buy
Long battery life considering the QHD+ touchscreen display
CONS
Palm rest smudges easily
Brightness level is lower than average
Front camera location is awkward
CONCLUSION

With technology evolving continuously, there are numerous laptops for different kinds of work. The laptops we've mentioned above can help streamline your work when working from home. We've tried to make our list as inclusive as possible, analyzing computers of all budgets.

This list will help you in deciding what laptop to get for traveling and working from home. We've looked into some of their specifications, perks, and drawbacks, so you can make a more informed decision next time you're buying a laptop.