How to Turn Your Android Phone into a Portable Web Design Hub

Designing your website is a daunting task. You may think that you'd need a powerful computer to effectively create beautiful web designs. But, you can actually use your Android phone for this. Here's a guide on how to do it.




Most of the work that web designers do is through computers, not smartphones. However, this does not mean that smartphones can't be an integral part of your web design process. Every day, software creators upgrade their Android app versions of their computer programs to help on-the-go users.

If you're a website designer who is constantly on the move, check out these Android apps that can help turn your smartphone into a portable web design hub. Each tool will tackle a different aspect of your web design process and allow you to be as productive on your phone as you are on your computer.


Productivity Apps

A highly productive web designer is by default a successful one. The productivity tools they use help them optimize their web design process into a seamless and efficient experience. Having the right Android productivity apps can help you increase focus, manage your time efficiently, and get your tasks done.

Check out the following productivity apps and consider incorporating them into your web design process:


Todoist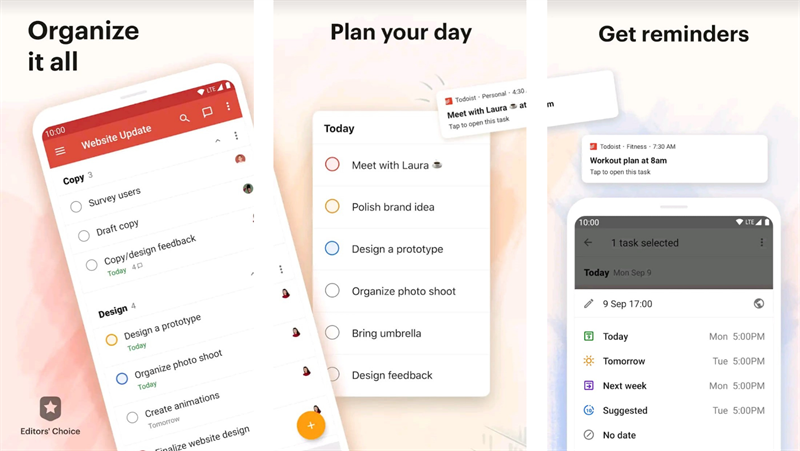 Todoist is a task management app meant to help its users get organized with the tasks they need to complete. It's perfect for web designers, as it allows you to track and manage all the small, but important, tasks that web designers need to focus on.

It also removes the overwhelming aspects of task management by allowing users to organize their tasks by time, date, and category. Todoist can also be used on your computer, as it syncs across all of your devices. One-the-go web designers will definitely benefit from having all their important tasks right on their Android phones.


Notion


Arguably a step above Todoist, Notion is a powerful productivity tool that allows users to manage everything and anything they're working on. Notion works as a note-taking, data management, and project management system that can handle even the most complex user needs. Web designers can also enjoy the visual capabilities Notion offers, as it allows users to set up their digital workspaces in a sleek and stylish way.

This app also offers a desktop and online version that syncs across all devices. Web designers can consider using this app to manage each project from a bird's eye view while also being able to break each project down into simple and manageable tasks.


Google Calendar


This is easily one of the most well-known and high-used calendar apps today. Functioning as a time-management and scheduling service, Google Calendar allows its users to keep track of anything relevant to their schedule. Web designers that want to improve their time management skills will enjoy the seamless experience that Google Calendar offers.

They will also benefit from features such as creating multiple calendars, including attachments to scheduled events, and activating event notifications. For web designers with international clients, Google Calendar also allows users to check and plan around multiple time zones.


Pocket


Pocket is a simple yet highly useful app that allows users to save and manage videos and articles they intend to read later. Web designers are constantly finding inspiration from other sites, videos, and articles on the web, yet might not have the time to review the content in the moment they find it. Pocket can help on-the-go web designers store the content that they want to explore right on their phone.


Loop


Loop is a habit tracker that helps users keep track of the habits they want to incorporate into their daily life. It's the perfect way for busy web designers to ensure they remain productive and healthy. Loop also allows users to look back on their habit tracker and analyze their behavior patterns, which can give them valuable information about how they work.

Better yet, Loop isn't limited by the internet, as it features an offline mode where you can work regardless of whether or not you're connected to the internet.


Forest


There are two things that are incredibly valuable to the busy web designer: time and focus. Without these two, a simple project with a fair deadline can turn into a mess of anxiety and rush that makes it harder to work. This is why an app like Forest works well for web designers. Forest helps users stay focused while they do their work.


Visual Design Apps

Web design is nothing if not visual in nature. This is why it's important for web designers to have good visual design apps to help their process while on-the-go. The following apps will help web designers perform basic tasks like choosing color combinations and font styles. It can also help with more intensive graphic design tasks.

Check out the following visual design apps and consider incorporating them into your web design process:


Canva


Canva is an easy-to-use graphic design platform that web designers will love. Web designers can create a range of digital images such as posters, flyers, banners, graphics, and more. It's commonly used as an online tool, but also has its own mobile version.

Busy web designers can take advantage of this app by working on their designs right from their phone. Canva is free to use, but also offers a paid subscription service that offers more benefits to its premium users.


Adobe Photoshop Express


For web designers who want more control over their designs, Adobe Photoshop express is also a viable option. Specifically made for mobile users, this app offers the same features as its desktop counterpart, with the added ease of a mobile-focused user interface. Web designers will love having the power of heavy graphic design editing from their mobile devices.


Palette Pantone


Per their app store description, Palette Pantone "analyzes your photo colors" and "automatically extracts aesthetic shades and adds beautiful palettes on top of the images." This app offers users a variety of features such as their image color picker and its real-time palette camera. Give the importance of color use in web design, web designers will greatly benefit from this mobile app. Palette studio is made for anyone who wants to understand and transform the way they use colors in their images.


Fontly


The Fontly app allows users to design and create their own fonts. Though it was initially released for Apple phones only, Fontly has also been made available to Android users. Users can also edit existing fonts if they so choose. Web designers will love just how easy this app is to use and the power it offers them to create their own fonts right from their phone.


Website Testing Apps

Another aspect of the web design process involves testing a website's functionality, as well as reviewing its analytics and making the necessary changes to a website's code. Fortunately, you can conduct many of these practices from your Android smartphone.

Check out the following website testing apps and consider incorporating them into your web design process:


Acode


Acode is a powerful code editor app for Android users. With the ability to run HTML, MarkDown, and JavaScript, this app would allow Web designers to make the necessary edits to a website, right from their phone. This app also offers a user interface that is very easy to use, as well as FTP and GitHub support.

Keep in mind, however, that you cannot run programs such as Java, Python, and C/C++ unless you use Termux alongside the app. Regardless, Acode still works well for busy web designers who need to make edits to the code of a website.


AndFTP


AndFTP is an Android app that serves as an FTP, FTPS, SCP, and SFTP client. This means that users can easily access their website servers from their Android device. You can also work with FTP files, as this app allows you to download, upload, sync, edit, delete, update, and share your files. Though its paid version offers more features, web designers will have no issues working with the free version's abilities.


Google Analytics


Google Analytics is first and foremost an online tool for computer users. This, however, does not mean it can't benefit on-the-go web designers. With their popular mobile version of Google Analytics, web designers are now able to track all of the most important metrics relevant to their website traffic.

This app also allows users to monitor their website data in real-time, as well as compare data from different date ranges, and build website reports with specific data. A website's traffic data can reveal a lot about the effectiveness of its design. This is why web designers will greatly benefit from the ability to check important stats from their Android device.


Website Builder Apps

Not all website designers use the same tools to create their websites. An easier alternative to building a website can be through allows users to monitor their website datawebsite builder services like the ones that follow. These services have Android app versions that also allow you to build, maintain, and edit a website from your smartphone.

Check out the following website builder app and consider incorporating them into your web design process:


Squarespace


Squarespace is a popular website builder that serves as a great alternative to web designers that don't want to start from scratch. Like all the other website builders in this section, the Squarespace app allows Android users to build, edit, and manage the websites they design.

With Squarespace, however, you get an award-winning customer support team that will work with you regardless of the device you use. This will help web designers on the go to get all the assistance they need without having to switch to a computer.


Wix


Similar to Squarespace, Wix is also a popular website builder for anyone looking to develop and maintain their own website with ease. This app allows you to manage your website right from your phone, as well as create, edit, and publish blog posts.

It also lets its users manage more important aspects of their website, such as an online store and their online community. Web designs will definitely benefit from using this app, as it removes the need of carrying a computer to make web design changes.


Weebly


Though it has less popularity than all website builders on this list, Weebly still benefits from over 50 million users. With a variety of positive reviews from trusted sources such as Forbes, a web designer cannot ignore the power that the Android app version of this website builder offers its users.

Weebly's app allows its users to build, edit, and launch their websites from their phones. With an intuitive user interface that users will enjoy, users can also manage their online store, check their statistics, and customize as they please.


WordPress


WordPress is the most popular website builder and content management system in the world. More popular than the previously mentioned website builders, WordPress powers over a third of the internet's websites, making it an easy choice for web designers who need the convenience of WordPress' website design options.

With WordPress, you can create, edit, and maintain your website right from your phone. You can also monitor your website's statistics and ensure that everything is running smoothly.

If you want to improve on your WordPress website design, you can hire professional agencies like Arcstone who can help you save time on designing.


Key Takeaways

If you're looking to turn your phone into a portable web design hub, this article is right for you. As a web designer, you likely have a busy schedule that may not always allow you to work from a computer. Fortunately, many of the tools you use on a daily basis are also available for Android phones. This makes it easier than ever to work on your phone.

Consider the productivity, visual design, website testing, and website building apps mentioned on this list as you work toward optimizing your phone for your web design purposes. Each one offers unique features that will make it easier to do your web design work from a phone or tablet. This ease of use also makes you more productive, as you turn a device normally considered a source of distraction into a portable hub that helps you manage your tasks effectively and focus on your work.