10 Different Ways to Livestream your PowerPoint Presentation

Read this article to know 10 different ways in which you can Livestream your PowerPoint presentation to your intended target. Know the utilites that help you do that and from where to get started.


With the ongoing pandemic, one thing is for certain: the digital world will always find ways to adapt. This goes for presentations as well. Be it for school or for work, livestream technology has developed far enough that it is now feasible to offer professional presentations.

The reasons for offering presentations may differ. Marketing professionals, for one, often find themselves presenting new strategies to their clients. The catch is that the current international pandemic has caused a significant decrease in physical meetings.

Enter live streaming. With livestreams, students and professionals are able to share ideas over the web. All this while still being able to narrate the data and offer insights.

This makes it a useful tool for meetings that involve communicating large amounts of information. That being said, your presentation's needs will determine what kind of livestream service you'll be using.

You can find both free and paid services that cover a host of different functions. Don't worry, we've done the time-consuming research for you!

Below, we've compiled 10 different ways for you to livestream that presentation. As a bonus, we've included a short guide on each so you can get started anytime.


10 ways to livestream presentations
1. Through the app

PowerPoint has evolved so much in the past years. The simple fact that there are hosts of free templates like SlideHunter available means that much of the work is focused on the content.

PowerPoint is intuitive in the sense that it won't let itself be totally dependent on others. This is evident in how it includes a feature for remote viewers.

We'll take this time to warn you that this option is mostly for people with simple, concise powerpoints. That's because this option limits the file size available as well as the animations. For the most part, your remote viewers will be stuck with fade-out animation for transitions.

This one is simple to get started with.
Navigate to the Share tab in the settings.
From here, select the Present Online option.
This will then present you with a link. Share this with your remote viewers.
Once your viewers are on the link, you can start the presentation via the same dialog box.
During the presentation, you will be given the Presenter's View. Don't worry, as with physical presentations, this is only visible to you.
To end the presentation, simply hit End Presentation
2. Zoom

The ever-so-famous Zoom has made a name for itself during the COVID-19 crisis. Despite being a paid program, its intuitive structure and design makes it practical and easy to use.

If your needs are simple, you can get by with the free version. You've got a 40 minute limit for meetings with a limit of 100 participants.

For longer presentations, you'll have to start shelling out some cash. The Pro subscription starts off at $15 a month. This allows for unlimited group meetings but still limits the group to 100.

Either way, Zoom's interface should make things easy for online presentations. The advantage here is that you can share your screen with a simple click. If you feel like talking to the participants "directly," simply click the same button.

With Zoom, sharing your PowerPoint online is so easy. You've actually got about 4 different ways but we'll show you the basics to familiarize yourself with the steps and get you started.

Note: Zoom suggests having a separate screen for Presenter's View
Open the PowerPoint you wish to present
Join the Zoom call where you'll be presenting.
Once you're ready, select Share Screen from the bottom menu (per the photo below)
When asked, select the screen where PowerPoint opened.
Start the presentation once everyone is ready.

If you are using dual monitors, make sure the green border is on the screen you want to present. That'll tell you which one is seen by everyone on the call.

For single monitor users, don't worry, this will still work. Just remember that you won't have the Presenter's View handy if you do it the same way.

To see the Presenter's View, there'll be a few extra steps:
Open PowerPoint and look for the Slide Show tab.
Select Set Up Slide Show
Choose Browsed by an individual in the Show Type options
Start the Slide Show when you're ready
Join the Zoom call and select Share Screen
3. Discord

This one is relatively surprising as it mostly caters to gamers and the like. Discord functions as a communications platform for people playing online by letting users join "channels."

Each channel is limited to 10 people but, due to the coronavirus crisis, Discord is temporarily allowing up to 40 people. This lends itself to internal communications for a company rather than a full fledged seminar.

Streaming your PowerPoint here would work similarly to Zoom. That's because it's still technically a conference call, albeit with a shared screen.

To get started, you'll need to download the app. Don't worry, viewers can get away with using the web-based app.

To stream your PowerPoint over Discord:
Set up a channel for your meeting.
Invite the necessary people into the channel
Open PowerPoint and prepare the presentation
Once ready, go to Discord and select screen share on the bottom left side (as per the photo below)
When asked, you can choose between Applications or Screens
Select PowerPoint under applications and start your presentation
4. Knovio Live

This next one takes a little more direct approach to streaming. The group behind the platform, Knovio, focused on 3 types of users: Business, Higher Education, and Student users.

Although this is a paid product, the company does offer different price points for each type of user. Plus, it's bound to be a worthwhile investment, especially if you'll be using this for a business.

The advantage of a purpose-built platform like this is the fact that it has a load of features that cater to users' needs. Some of the features included with this platform are:
NeverLate, for users joining the presentation at a later time
Guest Registration
Customizable players
Adaptable stream bitrate

To stream your presentation over Knovio, follow these steps:
Look for the option Start Event
Select Broadcast an Event
This will be followed by an information sheet about the event. Complete this as required
Choose the Layout of the event from the following window
Upload your slides via the drop-in window or by clicking the Upload option
Just in case, you can do some minimal editing on the platform itself
Select Start stream and broadcast to begin
The best part is that Knovio will allow you to republish the video for later viewing. You can also check out the analytics after the actual presentation.

5. Google Meet

Google Meet is Google's reply to the diverse paid options available right now. As with most of their products, it's totally free for anyone to use. That's including all the features that you might need for your presentation.

This means it's not as purpose-built as Knovio. Despite that, it's still one of the most popular options for video conferences and meetings.

Using Google Meet is simple. It's still a video-call platform so you can expect it to work a lot like Zoom as well. The twist? Google allows users to host 100,000 people in one call.

To present your PowerPoint over Google Meet, follow these steps:
If you are hosting, start a video call through either the Web-app or the desktop program
In the corner, bottom-right side of your screen, select Present Now
You'll then be asked whether you want to share your whole screen, a window, or a tab. For our purposes, select Window
Confirm your selection by clicking Share
Note: Your camera will stay active while you are presenting
6. Facebook Live

Facebook Live isn't anything new. What's new is the feature that lets you natively share your screen from the desktop app.

Feature-wise, it's pretty much like a basic video-call app. The advantage you gain when using this app is the sheer number of people you can reach through Facebook alone.

To make the most of Facebook Live, the setup is similar to Zoom:
Open PowerPoint and look for the Slide Show tab.
Select Set Up Slide Show
Choose Browsed by an individual in the Show Type options
Start the Slide Show when you're ready
Jump onto Facebook Live on your Facebook and go Live
Select Share screen
Choose the window displaying your PowerPoint
7. Live Streaming Platform by StreamingVideoProvider

Another straight-to-the-point application, as with Knovio, the Live Streaming Platform from StreamingVideoProvider is a purposeful application that caters to professionals.

This also means it's a paid app. The subscription that allows users to livestream starts at $99 per month. As we mentioned, this one is for professionals.

That being said, this one stands out due to its security features; meaning you can guarantee the privacy of your presentations by preventing others from recording.

Add to that the capability of limiting access to a specific group and you have a very secure platform. This makes it perfect for high-security team meetings.

To stream on this platform, follow these steps:
Convert your PowerPoint Presentation into .jpg format
Log in to your account and select the Live Event Player you wish to broadcast to.
Click Broadcast now
Navigate to the Broadcast Panel and select Settings under Web Slides
This will open the Web Slides Manager. Click Choose File
Click Upload slide
Repeat this as necessary until all the slides have been uploaded.
The slides will be shown below in the Available section
Drag the necessary slides into the Blue section to make them active
Save your current settings
To navigate through your slides during broadcast, simply click each slide in succession once done.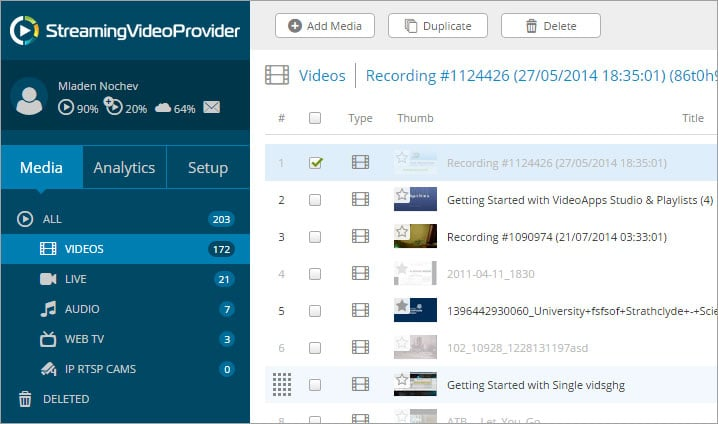 8. Skype

Skye is one of the longest lasting video-calling programs and for good reason. The company has a considerable (and enduring) pool of experience in terms of video-calls.

This gives them the expertise necessary to bring this tech into the new world. Add to that the fact that Microsoft now owns the company. Now you have two tech giants that know what they're doing.

For our purposes, the functionality of Skype makes it an easy choice. Keep in mind though that the free version only allows up to 20 participants. Any more than that and you'd need to consider getting Skype for Business.

To livestream on Skype, simply follow these steps:
Open the PowerPoint you wish to present
Join the Skype call on which you'll be presenting. If you'll be hosting, simply start the call
Once you're ready, select Share Screen from the bottom menu (per the photo above)
When asked, select the screen where PowerPoint opened.
Start the presentation once everyone is ready.


Similar to Zoom's note, this will work best if you have a dual monitor approach. To address that, follow these extra steps before sharing your screen:
Open PowerPoint and look for the Slide Show tab.
Select Set Up Slide Show
Choose Browsed by an individual in the Show Type options
Start the Slide Show when you're ready
9. Dacast
Like the other professional tools, Dacast is a paid option. Unlike the others, Dacast offers live-streaming functionality with their Starter subscription which goes for $21 per month.

Going for the Starter pack lets you record your live videos and go through the analytical details as well. At least in that sense you can be sure that you'll be able to backcheck necessary information.

Other than that, it's a straightforward platform for professional users and well known to be easy to use for streaming.

To stream on Dacast Live Streaming Platform, follow these steps:

Log onto Dacast and navigate to Live Channels
From here, click Create to start the live channel
(Optional) On the next page, you'll have the option to create a Splash screen. This is what people will see while you're offline
Navigate to the Publish settings to customize the player or restrictions
Start the presentation when you're ready
From the Settings in Dacast, navigate to the option that lets you choose Video Source
Select your PowerPoint


10. YouTube Live
YouTube is a popular choice for most streams due to its focus on videos. This means you've got a lot of features handy just for streaming.

Add to that the compatibility that comes with your average Google product; you can expect easy integration of your livestream on most other platforms. This might be more appropriate for presentations that cater to the public.

As a bonus, you can have your livestream visible to the general public if you wish. That makes this one perfect for open-access topics.

Unfortunately, this also means that YouTube will have a more in-depth approach to streaming. For this option, you'll need an encoder. We suggest Streamlabs OBS since it's free and easy to use.

To stream on YouTube Live, follow these steps:
Note: YouTube Live requires activation of your account at least a day before the actual stream.

On your home page, click Create on the top right corner
That'll give you the option to Go Live. Click on that
Click the Stream tab and click Create Stream
On your encoder, find the option that says Stream to YouTube
Copy the Stream key that YouTube gave you and insert that in your encoder
Open your PowerPoint Presentation
Make sure the encoder is focused on your screen
Once you're ready, start the stream using the encoder


Conclusion
At the end of the day, much of this depends on your specific needs, and this means fully understanding what your plans entail. If you're a teacher, you might do just fine using Zoom. For marketing executives, you'd be well served by either Knovio or Dacast.

The point is to plan well and plan ahead. Much of your stream will depend on that. Luckily, modern technology has developed far enough that this capability is available to everyone. Now you can just focus on the quality of your presentation.