Vidmore Video Converter Review- A Complete Video Converter and Editor Solution

Video converters are aplenty in the market but a converter that will multitask as a complete package are scarce. Vidmore Video Converter fills this gap with ease and provides its user with a fulfilling experience and saves their effort and time in conversion of video from any format to any other desired format with aplomb.


Multimedia content especially video content is in high demand these days. Cheap data rates and smarter phones have made multimedia content accessible to every individual and not only multimedia content consumption but its production too, has also become a means to earn popularity as well as livelihood.

The Video content produced is in various formats and are needed to be converted when their original format does not play on a target device i.e. a computer or smartphone or smart TV). The content does not play on some websites or social media platforms and is needed to be converted to supporting format or to reduce their file size for sharing, storage, or playback. To accomplish the task of video conversion one will need a good video converter and here comes in picture Vidmore Video Converter.


Introduction

Vidmore Video converter is a handy all-round video converter tool and supports a wide variety of video formats. It takes popular formats such as MP4, MOV, WMV AVI, MKV, and quickly converts them to the format of your choice.

Vidmore is easy to use converter and is gaining quite a popularity as it can convert any video format to any output formats. It also supports most of the popular devices and there will hardly be any device that would be missed by this tool.

Vidmore goes a step ahead by supporting audio conversion in addition to video conversion. It can convert most of the popular audio formats and can even extract audio from video files. It retains the original ID3 information of the original audio files after conversion.


User Interface (UI)

This multi-featured video converter comes with a clean and easy-to-use user interface that follows a basic greyish black color or in short darkish color and will give even the first time user a Pro feeling. All the available options are well arranged in tabs with icons. It has a pretty simple UI and using this tool for conversion will offer a comfortable working experience.


The UI is simple and uncluttered and makes finding requisite function easy and intuitive. This tool will make your video conversion not only fast and easy but will also save your precious time.
This Vidmore Video Converter has a lot of useful, built-in options for converting the videos you're looking to work upon. There are a plethora of options to choose from so that you can easily convert your videos to a compatible format for your device.


How to Use Vidmore Video Converter

Once the software is installed, launch the software and you will see tabs on the top Converter DVD, Toolbox. Since the primary function is of conversion so, begin with selecting Converter. A big + sign will appear in the center which you can click to add files or drag and drop them to convert.


You can now click on the drop-down button against the "Convert All to" button on the right top corner to select the desired format. You can convert all to a single format or you have the option to choose separate output for each file selected.

Once your selection is done, click on the "Convert All" blue button at the right bottom corner.

One additional feature provided with this converter is the "Merge" function. You can check the tick-box to merge all the selected files to merge them into one file.

The default saving option after conversion is the installation folder itself under C:\Vidmore\Vidmore\Converted, which you can choose to change as per your requirement before you begin the conversion of files.


Additional functions

There are many additional functions available with this tool to either enhance a low-quality video or compress the file size of the video as or edit the metadata of the video file. All these functions give you complete control over the video file which you are converting, you can convert them as per your specifics.

The feature of Vidmore is not limited to these functions only but extends, even more, to make your work comfortable and fast. With this tool, you will also get the option to accelerate the conversion process using the Hardware Acceleration function provided under the Preference function.
By default, the settings are preset but if you prefer to use them based on your choice then you always have the option to do so. If you wish to accelerate the conversion function, then use the hardware acceleration as well as close the unnecessary programs on your system while using the tool.

High-Quality Video file support

Vidmore supports the most advanced 4K UHD video files with ease and supports the 4K codecs viz., HEVC, VP9, VP8, H.264, WebM, and more.


DVD Ripper function

One can use the DVD function to load DVD or ISO files directly or load the DVD folder to rip the video off the DVD. You can use this function to rip the video file from the DVD.


High-Quality Professional Features under the Tools Tab

Vidmore has more functions than just conversion and the same can be viewed and used in the Tools tab on the interface. Following are the popular tools function:
- Media Metadata Editor
- Video compressor
- GIF Maker
- 3D Maker
- Video Enhancer


Media Metadata Editor

Using the Media Metadata Editor was pretty simple to edit metadata of an existing video file or to assign the metadata for a user-created video. It is as simple as filling a form with the fields clearly defined. The fields for metadata has been attached as image below to have an overview of the same. The tool currently supports MP4, M4A, M4R, M4B, M4P, 3G2, M4V, MOV, MP3, WMA, ASF, WMV, WAV, AVI, and more will be supported in later updates.

Video Compressor

This feature has a default setting to compress the video retaining the quality of video that will not visible without going into details. I use the feature to verify and found it very handy. I was able to reduce the size of the video from 651MB by 257MB i.e. reduction by almost 60% and did not see any quality loss on output video verification. This feature can be used when one needs to share the video file over the web or wish to transfer to a mobile device. The higher the quality of the video file the higher is its size. This too will auto reduce the size of the file on adding it to the software, but if you wish to reduce the size further then making use of the provided option will enable further size reduction, like reducing the resolution, format, or bitrate. Users can make adjustments or go with the default settings.

GIF Maker

Another notable feature available and used by me was the GIF maker. I was able to create GIF simply by selecting the start timing and end timing of the video and just a click on create GIF and it was ready for use. GIF is pretty common on social media and creating your GIF using this tool will make you stand apart from the GIF available in general. You can select the video file of your choice and specify the start and end time in the video and either select loop the animation or leave it as it is and click to generate GIF. You can preview the GIF there itself to make the edits if needed.

3D Maker

I tried the 3D maker function and was amazed that how simply it has been included in this piece of software. I used to think that making 3D video must be a very technical process requiring high-end mumbo jumbo equipment but here is just a tool and the feature which was considered exclusive to professionals only is now within the reach of a general user. If you have kids at home and wish them to enjoy the normal 2D animation movie in 3D, just use this feature to convert your favorite animation to 3D and enjoy the fun of watching a 3D movie without even stepping out of your home.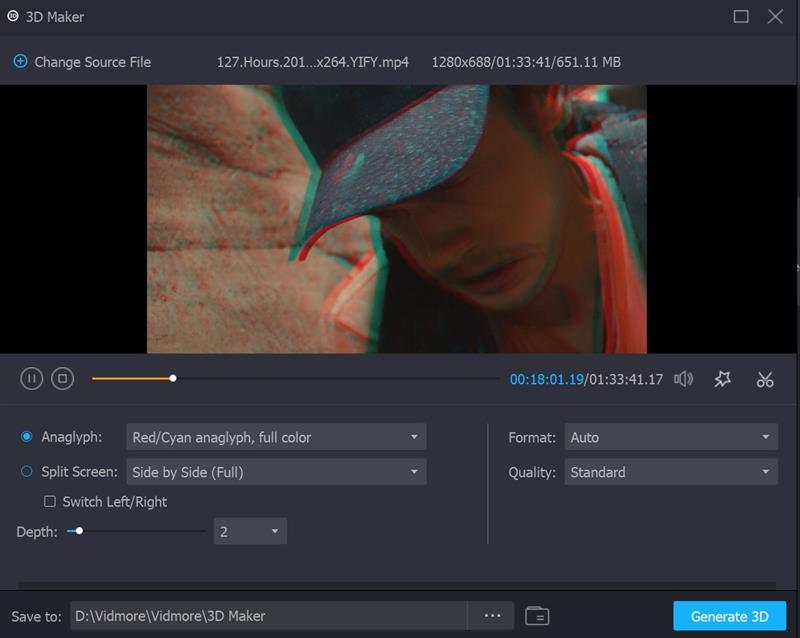 Video Enhancer

Another super feature of Vidmore tools is of enhancing the quality of a poor video. I tried the same on a video received on mobile with poor quality and was able to enhance the quality of video and make it watchable from mobile viewing to laptop viewing. The video quality can be enhanced in several ways. One can increase or change the resolution of the video, or optimize brightness or contrast of the video, or remove video noise, or reduce video shaking. All the quality-enhancing features can be used together also and you transform a poor video into a high-quality video for watching and sharing.

Price

Now the most important factor that comes to mind before investing in any software is it's productivity compared to its price. Vidmore took care of this and hence offered three packages for the user to choose from. If the user wishes to use all the professional features of Vidmore for a limited time then, the most popular package is for 1 month for $19.95 for 1 PC.
Whereas, the 1-year license comes for $29.95 for 1 PC which you can renew if satisfied with the software.

The lifetime license comes for $49.95 for 3 PCs and comes with a free lifetime update.
You can also bundle up this software with DVD Monster and Blu-Ray monster and get the complete bundle for $99.95 for 3 PCs with lifetime support and update.


Conclusion

Vidmore video converter is a complete package in itself that enables you to convert all formats of video to any format of your choice and use the additional features to enhance or compress your video like a pro. GIF maker and 3D maker are awesome features that are seldom found in any normal video converter. Make the most of this tool and enrich your video viewing and sharing experience.