How to completely format my Android smartphone?

Formatting your Android device is must when you are selling off your device or come across any issues with your phone. But, do you know the right options and steps to follow when formatting your Android phone?


There can be multiple reasons you want to format your Android smartphone. Rather than formating, this process is referred to as Factory reset. Formatting any sort of storage removes all the content from the device. Factory Reset, on the other hand, is something that will reset your content on the smartphone to the default settings.


Why format your Android smartphone?

There can be many reasons why you would want to sell off your smartphone. You probably won't use it any longer and so you don't want it to have any of your private and financial information. It is also very important to format your phone before you sell it to someone else. You never know how your private data can be used to exploit you.

Another reason you may be looking to format your Android device is when a recent update or a specific app you have recently downloaded has played havoc with your phone, and Factory Reset is the only option to get rid of the issue.


How to format your Android phone?

There are several steps involved in resetting the phone to default settings. It is worthwhile to check out each of the factors before formatting your phone.


Remove Factory Reset Protection or FRP

FRP was introduced with Android Lollipop 5.0 as an extra layer of security. It is done to prevent thieves from stealing your phone, resetting it and selling it off as a new phone. When FRP is enabled, the phone can be reset, but it will ask for the username and password that the phone was last signed in with. If you do not have access to it, you will never be able to use the phone at all. That would mean it is useless selling the phone in such a case.

This can be done by following the steps here below -
Remove and turn off all the credentials such as fingerprint details, face data, and other pattern locks.
Remove your Google Account
Remove other manufacturer-specific accounts such as Samsung Account, MI account or any other similar account.
Once that done, you can move ahead to factory reset your Android phone.


Enable data encryption

Before you can Factory Reset your phone, make sure that the data is encrypted. Most of the devices today come with data encryption enabled. When an Android device is reset, it does not remove the data, but only removes the addresses that this data points to. Anyone can use a professional data recovery tool and get access to your data with ease.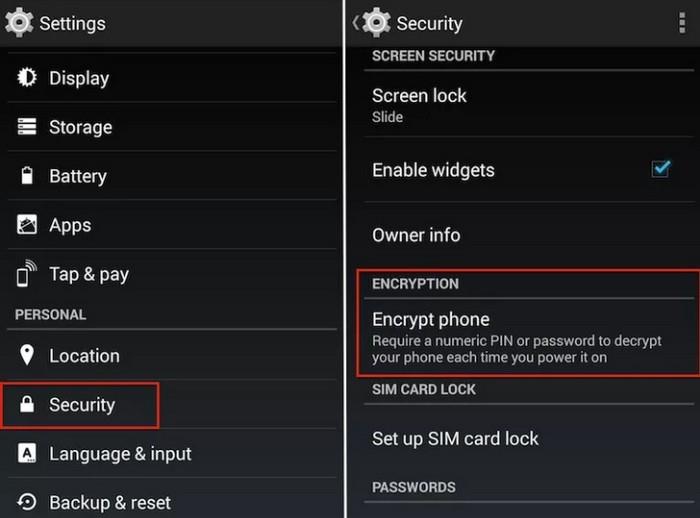 Encrypting your data is an excellent option to avoid this from happening. You can do this from within the Android settings. That way, anyone who tries recovering your data will need to have access to the password, and thus will not be able to access your account data or any other data from your phone.
The exact location for the settings will be dependent on the phone model and manufacturer. Most of the times, you should find it under Settings > Security > Encrypt phone.
If you are on Android 6.0 Marshmallow or above, your phone should be encrypted by default, and there is no need to perform this operation. You can move to the next step.


Factory reset your phone

That is the next and last step to factory reset your Android device. Before proceeding, do ensure that you have kept all the data backed up somewhere properly. The process will reset everything and all the data will be wiped off.


The actual section where you will find the settings to reset the phone will be dependent on the manufacturer of your phone. Some examples are -
On a Samsung device, check out Settings > General management > Reset > Factory data reset snd then tap on Reset device.
On a Google Pixel phone, Settings > System > Advanced > Reset options > Erase all data (factory reset) and then tap reset Phone.

Once the steps above are done, wait till the phone resets itself and will be clean. It is now safe to sell it off.
Check the phone and its settings once again and remove if you find any of the accounts remain undeleted on your phone. If you find any, log out and terminate the account right away.


Load Dummy data

Yet another excellent option that can prove helpful in this context is to load dummy data onto your phone and then factory reset it once again. Overwriting it with dummy data is helpful in making it impossible to recover the data ever again.

You can load any kind of data until the phone memory is full. Just upload any amount of useless data, for example, a couple of large video files, and make sure that the data isn't essential. This will overwrite your encrypted data that has just been reset.

Once that done, factory reset your phone once again. This will finally make the phone completely reset.


Conclusion

Well, those were a few basic tips you need to follow when formatting your Android phone to the default settings. The steps outlined above should ideally help you achieve the best results in resetting your phone either for resolving the issues you may be facing or for selling it off without any issues.