Ultimate List of App and Online Tools for Instagram Influencers

Read this article for an all-in-guide to the tools you require as a social media influencer on Instagram. Know the tools that can help you create beautiful images, tools to run campaigns, schedule posts and track the effectiveness of your influencer campaign.


The Influencer Marketing industry is expected to grow to $9.7 billion by the end of 2020. This highlight isn't a surprise as 93% of marketers in the US utilize influencers for their campaigns. The use of influencers for advertising has grown from a luxury into a necessity, particularly for Instagram marketing.

Instead of spending a whole day creating content and scheduling posts, focus on growing your brand. Look no further as we've compiled the ultimate list of tools you'll need as an Instagram influencer. From content creation to tools that'll help you grow your followers, we've listed it in the section below.


Create Content
Instasize

Your brand is competing with more than 110 million Instagram accounts in the United States alone. You need to stand out. The key to eye-catching Instagram content isn't mixing dozens of different apps. It's about finding that one design tool with the power to take your content from plain to engaging. Instasize is that powerful photo editor to create compelling photos and videos that will cut through the noise.

Instasize will give you access to more than 130 premium filters and 80 trendy and unique borders for stunning photos. More than that, you'll be equipped with comprehensive color editing and video editing tools to get your visuals picture perfect.


Instasize is not only comprehensive but easy to use. First, you simply have to select the photo you want to post. Second, apply an on-brand filter and adjust the intensity. Third, refine your photo.

Use the editing tool to get the perfect balance of exposure, contrast, brightness, saturation and other image settings to your liking.

The app comes with advanced beauty tools for cleaning up selfies and advertising images. You can also remove blemishes and whiten smiles with a press of a button, and choose from the collection of fonts to add a text overlay. In a few taps, you'll have an image that stands out!

Instasize is free to download with premium subscriptions starting at $4.99. It's available on the App Store and Google Play Store.


Made

According to Instagram, over 500 million accounts use Instagram Stories every day. It has become the primary medium to connect with your audience in an authentic way. Made is a storytelling toolkit that will bring your on-screen stories to life.


With Made, you can experiment with more than 80 templates until you find one that suits your aesthetic to the tee. Your stories will pop off the screen when you apply cool customizable backgrounds that come in over 40 colors and 80 patterns. Complete your narrative with bold text that comes in over 16 font options.

What makes Made the quintessential editing app is their Story Board feature. This allows you to easily organize your story from start to finish before sharing it to the world.

You can download the app for free on the App Store and Google Play Store.


Venngage

Infographics are an effective way to communicate a process or a instruction to your audience on social media. Infographics are now the fourth most used content type in marketing, which comes as no surprise in today's data-driven world. 90% of information transmitted to the brain is visual, and visuals improve learning and retention by 400%. Who wouldn't want that? If it takes you a lot of time and effort to lay out text and visualize data, use Venngage.


Venngage is an infographics tool to create stories with data and visuals in just a few clicks. First, you simply have to choose a professionally designed template from the over 100 available varieties that'll work with your project. Second, visualize your data and information by adding icons, graphs and images from the extensive image library. Lastly, customize your design by changing colors and fonts to make your infographics on brand.

Venngage starts at $19/month for individuals and $49/month for Businesses.


Snappa

Hiring a freelance graphic designer can cost as much as $50 an hour. Save your money and use Snappa instead. Snappa is a multi-functional online design tool that'll help you whip up graphics for social media in a snap.

Snappa stands out from other design tools because of how easy and fast it is to use. You immediately get a head start with thousands of professionally pre-made templates to choose from for social media, display ads, blogs and email visuals. You'll also get access to more than 3,000,000 free high-resolution stock photos that'll save you money from not having to subscribe to stock libraries.


On the app, you can easily edit text and graphics from the handy sidebar. You also have over 200 font options and 100,000 vectors and shapes to choose from until your content is perfect for your target market. You'll be posting vibrant, polished and share-worthy images on your social feeds in no time — no design experience needed!

The basic version of Snappa is free to use. For the full range of features, you can subscribe to the PRO subscription for $10/month or the TEAM subscription for $20/month.


Visme

Visme is an easy to use tool for making professional-looking infographics, presentations and other types of visual content. Content marketers use Visme to improve their digital marketing assets without having to rely on a professional designer, but Visme is also powerful enough for graphic designers. Visme has a great variety of templates for presentations, infographics, documents, printables, etc. Also, it has a specific set of templates designed for Instagram posts.




Visme has a free plan. Paid plans start at $14/month billed annually.


Manage Social Channels
SocialPilot

Influencers spend 16 to 20 hours a week in scheduling posts, responding to messages and comments, and creating reports. These are tasks you can accomplish in half the time using the right tool. SocialPilot enables you to plan, schedule, and publish your posts with advanced features, to save you time so you can focus on other tasks.

To get started on SocialPilot, connect all your social media accounts to this platform. Once connected, you'll not only be able to create posts and set up posting schedules but get an overview of the activities across Facebook, Instagram, Twitter, and other channels you use. You can even connect multiple Instagram accounts and view all the activities in one quick glance in the easy-to-view social calendar which makes it an efficient Instagram tool for influencers.

If you're out of content ideas, find suggestions from the Curated Content tab. Simply enter a keyword and you'll be shown a list of blogs to repost or get ideas from.


SocialPilot offers a deep dive with its comprehensive analytics feature. Retrieve content performance, audience insights, and engagement results in a neat PDF report which you can share with brands you work with. Other features include team collaboration, blog integration, and cloud storage with Box.com or Dropbox.

SocialPilot costs $30/month for an individual, $50/month for a small team and $100/month for an agency.


Postify

Postify takes the stress out of social media management. It's a social media scheduler that helps you create and plan your content for different social media platforms such as Instagram and Facebook so you can save time and money.

You can stay on the Postify platform and create posts for your multiple accounts with the built-in editor. You'll avoid wasting time having to log in to each platform, open many tabs, or stress out about having to manage so many social media accounts. Once you have your post ready, quickly set the time for when you want the post to be published and Postify will publish it for you.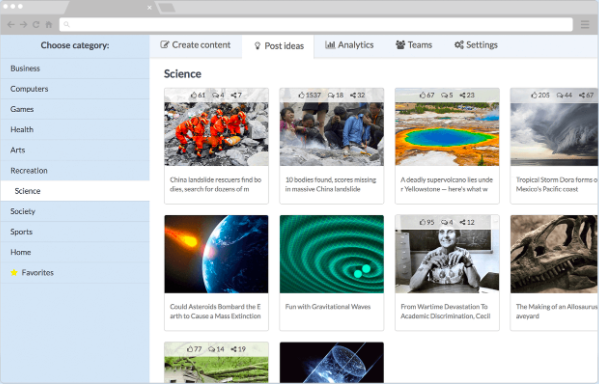 If you've run out of inspiration, Postify's content recommendation system will provide you with industry news and content ideas. If you work with a team, you can invite team members to create and schedule posts while you check the work and give approval on Postify's platform.

Postify's Professional Plan starts at $24.99/month while its Agency Plan starts at $79.99/month.


Grow, Track and Optimize your Brand
Buzzsumo

For a lot of influencers, following trends and finding the right topic to engage audiences can be overwhelming. Use Buzzsumo and take the guesswork out of creating content. Buzzsumo is a discovery tool to help you find and create meaningful content that resonates with your target market


The Discovery feature allows you access to thousands of content ideas right at your fingertips. The Trending section shows you what the world is sharing real-time and spot topics before they go viral. The Topics section shares endless strings of ideas based on what term you search for.

You'll be given synonyms, keywords and sample questions you can use for brainstorming sessions. The Questions Analyzer gives you what real people are asking across forums like Reddit and Quora. With extensive tools like these, you can have the right information to help you create content your audience will surely respond to.


Other great features of Buzzsumo include its Influencer and Monitoring feature. The Influencer feature allows you to discover the right company to promote and work with. The Monitoring feature, on the other hand, performs web text analysis to find mentions of your brand across websites, forums and social channels. With Buzzsumo, you can create buzz-worthy content in no time.

Buzzsumo starts at $99/month for the Pro subscription and can cost as much as $499/month for the Enterprise Subscription.


VYPER

Growing your social presence takes time and money. Another strategy to gain followers and expand your brand is to attract an audience with viral content. VYPER is a growth hacking tool that enables you to virally grow your business using contests and giveaways.


Not only is the tool unique in the market, but it's also incredibly easy to operate too. First, select a well-tested template to launch your contest quickly. Second, customize your contest information and showcase the big prize. Third, use leaderboards to keep your entrants engaged. And lastly, let users earn points by sharing on social media, referring others to the contest, or performing actions like posting about the contest on Facebook. These actions work two-fold: it grows your brand organically and expands your footprint on social media.

Whether you are looking to build an email list, grow your social following, or launch a brand collaboration, VYPER is your go-to for a viral social media campaign.

VYPER starts at $149/month and you can test it out with a free trial.


SocialBakers

SocialBakers is one of the smartest tools to have in your arsenal to grow your organic social media audience and optimize your social campaigns. Socialbakers's powerful analytics tools will enable you to optimize your social initiatives at every stage of the marketing funnel.


Its organised measurement and reporting dashboard gives a clear view of organic performance across social channels. You'll instantly discover what Instagram posts work and what doesn't. You'll be able to simplify your paid channel tracking by having it all on Socialbakers. Find out your spending trends to make smarter use of your money by identifying the content and audience that leads to success.


Obtain content insights with the social listening tool that provides a granular report and identifies content trends that your audience want to engage with. Aside from analytics and insights, you can manage communities and even day-to-day social posting all on a single platform.

Socialbakers Suite starts at $200/month. You can start with a free trial.


Bitly

A best practice of social media marketing is to use URL tracking. Tracking helps you figure out which posts led to actual clicks, follows, and brand conversion. URL tracking lets you see performance across all social channels and learn which platforms perform the best for your goals. Bitly is a tool that allows you to shorten those long URLs of your website pages into short, on-brand, and click-worthy links. This is especially important for Instagram campaigns where customers need to copy-paste links into their search browser.


What makes Bitly the prime choice for URL tracking is its comprehensive metrics. You can group every link and page into campaigns, and obtain the data on link performance. You'll be able to measure the number of clicks, geographic data of your audience, and the top referring channels. This information will help you decipher where your primary audience is located so you can focus on these locations, and grow your brand efficiently.

Bitly starts at $29/month for 1500 branded links.


Promo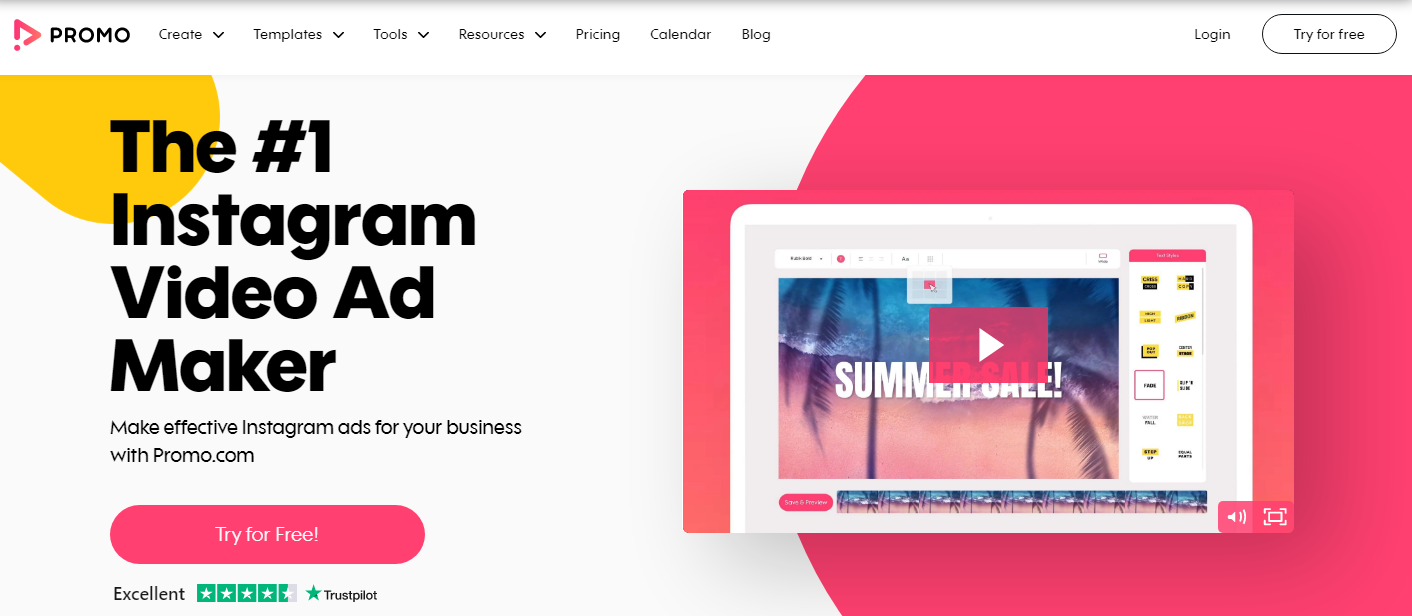 Promo is an online video maker tool wherein you can easily create professional videos without having experience in video making. Instagram Influencers can easily make video content for Instagram, such as Instagram Video Ads, without a hassle. Promo has 5,000+ ready-to-use templates, and it has access to Getty Images and iStock's photos and videos that you can choose from to make your video more engaging. With Promo, you can easily make perfect Instagram videos and video ads that attract viewers.


Get Started

Before diving in, it's best to perform a quick audit of your workflow and list down all the tasks you want to speed up and automate. Make a game plan of what tools you need urgently before deciding to subscribe. When you're done, start using these powerful tools and up your social media game.