How to download Spotify playlist or songs to MP3

Read this article to know how you download your playlist songs or the whole playlist from Spotify.


Internet is not always trustworthy and to trust it to play your Spotify playlist at all times just feels like a big gamble to take. While Spotify allows you to keep your music files offline, it limits you by allowing you to play those files only where Spotify is installed and registered in your name. Not long before, we used to have MP3 files for our favourite music and this used to give us the freedom of playing our music anywhere we want and on whatever devices we own. I believe that not only gives us complete flexibility with our music but is also environment friendly since we are not streaming the same media files every time we want to play our playlist. More data you save, less pollution you create in terms of your carbon footprint.

Convert Spotify music to MP3 files with DRmare Spotify Converter

DRmare Spotify Music Converter for Windows is a lightweight tool that allows you to easily convert your whole Spotify playlist or songs to MP3 files just by drag and drop. Let us see the steps by which convert Spotify playlist to MP3:


Step 1: Go to the Spotify screen where you can see your playlist.

Step 2: Drag the playlist thumbnail to the DRmare Music Converter for Spotify screen from Spotify application


Step 3: All the tracks from that Spotify playlist will be populated in the DRmare application.

Step 4: Select the directory where the downloaded files the saved by clicking the 3 dotted icon appearing on the right side of the directory path.


Step 5: Click on the Convert button to start the conversion process from the Spotify playlist to MP3 files.

Follow the same steps to download any individual music track from Spotify.

That's it! Your MP3 files will start downloading in the output folder selected by you. The time it takes will depend on your internet speed. However, since all the files in the playlist are getting downloaded, you don't need to monitor the progress continuously. Just let the download run in the background while continuing other tasks. You can see the count of files that have completed download in the bottom section of the tool.


The best thing about this tool is that it gets you all the metadata associated with the song which you won't get if you download music from YouTube. You have the cover art, artist info as well as album info.

Download Spotify to MP3 with AllToMP3

This is an open-source tool which compares Spotify songs to YouTube videos and converts video files from YouTube to MP3. Due to this reason, the audio quality is not as good as you get from DRmare software. The source code of this tools is freely available on Github and you can consider making a donation if you like the functionality of the tool. AllToMP3 can help you download MP3 files from Spotify, YouTube, SoundCloud, and Deezer. The best part is that it is available for Mac and Linux operating systems as well in addition to Windows.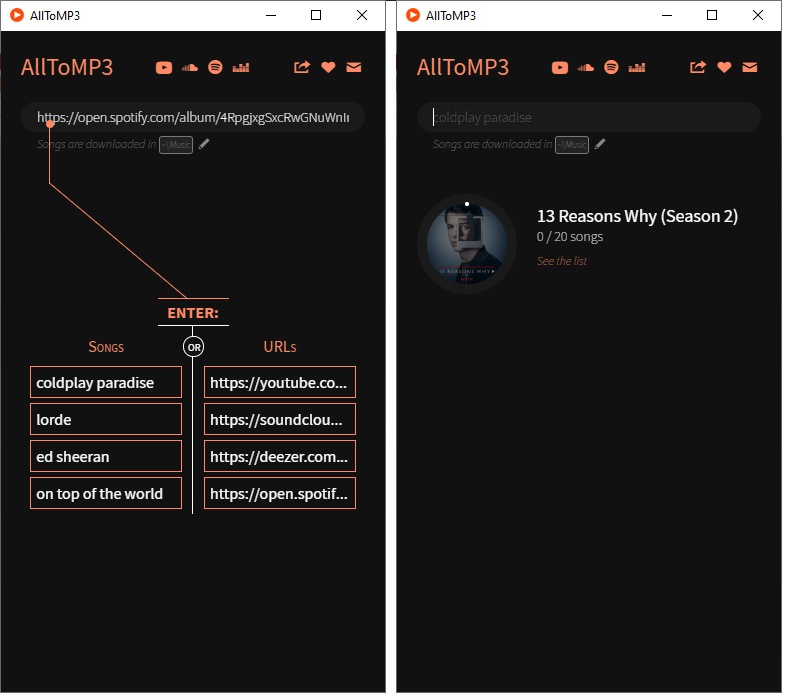 The download process is the same as of DRmare Music Converter for Spotify. You just need to drag and drop Spotify playlist or single music file to AllToMP3 screen and then download the file with all its tags and cover photo. However, as mentioned before, the audio quality is not the best you can get with other tools.

Wrap up

That's my two favourite methods to download my Spotify playlist to MP3. The tool from DRmare is a paid software with the free version allowing download of songs of just 1-minute length. The second is a free tool but I am not impressed with the audio quality that it delivers. My personal preference is paying for a tool that gets me my songs in the best quality possible with all its metadata and cover art and that is where DRmare Spotify Music Converter delivers absolutely.