Getting Started with a Professional eCommerce Chat solution - REVE Chat Review

Professional customer support is very important for MSMEs and the first point that your customers will nowadays interact with you is website Chat. Today we are reviewing REVE Chat, an enterprise-class Chat solution that promises to provide a complete suite of tools to help you manage your customer interactions. Let's see how it performs in our review.


For small and medium enterprises, their first priority is not profits but customer acquisition. For customer acquisition, the utmost required thing is customer satisfaction. And for customer satisfaction, it is best that you give them a chance to air your grievances directly to you rather than giving you negative publicity on social networks. To directly establish a connection with your customers while they are on your website and possibly to convert a disgruntled customer to a paying happy customer, many businesses consider having a chat option of their websites where the business chat agents can help the customers and resolve any problems or grievances they have.

REVE Chat is a multichannel cloud-based live chat solution that offers text, voice and video chat. It can be integrated on your social channels like Facebook and Viber to make sure that all your customer queries reach the professionals you have hired for this task. The service comes with a 14 day trial period which we used for our review. Let's discuss in detail what all features we found and how good/bad they were.

Chat Window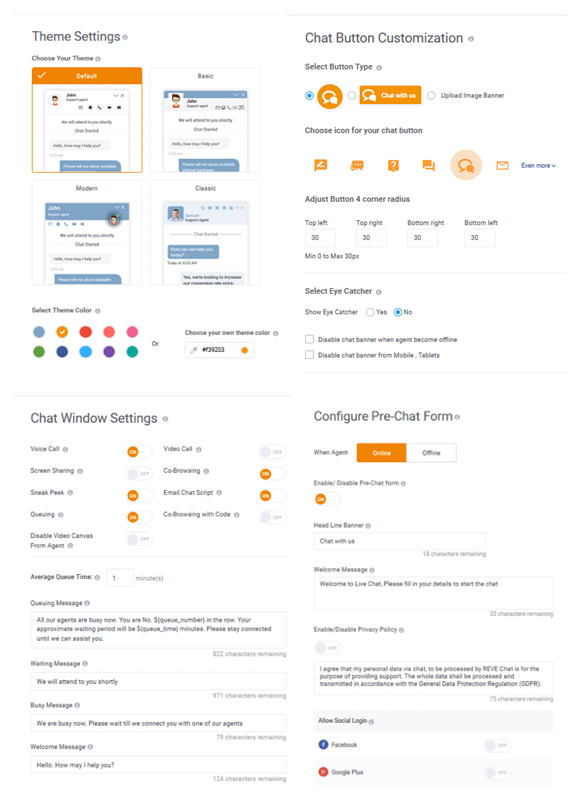 After you have signed up on REVE chat, you get a Dashboard where you can customize your chat. This includes deciding the Theme of the chatbox by selecting from the preexisting themes, choosing the right colour that suits your blog, setting the alignment, choosing the chat button, enabling/disabling voice chat option, setting waiting/busy message and setting Pre chat form and Post chat survey.

These all features are probably the result of a deep understanding of chat requirements by different business and continuous improvement in their services. All these options encompass the needs of most eCommerce businesses.


Once you have done the settings, head over to the Integration section and pick up the Javascript code that is required to integrate the chat feature on your website.


Install this script in a section that will be displayed on all your pages. This can include any of the sidebar or header or footer of your website. Once you have installed the script, the chat icon will start appearing on your website.


Whenever a user interacts with your Chatbox, you will be informed about it in your REVE Chat dashboard. If you have the voice and video chat feature enabled, the user can even trigger a voice/video call that the Agent can accept or reject.

You would want to build a user profile for your customers and REVE chat helps you do just that by adding additional info like Notes and Contact information while the chat window is open. This will help you refer any notes or contact information when the same customer is back on your website thereby reducing the turnaround time and helping you improve your repo with your customer.


Analytics and Chat History

All the messages that your agents will deal with are recorded. This has the obvious use cases for recording purposes and quality and training purposes. Also, you get to know how many users have interacted with the chat helping you decide the number of staff you have to keep to manage the user interactions. With this data, you can further make important decisions to help streamline your customer experience so that they can make their purchase without getting in touch with an agent.

The data you get from here includes your visitor analytics telling you how many users visited your website irrespective of whether they used the chat feature or not, daily and hourly agent performance, average time your agents take to respond to a new visitor, user interactions with bots and offline and missed chats.

Chatbot

Once you have identified the common queries that your customers have, you can design a REVE chatbot to respond to users with FAQs of your blog. There are a few preexisting chatbots already existing which you can modify a bit according to your business requirements and use on your blog.


One good thing about REVE chat is that once you have deployed the code for the chatbox, any changes you do on your REVE dashboard are automatically reflected on your website. This includes chatbox deployment. Once you have designed your chatbox and enabled in, the chat box is automatically converted to a Chatbot interface within the same UI design.


You can add Fallback messages in case the user is entering a text that your Chatbot cannot understand, design the bot to initiate the conversation only if the user triggers one of the Bot Auto Triggers in the chatbot and if there is a typed message let one of the agents interact with the customer, let bot continue all interactions or let bot reply only when there is no agent online.

The different Bot Auto Triggers are:
All chats
When user click on chat banner
Based on the URL on which the chat is initiated
Depending on the active visitor session duration
Chat Settings
Auto Triggers

Auto Triggers are those messages which your users will see for the first time when they trigger the chat option. REVE Chat provides you with the option to customize the response message based on the user location, user duration, page URL and referral URL.

Canned Responses

Rather than showing fixed responses through Auto Triggers, you can show your users personalized responses through the Canned Responses section. This allows you to show responses with the user's name, location, email, browser and more.

Chat Routing

Chat Routing helps you define how customer chats are distributed among your Agent team. You can choose to use Round Robin to assign chat to the most idle agent or use a broadcasting system where all Agents will get the initial customer message and they will be queued until one of the agents responds to the customer.

If you are running a business with multiple verticals, you can use the URL of your website to route the chat to the agent belonging to that particular vertical. For example, if you are selling shoes as well as clothes, a separate team of agents can handle calls for Shoes and another team can handle calls for Clothes.

Visitor ban and Trusted Domains

These are 2 security features of REVER chat using which you can ban particular users from the chat. Similarly, since the Javascript you are using for your blog can be copied by someone and be abused by using it on websites that don't belong to you, there is a Trusted Domain section in the Settings Menu by which you can limit the websites where your Chatbox will work.

Wrap up

We sure are impressed by the numerous features that REVE chat provides. It provides complete flexibility for a business owner to design a Chatbox or Chatbot that suits their business. For the price that it comes, REVE chat is a nextgen Chat app that is just perfect for small and medium business owners. It is a complete communication box offering both text, voice and voice chat. It combines your website, Viber and Facebook chat in a single interface helping you save time and effort of managing multiple channels. A few improvements in the future that we can see are probably integration with more social channels like Instagram which has become another big source of business for MSMEs and probably a ticketing system to open issues in case there is a customer issue that you and customer will both want to track.