How to compress MP4 video files?

MP4 is one of the most commonly used file formats for videos. Are you struggling to compress your MP4 video files so that they would be easy to upload and share via email? There are a few options that can help you achieve the task.


MP4 is one of the most widely used file formats for video files. Almost every device we use these days saves the video in the MP4 format. In fact, the format is supported on a wide range of devices natively, and that does away the need for installing multiple video players on your phones or other devices.

However, a high-quality video saved in the MP4 format can get quite large in size and while it would look great during playback, it is not something you would want when you are looking to upload it or share it with someone online. It can prove to be cumbersome for offline storage as well as it can take up an ample amount of space on your storage disk. So, is there a way you can shrink or compress the MP4 video files?

Yes, there are capable video compression tools available which can come handy enough in letting you compress your MP4 videos. The following guide should help you arrive at the best results.

Best standalone applications to compress your MP4 video files

These are specific software applications, and you will need to download them onto your device in order to compress them. The best part with these tools is that they can be used for a wide range of other applications as you would find here below.

Wondershare UniConverter

This video converter is a good option for compressing your files on whether on your Windows device or a Mac. It is an excellent option to compress your files without any quality loss. You can customise the video settings by changing the parameters such as bitrate, resolution, frame rate and several other options.


The video shrinkage tool also doubles up as an excellent option to crop, merge, rotate and split your videos. The faster conversion speed offered by the Wondershare UniConverter would make it a great option when compared to the other options currently available.

That apart, the video converter also comes with a few other additional options making it a single tool for your multiple video editing needs. It can even let you download videos from over 1000 video sharing sites. You can use it to record videos, burn DVDs and a host of other useful and practical purposes.

Windows Movie Maker

This is a built-in tool that has been developed by Microsoft for your movie making needs. However, if you have already moved to Windows 10 (most of us have), you would no longer have access to this tool. If you are on Windows XP or Vista, you will find it built-in, and if you are on Windows 7, you can download it for free.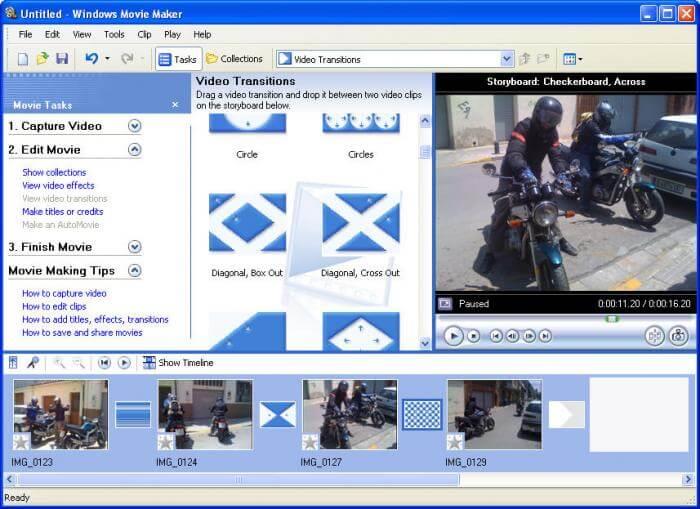 The Windows Moviemaker retains the quality of the original video even after the resizing exercise. The simple interface and easy implementation are the two features that make it a preferred option for your requirements. In fact, you just need to launch the tool and import your video file into the interface. Rest all is taken care of by the software. Compress your videos with ease without having to worry about the loss in quality.

Best online options to compress MP4 videos

The online options can be greatly convenient as you do not need to download the standalone apps. In fact, that can be quite helpful when you are attempting to compress the MP4 videos on someone else's computer.

A few good online options to compress MP4 video files can include

Clipchamp

It has a user-friendly interface for converting or compressing your MP4 videos. It offers seven different resolutions to choose from. That means you do not have to change the file format, but just change the resolution to suit your requirements, and you are good to go!


The free plan comes with a small watermark at the corner of the video. Moreover, it also has a restriction on the number or the size of the video you can convert or compress. The limit on your free plan renews every month though. However, you can opt for an unlimited plan if you are looking for a free hand in any number of videos.

Since the tool can compress your MP4 videos on a browser, you can use it on any device and compress your video to any resolution you would prefer.

Online MP4 Video Compressor from PS2PDF

This is yet another free online video compression tool that can be used to compress your MP4 video files. It is a completely free tool, and that means you will need to be content with the ads on the platform. The tool uses several options to compress your videos. You can either choose the default options if you are not sure, or change the settings to meet your specific needs.


You can either compress the file using the percentage as a yardstick or opt for specific video codec based on H.264 or H.265. There are a few other options that include high-quality compression or a faster low-quality option as per your preferences. Check out the settings offered by the tool and work out a few options until you arrive at the best results you are looking ahead to. Once you arrive at the best settings possible, you can make them default for your further needs.

If you are looking to compress your MP4 videos for your requirements in uploading them onto a few specific services or emailing, the above tools should serve to be the best options. Do note that the compression of your video will ultimately reduce the quality of your video to some extent. However, the tools above should not necessarily make it much obvious, and the final product would be as much close to the original video.