Single online tool to crop images, audio and videos

In this article, we are reviewing an all in one Image, Audio and Video cropping online tool. If you are looking for cutting and cropping your multimedia files and don't want to use software for it, this is the tool you should go for.


Online tools can be quite handy for anyone who is looking to get a random task done on a computer but doesn't have a software for it. Whether it is converting PDF, extracting text from images, resizing images, editing videos or cropping images or media files, you can do it all online and that too at no cost at all.

Today we review a similar tool at https://croppio.com/ which adds to the growing list of online useful tools. This website is an all in one solution to crop images, audio and video files. Let's go into deep into each of these functionalities and see what all they can do and what are their limitations.

Crop Video online

Currently, the only video format supported by Croppio is MP4. You can upload the video directly through a URL or from your computer. Once the video is uploaded, you can crop it quickly using the sliders present below the video by sliding to the intended Start and End locations of the video or specifying the seconds in the boxes given below the sliders. You can also apply Fade In and Fade Out effect on the video while you are cropping portions of the video. Once you are done, just click on the Download button to download the video file in MP4 format.

The biggest drawback of this tool is, of course, the fact that it supports only MP4 format.

Crop Audio file online

Audio cropping works in exactly the same way as Video. Upload the audio file from your local computer storage or from a URL. Once the file is loaded onto the interface, you can specify the start and end positions to crop the audio file.

Before actually generating the output, you can use the play button on the interface to make sure that you have selected the right start and end time frame.

And just like with video, you have the option to add fade in-out effects to your audio. You can save the output file in formats like MP3, M4A, M4R, FLAC and WAV.

It is quite a handy tool to make ringtones for your smartphones from your favorite music. You don't need any professional tool or a desktop application to make a ringtone file. Just load it on Croppio.com and trim the audio file to get the required music within minutes.

Crop Image files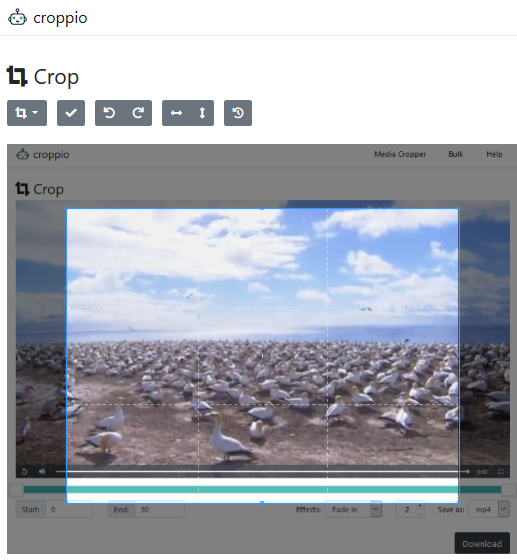 Croppio provides a handy online tool to do basic image editing. You need to upload an image to the tool and then you can crop the image in some predefined presets or as per your requirement. In addition to that, you can flip the image vertically and horizontally or rotate the image left or right.


On the same page, you can also use the resize image tool and image conversion tool. That means, on one interface itself, you can edit your image, resize it to the proper proportions and download it in a format that is suitable for your requirement.