Top 5 cloud storage services to depend on

Are you looking for the best cloud storage service to store your personal files? Then, this article will help you choose the right one to depend upon.


Cloud storage has become one of the most unavoidable things in our daily life, be it a matter of collaboration or just for personal use. With Cloud storage, we don't need to always keep any storage devices with us, unless we are marching into an internet-less territory. We can access the files we want from the cloud servers at any time we need without caring where we are. It's that simple. In this article, I have listed the top five cloud storage we can depend in 2019 and the following year for easier and safer data access. Scroll down to read.

1. Sync

End to end encryption is what makes it special among the cloud storage services. This encryption feature applies to all users including both free and paid. In addition to encryption, they give utmost importance to privacy and it is clearly described in their website that they don't claim ownership of any data and don't collect or sell user data to any advertisers or third parties. When it comes to other cloud storage services, their terms of service shows that they have the right to scan and read our data for purposes like monetization through ads. This is what gives Sync an edge over others. As a basic user, we get 5 GB free storage and can upgrade to more through their business plans starting from ten dollars per month to twenty dollars per user for a month. We can select the plan according to our need such as working solo, team or enterprise. If there is more need for storage space and working on a basic plan, we can always resort to their referral program. We get 1GB per referral and the referred person gets the same amount of storage in addition to the basic plan. In that way, we can add the storage space up to a maximum of 20 GB. As the account security is concerned, we are provided with facilities like two-factor authentication, password recovery through email and remote wiping. Also, this cloud storage service is available in all major platforms such as Mac, Windows, Android, and IOS.

2. pCloud

pCloud comes with a free storage space of 10 GB and we can upgrade to more by buying one of their premium packs which consists of pCloud premium(500 GB) and pCloud premium plus(2 TB). We can select among them according to our need and budget. If we want pCloud premium, it costs around 5 dollars per month and the other for around 10 dollars per month. pCloud uses TLS/SSL encryption for file transfer between our device and the servers which improves the security of our file transfer. For further enhancement of security, there is a paid service available within the pCloud called pCloud crypto. It is similar to that of Sync cloud storage except it comes as a paid service. With pCloud crypto, encryption is done on our computer and only the encrypted version is uploaded to the cloud server. It also follows zero-knowledge privacy meaning the encryption keys called the crypto pass is not stored in the servers. As we encrypt, we can't expect the server to do normal activities they perform with unencrypted files like playing media files and viewing image files. For such purposes, we need to store it as unencrypted files and we have the complete liberty to choose which one to encrypt and which not. These encrypted files are only usable when we have the encryption password or the crypto pass, otherwise they can't be accessed by anyone. This storage platform is available in all platforms such as android, iOS, Mac, Windows and even Linux

3. Dropbox

Dropbox is the least free storage provider in this list, rolling out only 2GB free space when compared to others. If we want more space, we can always upgrade it to Dropbox plus, professional or business plan, where we can get up to 5 TB of storage space. It depends on the plan, if you are going for the Dropbox plus, then you get 2 TB and likewise the professional and business plan get 3 TB and 5 TB respectively. With paid membership, we get more features like accessibility of files from more than three linked devices whereas the basic membership or free membership gets only access limited to three linked devices. If we want to check out the options or features available in paid membership plans, we can always make use of free trails. They give a free trial period of 30 days and making use of it will give us a full perspective on what makes it special compared to others and we can decide for ourselves whether this is worth buying or not. Just like Sync cloud storage service, it offers a decent referral program where the free users can get 500 MB per referral and can earn up to a maximum of 16 GB. If we are having a paid membership, the referral plan gets more attractive with 1 GB per referral and all the way up to the maximum of 32 GB. The greatest drawback of using this cloud service is lack of privacy. Unlike Sync cloud storage service, it is described in their terms of service that they have the right to access, store or even scan our stuff at any time they want and this doesn't sound appropriate. But, most of the cloud storage services are having this right through their terms of service and the only exception is Sync cloud storage.

4. Google Drive

Google Drive is one of the simplest to use when compared to other cloud services and it is very user-friendly. We can save attachments from Gmail directly to the google drive and all we have to do is place the cursor in the attachment and look for the logo of Google Drive. Then it's all a click away. Because, it's from Google, it's very famous in cloud service, all of the persons using Google would have come across Google Drive at some point in their navigation on the web and we can imagine the number of Google users worldwide. When it comes to storage, Google Drive offers 15 GB of free space which includes Gmail and Google Photos. If we want to increase the storage space, we can always go for the paid plan called the Google One starting from 100 GB and up to 30 TB. Even though Google Drive does not provide any referral plans for getting more storage space, it does provide new Chromebook owners 100 GB free storage for two years. Just like most of the other storage services, this one comes with a big disadvantage of hurting privacy of users. They say it in their terms of service that they have the right to access our data for the purpose of monetization through advertisements. Though they claim to use our stuff only for the purpose of monetization, it still irks us when we realize that they have access to our stuff.

5. OneDrive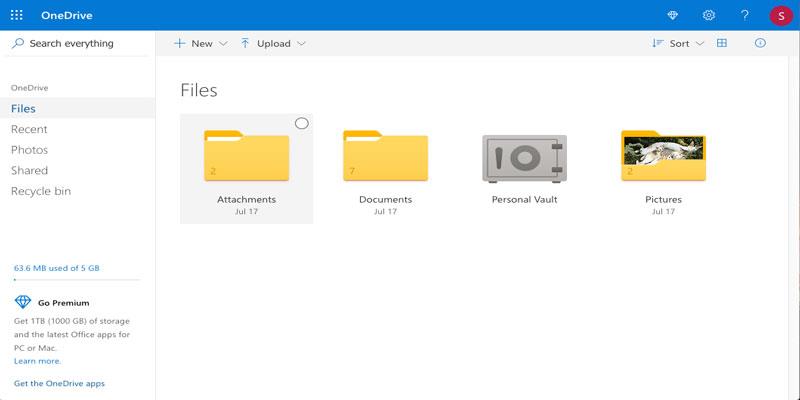 OneDrive, previously known as Sky Drive comes integrated with Windows 10. That doesn't mean it is available only for Windows OS. It's available for most of the popular platforms excluding Linux. The platforms that support OneDrive are Windows, Mac, Android, and iOS. As far as the free storage is concerned, it provides 5 GB and you can get more if you go for paid plans. The paid plans include 100 GB, 1 TB, and 6 GB termed as OneDrive 100 GB, Office 365 Personal and Office 365 Home respectively. One of the interesting features that are worth mentioning in OneDrive is the personal vault, where we can save our personal documents with pin, Touch ID or Face ID as security. As a means of added security, they have also included features like two-step verification and auto-lock after three minutes of inactivity in addition to biometric verifications of personal vault.

Wrap up

By digging into these five cloud storage services, we can easily arrive at the conclusion that the Sync is the best option to consider for gaining our trust completely with its privacy feature. Unlike all the other four, Sync doesn't use our stuff for any activities like monetization through ads and doesn't take the right to scan and use our documents through their terms of service. When it comes to other storage services, we can use them, but not for trusting with highly confidential documents and just for storing only documents of less importance.