Top 5 Laptops for Deep Learning

Deep learning is the field that needs more exceptional computational power to process huge amounts of data. In this article, I have listed down the beast-like systems that best suits the deep learning purpose.


Why should you consider buying a laptop for deep learning?

Deep learning is a field that needs extensive computational power, and as a researcher or student, you should have a powerful system that functions like a beast with exceptional power to compute data. Due to hardware advancement, deep learning has grown rapidly over the past five years. The hardware systems that are currently available in the market can process the data and provide results within an hour. The data processed by deep learning algorithms are getting larger and larger every day. If you use a laptop with no GPU and limited RAM, it takes approximately a month to provide the output. So, you should be very careful while buying laptops for deep learning purposes because, without an advanced hardware system, you won't get any real-time results.

Hardware Requirements

Before deep-diving into the list of the best laptops, you must know the hardware requirements. So, let us have a look at the hardware requirements, which will be helpful even if you have a plan to build a custom PC.

GPU

Graphics Processing Unit (GPU) is the first and foremost thing that you should consider before you decide to buy a laptop for Deep learning. GPU processes images or video data which require a heavy amount of matrix calculation. GPU enables parallel processing of these matrix calculations by utilizing a large number of cores, which helps in completing the task in a few hours. Without GPU, these same tasks might take many days or months. If you are using deep learning algorithms for computer vision applications, then you should consider a GPU with high RAM. One of the best GPUs to work with is GeForce 10 series manufactured by NVIDIA, and you can choose the one that best suits your price range. You can also consider AMD Radeon.

RAM

A minimum of 16GB RAM is required, but sometimes it causes problems while multitasking. So, I advise you to go for 32 GB RAM.

Processor
Intel Core i7 7th Generation or above series are the best processors because they are more powerful and delivers high performance.

Storage
A minimum of 1TB HDD is required, and if you choose a system with SSD, then a minimum of 256GB SSD is advised.

List of the Best Laptops for Deep Learning:
In this section, we have listed down the laptops that are best suited for running deep learning algorithms. The laptops that we have listed down are high-performance systems with higher VRAM GPU and larger storage. Most of the systems which we have mentioned below are versatile laptops that can use for purposes that need greater computational power.

Tensorbook

The laptop that tops our list is the TensorBook by Lambda labs, which have been specially designed for deep learning purpose. TensorBook comes with a Lambda stack software, which manages installations of deep learning libraries, and it updates the libraries automatically.
Specifications:
GPU: NVIDIA 2070/2080 (8GB).
RAM: Up to 32GB (2666 MHz).
CPU: Intel i7-8750H (6 cores, 16x PCI-e lanes).
Storage: Up to 1TB NVME SSD.
Display: 16.1" FHD (1920×1080), Matte Finished.
Operating System: Ubuntu 18.04 (Bionic) With Lambda Stack. You have to pay some extra dollars to install Windows 10 pro.
Pros:
Powerful GPU.
4k Display.
Pre-installed deep learning libraries.
Cons:
Dell XPS 15 9560:

The Dell XPS is an amazing laptop with a good battery life. The laptop comes with the world's only 39.6cm (15.6) InfinityEdge display. It is a flexible laptop that is made for versatile purposes. Its 4K display has color performance for pro designing.The lid and underside of the Dell XPS 15 are made of aluminum, and the insides around the keyboard are soft-touch carbon-fiber-reinforced plastic.
Specifications:
GPU: NVIDIA GTX 1050 GPU with 4GB RAM.
RAM: Up to 32GB 2400MHz DDR4 RAM.
CPU: 2.8GHz Intel Core i7-7700HQ (3.8GHz boost).
Storage: Up to 1TB SSD.
Display: 15.6"(3840 x 2160) display,100% Adobe RGB.
Operating System: Windows 10.
Pros:
High Performance.
Amazing battery life.
4k display.
Cons:
Quite expensive.
Heavy.
No web camera.
Acer Predator Triton 700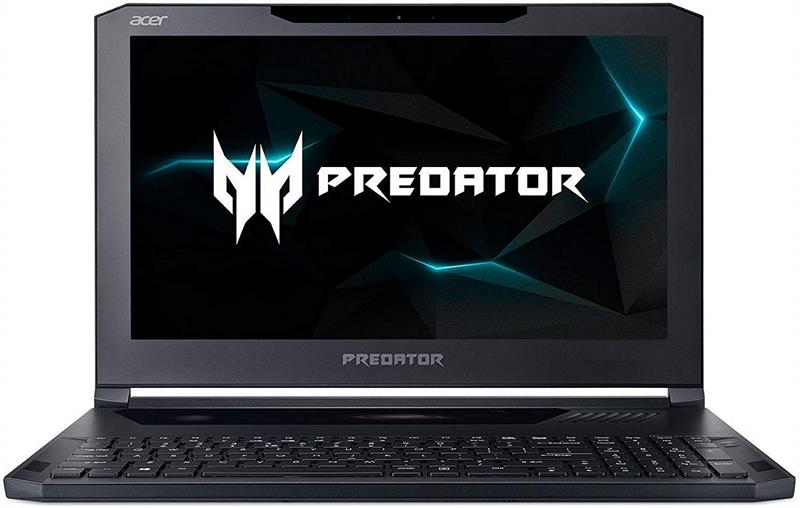 Acer predator is an excellent laptop with amazing power and speed. It has enough space for data storage. The screen looks great with wide viewing angles, but most importantly, it includes Nvidia's G-Sync technology. G-Sync synchronizes the refresh rate of the laptop's GPU and display, which results in a smooth display experience free of stuttering.
Specifications:
GPU Nvidia GTX 1080 8GB.
RAM: 16GB DDR4 (2,666MHz).
Processor: Intel Core i7-7700HQ.
Storage: 256GB SSD.
Display: 15.6-inch FHD (1,920 x 1,080).
Operating System: Windows 10.
Pros:
Fast GPU performance.
Affordable laptop.
Very good display.
Cons:
Battery Life is not good.
Razer Blade 15

Razer Blade 15 is one of the best laptops that you can buy to perform deep learning tasks. The processing speed is high, and the performance is top-notch. Razer Blade 15 is same as that of the razer blade released in 2018, and the only major upgarde is using 8th generation Intel processor. So, the price of the laptop is not justified.

Specifications:
GPU: NVIDIA GeForce® RTX™ 2060 – 2080 MaxQ.
RAM: 16GB Dual-Channel DDR4 2667MHz, expandable up to 32 GB.
Processor: 8th Gen Intel® Core™ i7-8750H 6 Core (2.2GHz/4.1GHz).
Storage: 512GB SSD.
Display: 15.6" 4K Touch 60Hz, 100% Adobe RGB.
Operating System: Windows 10.
Pros:
Excellent Performance.
Light and portable.
Battery life is good.
Great Build Quality.
Cons:
Gigabyte Aero 15X:

Gigabyte Aero 15X is an amazing laptop that is slim and lightweight without compromising on performance.The battery life is excellent. It has the world's first FHD 144HZ panel with a slim bezel design. The refresh rate of 144Hz provides a smooth visual experience.

Specifications
GPU: NVIDIA GeForce GTX 1070 (Max-Q, 8GB GDDR5 RAM).
RAM: 16GB DDR4 2667MHz, expandable up to 32 GB.
Processor: 2.2GHz Intel Core i7-8750H (Hexa-core, 9MB cache, up to 4.1GHz with Turbo Boost).
Storage: 512GB SSD.
Display: 15.6" UHD 4K display.
Operating System: Windows 10.
Pros:
Excellent battery life.
Stunning display.
Lots of ports.
Easily handles intensive tasks.
Cons:
Weird web camera position.
Not premium for the price.
Wrap up
That finishes the list of the best laptops for deep learning, and the final decision is yours. Let us know if we have missed any great laptop, and we will be very happy to include that in our list.