How to digitize hardcopy of documents using Android OCR apps

In this era, it is always safe to have a softcopy of your documents in your smart device. Just a small water spill is enough to damage your important documents. So why take the risk, just take a softcopy. Everyone has a smartphone right now, so if you want to digitize a document, we can actually just use our smartphones instead of running to the nearest optical scanner.


We can digitize documents using our smartphones by using apps with Optical Character Recognition or OCR technology. These OCR Android apps can convert your documents to PDF files or editable text documents which are the industry standard for e-documents. In this article, you can find several android apps to digitize documents.

CamScanner

CamScanner is a really popular app with more than 100 million downloads in the Play Store. It comes with tons of scanning features like:


Docs: The primary option to digitize documents
ID photo: To take a photo of a person and crop it into passport sized or other general sized photos as well as to digitize visas of several countries
ID card: To take softcopy of Driver license and passport
Book: This book scan feature lets you scan the left and right pages of an opened book as a whole and the app splits them into 2 thus saving you the hassle of clicking 2 pics of each side.
ImageToExcel: Have a spreadsheet to digitalize, then this is for you. Converts physical spreadsheets to Excel sheets.

Since we might be taking softcopies of important private documents that shouldn't be seen by any 3rd party, CamScanner provides security features like having the file password protected so that no unauthorized person will be able to open your private document.

Although we get most of the basic features for free, to get access to the advanced features like Scan with HD resolution, Ad-free experience, cloud space of more than 10GB instead of 200 MB, Pro PDF editor, e-signature, etc., you have to get their premium plan for $4.99 per month.

Download CamScanner from Google Play store
Text Fairy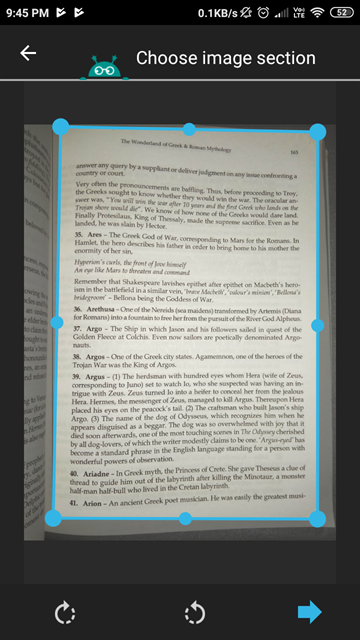 If you want just a simple app to digitize your documents and save it as a PDF file, Text Fairy might be perfect for you. It doesn't come with the fancy features of CamScanner like ID scan etc, but it does its job really well. This came in second in this list as it takes about 1 to 2 minutes to create a PDF file from the image you uploaded. But I can assure you that Text Fairy is worth this time.


One of the really cool thing which makes me love this app is its absence of ads. Yes, it is completely ad-free. It has support for over 30 languages, although English is its upper-hand and English documents can be converted to PDF files in under 45 seconds. You can either capture an image by clicking the camera icon present in the top right section of the app, or you can upload an image of the document that you took earlier. The reason why it takes a long time is that it has a good OCR functionality and it takes time for that.

To sum up, Text Fairy is an ad-free, basic OCR Android app, which doesn't boast of any high-end features, but it gets the basic digitalizing done.

Download Text Fairy from Google play store
Notebloc

If OCR isn't your main priority, i.e you don't want to edit the text in the documents, and just want to digitize it, then this app will work for you. The reason I am saying this is because this app's optical character recognition is not up to the mark. But to balance it, the digitizing part is very fast, like 2 or 3 seconds. It enhances the image to sharpen it and make it more like it was digitally scanned.


Notebloc is ad-supported, but comes with some features like you can select the image quality to be medium or high, select the format of the document name along with additional info like date and time which is added along with the document name in the output file. There is a pro version available for Rs.100, which removes the ads and helps them support the app.

Download Notebloc from Google Play Store
Google Keep

Keep is primarily a note-taking app from Google. However, if all you want to do is get the text in a printed note and edit it, then try Google Keep. Create a new note and select the image you want to get the text from. Then click the 3-dot menu in the top-right section, select 'grab image text'. Google will do its magic and quickly return the text from the image in under 5 seconds. There are some cons to this app like it doesn't grab text from handwritten notes, and it also doesn't work without the internet. But it is not a standalone OCR Android app, so we can't blame it. Google keep is a really good note-taking app which I use on a daily basis and have found it really helpful in my increasing my productivity.
Download Keep from Google Play Store

Conclusion

I hope the above Android OCR apps will be helpful to you in digitalizing your documents. Always remember, "It is always better to be safe than sorry", so make sure to always have a softcopy of your important documents, and to be safer, I would prefer you to upload it to some cloud network (I use Google drive, It comes with 15GB free cloud storage with every Google account), as even our data storage devices are susceptible to water damage.
Try out the apps, and comment down below the ones that you liked the most.