Lanmodo Vast Night Vision Camera - A blessing for the night driving - A review

Driving your car at night can be what is termed to be a difficult task. Poor visibility during driving has been one of the most common reasons for the accidents and fatalities that occur every year. A night vision camera can be a real blessing if you are a frequent night traveller.


With an estimated 40000 car crashes happening in the US alone as a result of poor driving visibility, implementing a system of cameras for an enhanced visibility during the night should be what should help you avoid them to a greater extent. Automobile manufacturers have been implementing newer strategies to address this concern. Headlight improvements, Collison sensors and night vision cameras have been a few improvements we have been witnessing over the past few years.
One such system that can make it an exceptional choice for your needs would include Lanmodo Vast night vision camera system. The system makes use of a powerful front facing camera and is equipped with a smarter image processing unit to make your rides safer.


Lanmodo Vast night vision camera system - An overview

Seeing at night is a difficult or even an impossible task as it is. Of course, there are several innovations in the street lighting technology that can help, but the fact remains that they cannot replicate the sun light. The Lanmodo Vast night vision camera system should be an excellent option under these situations.


It is a driving safety assistance application and aimed at helping out the travellers who need to drive long hours into the night during bad weather or rains. The Lanmodo 1080P Night Vision System can provide you vision distance to up to 300 metres. This should be helpful enough for you to understand the road conditions well in advance and take the proper driving decisions. The system should also be helpful for those suffering any eye issues like myopia and similar vision issues.




How does it work?

The Lanmodo Vast night vision system comes with a front facing camera. This is what would help you capture the image of the road ahead and provide you with a clear view as if you are driving in a bright sunlight. The cameras feature a lens equivalent to the one used on the CCTV cameras. You will have access to a 36 degree angle of view which is, in fact, beyond what you would get from your headlights.


You also have a 8.2 inch 1080p screen that displays the images from the camera. The high resolution 1080p screen and a full color image functionality should provide you access to the best in class low light visibility. The capable image processor will help you by processing the images coming from the camera in real time. This will help you have access to detailed clarity of what lies ahead on the road for you.
Well, the fitment and finishing of the product is indeed reliable and aesthetic. Adjustment of the camera to suit your exact requirements is yet another added advantage. The device comes with physical buttons to take care of easy handling of the interface and comes with smoother plastic surrounds.


A few features worth mentioning

The Lanmodo Vast night vision system comes with an efficiency level that surpasses the built-in camera may not be able to provide you. Some of the pointers that should make it a good alternative can be
The camera system provides you access to the high-end full color visuals of what lies ahead of the road. This is in sharp contrast to the black and white images on a built in system
A high resolution 1080p system will make your surroundings and the obstacles on the road clearly visible.
The 36 degree vision provides you access to the wider angle of view, thus covering more than what your regular headlight can cover.
The camera also comes with the active infrared functionality. This is in sharp contrast to the passive infrared setup.
The high degree of compatibility with most of the car models is yet another advantage that you stand to gain. You need not go a model that suits your exact car model. In fact, this can be an added advantage as you would be able to retain your night cameras even when you sell off your car.

The IP67 rating will ensure that it works quite efficiently in the rainy seasons. You can also opt for rearview camera options as well. The rear view camera comes with two variants - one for the regular cars and another for trucks or larger passenger vehicles.


Stay ready for the Lanmodo Vast Pro-all-in-one night vision system

Buoyed by the success of the Lanmodo Vast night vision system, the company has been gearing up to the launch of its advanced product - the Lanmodo Vast night vision system. Yes, the product will be launched soon and will be available through Indiegogo soon.
A few features that the product will pack in will include
A Full color vision - Many rural regions may not have access to a complete street lighting. This can also be true in case of the areas where a large of the road goes through the remote areas or in the wild. The full color vision in such areas will provide you with an excellent vision of what lies on the road.
Waterproof camera for the rear - The Vast Pro camera system will also come with a rear camera with 1080p resolution for enhanced rearview functionality as well. Once again, the rearview camera is also waterproof and provides you access a better visibility even in bad weather.

The video below should provide you a better understanding of what to expect from the expert quality night vision camera functionality.



Take advantage of early bird offer - Opt for the new Vast Pro today!

The new Lanmodo Vast Pro-all-in-one night vision system is coming on Indiegogo soon. Priced at $ 599, you can get it for $ 199. Subscribe for it today and enjoy an overwhelming price saving.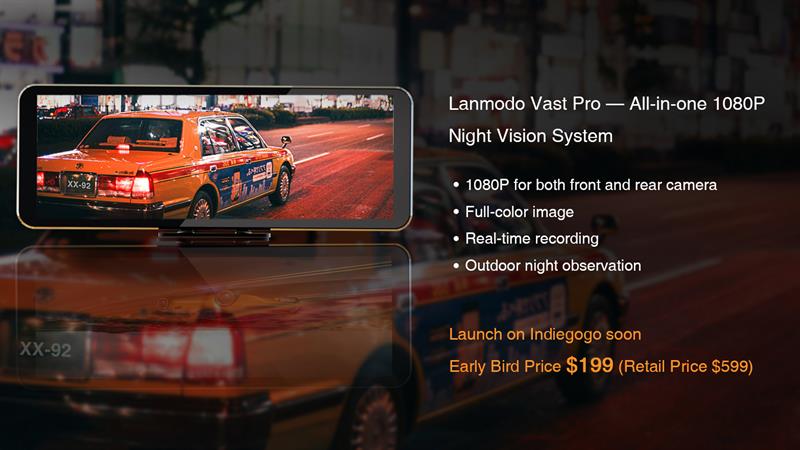 If you are an early bird buyer, you stand to gain a discount f 67 percent right away. Signing up at the earliest can help you keep up with when the sale goes live.


In Conclusion

The Lanmodo Vast night vision systems offer you an extensive system for enhanced performance when it comes to ensuring a safer and tangible night driving experience. Whether you are opting for the Lanmodo Vast 1080P Night Vision system or decide to wait for the new and upcoming Lanmodo Vast Pro all-in-one Night Vision system, you are in for an exciting journey ahead - quite literally!