[Working method] Fix Audio issues of PUBG on Tencent Gaming Buddy

If you play PUBG on Tencent Gaming Buddy and are facing audio issues while using voice chat, then we have a working method to solve the glitch. Read this article to solve no audio on mic problem on Tencent Gaming Buddy.


Amidst all speculations that PUBG might be banned in India, players are still playing it. This Battle Royale game is intensely popular among both kids and adults. Players choose to play it on different screens, the default being on a smartphone device. However, there are players who prefer more control over PUBG Mobile and use an emulator on PC. For those who are using an emulator and are facing audio issues over voice chat, this article is just for them.




Chances are that you are using Tencent Gaming Buddy to play PUBG on PC and facing audio issues. This is a quite annoying glitch that has still not been fixed by Tencent even after many releases. Most players playing on Tencent Gaming Buddy are not able to use voice chat in a consistent manner. There are reports that some players are not able to hear anything while others say their voices are not audible to fellow players. In all such cases, there can be different reasons for the problem and not just one.




We will be writing down all the possible fixes and solutions that might help players facing this issue. We tried these fixes in different conditions and were able to fix the audio issue on most occasions.

What is Tencent Gaming Buddy on Windows?

For those who are new to the term, it is a gaming emulator developed by Tencent for PUBG. Using it, one can play the game on Windows PC in the same way like playing on the mobile device.

However, playing on PC via an emulator is believed to give more control but comes with a little catch. When playing with any emulator, PUBG game is matched with players playing on emulator only so as to maintain parity among all users. But if any player chooses to add someone manually who plays on mobile, then that is possible. It is only during auto-matching that players on emulator are being matched with players playing on emulator only.

There are different Android emulators such as BlueStack and Nox Player. But for PUBG Mobile, Tencent's own emulator called Gaming Buddy is a great one and offers more features to play the game on PC with good experience. It is downloadable over Tencent's official website. The game, on the other hand, can be downloaded natively from within the emulator dashboard. It is the same as playing on a smartphone but with enhanced control due to the use of keyboards and mouse.

One can use their same Facebook or Google ID to login to the game and continue playing with their existing accounts (if any). This ensures that you do not lose the progress already made while playing PUBG on mobile. If progress is not an issue, then there is also a guest account to play the game. It still saves the progress on the PC. But, in the event of uninstalling the app or cleaning the system, all progress would be lost. One has to create a new player profile if that happens and start afresh.


Audio issues faced on PUBG using Gaming Buddy

Those playing on Tencent's Gaming Buddy must be aware that the audio fails to work all of a sudden. Sometimes the game starts with one-way audio and the player can hear other players voices but is unable to communicate by himself. On a different occasion, players own voice is heard by all fellow players but the latter's audio is not audible. It so happens sometimes that the audio is functioning both ways but all of a sudden it disappears.

All these issues as mentioned above are more particular while playing on an emulator. This is not only frustrating but also a deterrent factor for most to continue the match. A game like PUBG without audio not only degrades the experience but also makes it insanely difficult to survive without sound.


How to fix audio issues on PUBG in Gaming Buddy?

If you are one who is having similar issues as mentioned above, the following solutions might fix it for you.

First and foremost, if you are using an earphone then plug it to the PC before launching the emulator. This solves the problem for most people but is not consistent if played for a longer period. It must be kept in mind that if the emulator is launched and the earphone is subsequently plugged, there will be no audio on most occasions.

But, if the above trick was followed and still the voice chat on PUBG is not working as intended, then one has no other way than to restart and enter match again.




One more prominent solution to the issue is to make a little change on the Sound Settings of the PC itself. It must be ensured that the earphone is marked as the default device for audio input and output. For doing this, go to Sounds or Sound Control Panel and navigate to Recording tab. On the microphone, choose Set Default.




Having done that, you need to go to Audio Settings on Windows 10. You can type "audio settings" on the start menu and click to open it.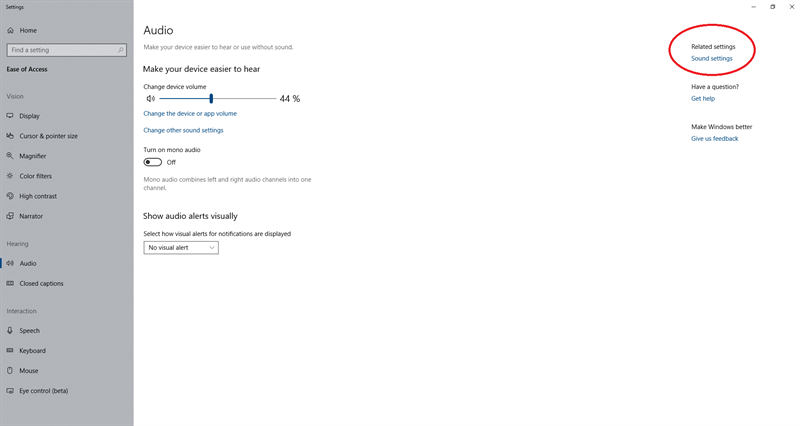 On the right panel, there is a related setting called Sound Settings. You need to click and open that too. There will be two settings to configure - the output device and the input device. Make sure that the input device is set to Microphone and that the microphone is showing activity on 'Test Your Microphone' audio bar below.




Now, towards the bottom, there is an option called "App volume and device preferences". You need to open it while keeping PUBG launched on Tencent Gaming Buddy. Otherwise, the application might not show up on the list of app volume.




Once done, the Tencent Gaming Buddy will be visible under the App category. There, it must be ensured that the volume is maximum and input is set to Microphone. Of course, the earphone must be plugged too while configuring this setting.

The above setting has worked for most players and solved the issue in a consistent manner. The other tricks shared above still showed intermittent audio glitches.


Conclusion

The above working method to fix mic not working on Tencent Gaming Buddy while playing PUBG is tested and works fine. But, there are other problems too that may result in a similar glitch. These issues may be related to the earphone used which might be faulty too or not properly plugged. Often, slow internet connection or higher ping in PUBG game itself also causes audio problems.

So, if you are facing similar issues on PUBG then do try the workarounds mentioned above. Also, comment down your experience and share whether the problem is fixed in your case or not. We would also like to hear in the comments any other working solution (if any) known to you.