Mi Home Security Wireless Camera under Rs.2000 now in India

Are you looking for a wireless home security camera to secure your home? The most talked about Mi Home Security Camera Basic 1080p is now available in India under Rs.2000/-. But is it worth the price? Read on to know its features and performance.


Electronics in India and the global market is flooded with products offered by most popular and ever emerging brand "Mi" which has gained a lot of popularity for its Redmi phones, Mi TV and other electronic items. These days, there is hardly any category of electronics that is actually not made by Mi.

And surprisingly, each and every item introduced by them not only looks premium but also boasts countless features at an affordable price tag.




One such product that was launched by Mi is the Mi Home Security Camera Basic 1080p which is now also available in India. It is priced at ₹ 2,299/- but with a 13% discount as on the date of writing this article, it is available at Mi Store and other Indian e-commerce stores at an affordable rate of ₹ 1,999/- only.

What is Mi Home Security Camera Basic 1080p?

As the name already suggests, it is a home security camera offering full HD surveillance and recording. It is basically intended for indoor home use and although suffixed as Basic, it offers a lot of quite advanced features and technologies. At such an affordable cost, it still records and outputs 1080p full HD picture quality and full HD video at a maximum frame rate of around 20fps with its 130-degree angle super ultra wide lens that covers most parts of the room or corridor and thereby ensures better security. It makes sure that there are as few blind spots as possible during surveillance.

All of this is powered with Intelligent detection with an AI motion detection alert that makes sure that it does not trigger any false alarm due to less important movements such as that of curtains due to airflow or even smaller insects hovering in front of it. It is smart enough to filter out all the false alarms that are less significant during surveillance unless otherwise considered necessary.

Even on low light conditions, it can record in monochrome through its 10m range infrared night vision. Apart from that, it also has a two-way talk back feature that makes voice communication experience as real as being present in the room itself.


Mi Home Security Camera Basic 1080 Unboxing

It comes in a compact sales box with orange theme design having a black and white front cover that reads its key features and the Mi logo on the top along with the image of the device.

Inside the box is included the camera itself in white color along with a USB to micro USB data cable which is of considerable length. There is also a XIAOMI Power Adapter with an output of 5V - 1A and it is Made in China. In addition, there comes a user manual with a QR code that links to the MI Home app.

Mi Home Security Camera Design and Form Factor

It is a compact security camera with a round lens that comes coated with a removable protective film. A tiny LED indicator can also be seen just below the lens hole. There is a pinhole reset button on the side and has a foldable stand to position it as per your requirement. By its look and form factor, it can appear to be more suitable to be put on a desk or a shelf rather than mounting it on vertical walls or roofs.

There is a microSD card on the right side to record all your videos offline. There is also a micro USB port towards the bottom back of the camera lens.




Overall it looks quite elegant and decent and gives a very premium look.


How does Mi Home Security Camera work?

Mi Home Security Camera Basic can be powered using the provided data cable or one can even use a power bank to turn on the device. On connecting with a power source, the LED indicator on Mi security camera Basic starts blinking and a voice notification prompts with the installation process.

We have to install the Mi Home application by using the QR code on the user manual or the one given in the sales package or otherwise download directly from the Google Play store in case of Android. On the app, a QR code will be displayed which we have to face it towards the camera lens and a voice prompt will confirm a successful QR scan and prompt to wait while trying to connect.

After connecting, it will echo that the camera is online and the LED indicator will stop blinking. You can use the app on phone to remotely monitor your home using this Mi Home Security Camera Basic 1080p that outputs really clear picture on all lighting condition.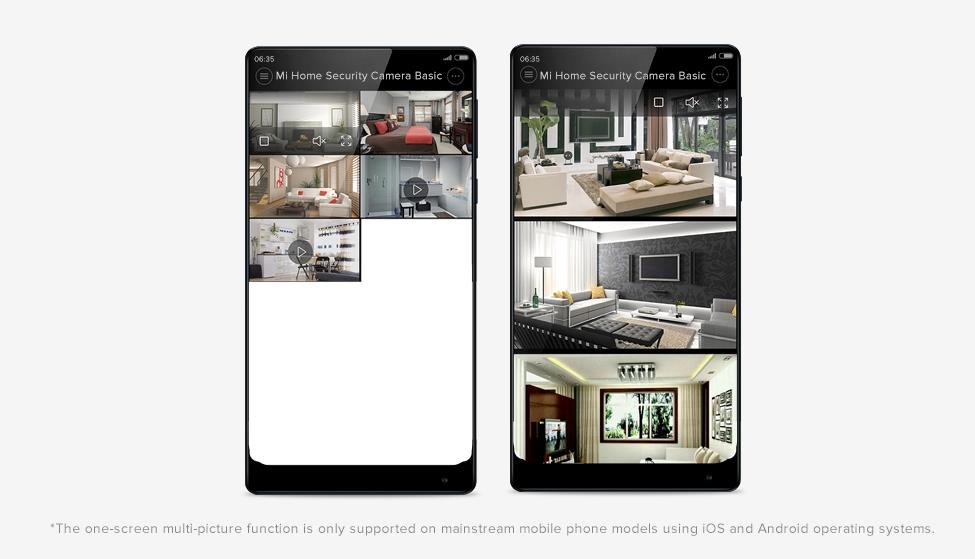 You can also set the night vision mode to "automatic" so that it triggers on its own when the light in the room gets low. The blue LED light indicator can also be turned off using the app to avoid getting noticed. Further, a lot of other options on the app itself such as Watermark on image, lens distortion correction, image rotate etc. are very useful. Night vision can be turned to auto and there are two modes such as Normal mode and Infrared Imaging. Infrared Imaging is used when there isn't enough light in the room.

As it has microSD card support to capture pictures and record videos, you can use Class 10 memory cards with a capacity of 16GB to 64GB maximum storage. It also has a 2.4GHz WiFi 82.11b/g/n support for a wireless connection that is required for live stream over the internet.




You can easily monitor the live image of surveillance from virtually anywhere in the world but you need to be connected to the Internet and so must the camera also have internet hotspot.

Availability of Mi Home Security Camera Basic

The Mi Home Security Camera Basic will be available in the official Mi Store and other popular e-commerce stores in India and abroad. It will also be available in offline Mi stores but the price may differ from time to time or demographic location.

To conclude, it is a very good security camera in this price segment and offers most of the important features. However, the remote tilt and rotate option are not available but the ultra wide angle lens compensates for the same with its wider coverage.

So, are you in need of a surveillance camera for securing your room or corridor for your home or office? Do leave your feedback and also comment down your experience with Mi security cameras if you or any of your friends or colleagues have used it so far.