Top 10 MP3 media players for desktops and computers

Your search for a good MP3 media players ends right here with our list of top 10 best MP3 players that you can find for Windows, Mac and Linux operating systems. See what makes it eligible to be present in our list.


The market of MP3 music players has long been overtaken by different digital devices with the majority using MP3 file format by default. Technology is evolving and the digital music industry is receiving top-notch growth and there is no denying about it. Downloading hundreds of gigabytes of music files and storing them in a single device might seem like a hideous task to the new generation. Music streaming apps have become the in-thing currently compared to the option of stocking up all the music files in an MP3 player software. The apps remove the requirement of selecting each track and use their own intelligence to give you a good time with your favourite tracks with online network The world is also shifting to such apps like Saavn, Spotify and Pandora for their daily dose of music. However, what do you do when you love particular tracks and want to make a playlist for different moments in life like during driving, exercising or meditating? Believe it or not, there are many reasons why offline music is still present in most computers and smartphones. MP3 players have their own perks and the major benefit is to be able to listen to music even when you don't have access to a Wi-Fi connection.

If you are looking for the best MP3 player, then you have landed on the correct page. There are thousands of applications that promise to give the best experience of listening to your favourite music. In order to clear your dilemmas, we have rounded up the best MP3 music player available in the market. So, let's get straight to the point and find out best MP3 player according to your requirements.


1. Foobar2000 (Windows, iOS, Android)

Searching for the best organiser for your all music files? Then you can never go wrong with Foobar2000. It is one of the prominent MP3 music players especially for Windows and Android users. The lightweight user interface of the MP3 player is quite friendly and convenient to use for any beginner. It has minimalistic design as compared to any other MP3 player app as it was initially available for Windows XP. It incorporates third-party plugins which enhances the functionality. The keyboards shortcuts assist to customise the music player because it is loaded with a lot of tools and options to provide the best experience. It is also infused with an automatic library monitoring system which manages the file names and other details of the particular audio file.


Foobar2000 supports a variety of audio files such as MP3, MP4, CD Audio, AAC, AU, AIFF, WMA, OGG, SND, FLAC, Speex, Musepack, Vorbis, WAV, Opus and many more. This software is free for any user which makes it worth a try.


2. MusicBee (Windows 7, 8 and 10)

Importing your audio files from music library can never become easier with MusicBee. The colour combination and the clean user interface of the MP3 player feel really easy on the eyes. MusicBee can be customized by using various plugins for more features. It is effortless to sync songs from any Android device with this audio player. The tag update feature helps to update the tags on the missing tracks. It also gives you the ability to add the picture of the singer or the artist of the specific music track. This slick looking music player will never restrict your love for music with personalized music playlist as it has a host of radio and podcasts in its library that just adds an over and above entertainment feature for the user.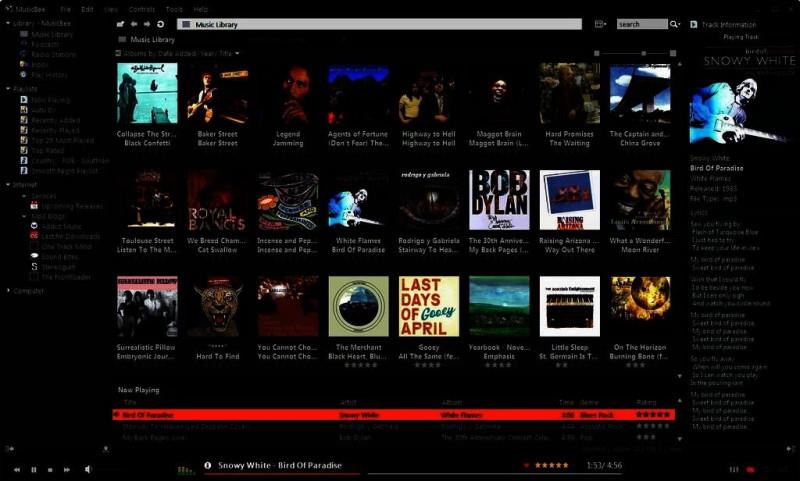 MusicBee supports various format such as MP3, AAC, M4A, WMA, WAV, M4A, FLAC, Musepack, Opus, OGG, WavPack, ASIO, APE, TAK and many more. If that's not all enough, then MusicBee is totally free to use for all Windows users which is surely a thumbs up.


3. VLC Media Player (Windows, Linus, Mac, Android, iOS)

VLC Media Player is acknowledged as the best MP3 music player because it supports almost all formats of audio and video files which makes it hassle-free for the user. The versatility and availability of this open source MP3 player on peculiar platforms make it more popular as compared to other MP3 software. This player has the capability to sort your music files at one place by just dragging your files and directories into the software. The users can not only create their own playlist or use its streaming support to stream live music. If you are searching for an audio or video player, then look no further because VLC media player is here to assist you with its specialised features.


This MP3 player supports AAC, AC3, ALAC, AMR, DTS, XM, FLAC, It, MACE, Mod, MP3, Opus, PLS, QCP, RealAudio, Speex, 3/S3M, TTA, Vorbis, WAV, WMA. This is a go-to app for all the music lovers because it is completely free which is just like a cherry on the cake.


4. MediaMonkey (Windows)

Fuel up your weekend party vibes from your own music collection with another free MP3 music software for Windows users by using the in-built feature of MediaMonkey - Audio-DJ. It is also available on the Android and iOS in the form of apps. The outlook of the player is quite similar to the WMP player but has additional features. Just like MusicBee MP3 player, it gives you the access to tag your files by using the format of industry standards. The user interface of this music player can be little overwhelming for a beginner. If you looking some fancy and add-on features such as preventing the guest to alter your customised playlist or built-in conversion for mobile phones or TV, then you can also subscribe to MediaMonkey Gold membership for $24.95. All these features are noteworthy and it helps to stand out from other open source MP3 players.


The supported formats by MediaMonkey are MP3, VQF, WMA, WAV, OGG, FLAC, AAC, MPC, M4A, APE and audio CDs. The overall feature of the player is impressive and worth to give it a shot.


5. Winamp (Windows, Mac)

Winamp is one of the oldest MP3 music players of all times. It is almost two decades old but still manages to be in the list of best MP3 music player software. It can handle large music libraries without any hassle. Over the past few years, Winamp has got even better than one could ever ask for. The detailed interface gives the exact experience of the best music player app due to its rich features which include playback controls, systematic arrangement of tools, gapless audio playback and streaming through internet radio or podcast. The user can also import music list from audio CD, iTunes or any local folder. Mac users can also take leverage of this music player with Winamp for Mac Sync.


Winamp supports majorly all types of audio and video codecs such as MKV, AAC, MP3, FLV, AIFF, MP4, FLAC, OGG Vorbis, WebM, WAV, WMV and WMA. Get ready for an uninterrupted music experience with Winamp.


6. AIMP (Windows)

Are you ready to get impressed by the clean and user-friendly interface of AIMP? Well, not only the interface but also, it has more to offer such as smart playlist, internet support for radio and a Sound engine infused with 18-band graphics equalizer. If you are not impressed by its interface you can change it with an additional set of skins available for AIMP. It is super customisable as you can pump up the bass, add an echo or change the way you want by choosing the rich sound mixing option. AIMP has the potency to play the files of up to the size of 250 MB from ordinary CDs. The different feature, which stands out from other music player is the system shutdown feature so that it can shut down your desktop at the scheduled time or after a particular song.


AIMP supports a wide array of specialized video and audio formats such as MP3, CDA, MP4, AC3, AAC, DTS, APE, MIDI, FLAC, OGG, WAV and WMA.


7. Clementine (Windows, Mac, Linux)

Looking for an easy-to-use yet faster interface for your audio files, then Clementine is the solution that you might need. This music player is more than just an organiser, it has much more features to offer to you such as music queue manager, export and import of various audio file, multi-format support, audio file converter and many more. The best feature about Clementine is that it lets you use your Android phones as a remote control for all your music files. It can access all your favourite music which is stored on Google Drive, Dropbox, OneDrive and many more after due authentication. It doesn't support any video format files and doesn't allow to download built-in music. This player is solely dedicated to focus squarely on your own music collection


Clementine supports codecs files which are MP3, OGG Speex, OGG Vorbis, FLAC and AAC. Take the advantage of the expansive technologies that are offered by this MP3 player.


8. Windows Media Player (Windows)

Windows Media Player is always the basic and classic option for every music lover. It is the default MP3 music player on every Windows-based desktop. It has the basic features just like any other music player such as shuffle or loop function but it helps to store quite a large amount of music files. The information about the famous artist is automatically updated without the help of the internet. The user can also change the formats of the audio disk to MP3, WMA and WAV for further usage of the files. The simplicity and easy to use feature is most likely the best thing about WMP. The customisation option is available by using the additional skins. It also allows you to share your playlist with the help of the local network.


Windows Media Player has got your back while playing most of the audio formats which includes MP3, WMA, CD, WAV, AIFF, MP2, MIDI, ASF. Windows Media Player is considered to be one of the most obvious choices for portable devices.


9. Groove Music (Windows, Android, iOS)

If you have got the audio files from your own source, then Groove Music will play it for you. From the past few years, Groove has improved a lot with its performance as well as features. It is one of the basic MP3 music software which includes features like gapless playback. The stability of the software is better than before. It is the best fit for a beginner because the user doesn't require any tech-related knowledge in order to operate this software and it is easy to manage or add audio files. It is available as the default music player app on Windows 10.


Groove Music supports more formats than you think which includes WAV, M4A, AMR, WMA, AC3, MP3, FLAC and AAC. The systematic arrangement of the music and user-friendly interface makes it worth to consider it in the best MP3 music player list.


10. iTunes (Windows, Mac)

Aren't we well versed with iTunes? But still, we will review this software for you. iTunes is considered to be a standard music player for every Apple user. The Windows version is available for the ones who don't have access to Mac. It is one of the most popular MP3 music player application. The cool graphical interface and integration to iCloud make it a perfect mini player yet comfortable to manage. The full-featured jukebox and podcast manager makes it more desirable. It might be little overwhelming for the beginners as it is tricky to use and it lacks to organise audio files and restricts to create a playlist.


iTunes has less number of supported formats which includes AAC, MP3, AIFF, WAV, CD and Apple Lossless. Love it or hate it, but iTunes is still winning hearts of the music lovers.


Wrap up

Put on your earphones, turn up the volume and carry your own customised media files wherever you go without worrying about the network. Don't let your love of music hang between your internet and the favourite track you are listening. Stock up your music collection and press the play button in your favourite MP3 Player software now! And don't forget to tell us about your favourite MP3 music player in the comment section below.