AnyTrans for Cloud - Manage all your Cloud Services in One Place

Using multiple cloud services can be a chore since you might not remember which files have been stored where. Read this article to see how you can search your multiple cloud storages which just one application on your computer.


Like most of us, you may have opted for several cloud services. Looking for your files across those multiple clouds on your mobile phone or laptop can indeed be quite cumbersome. How about a solution that can help you manage multiple cloud service in one single tool at a single place? AnyTrans for Cloud is an excellent option that you can give a try to.


AnyTrans for Cloud - An overview

Developed by iMobie, AnyTrans for Cloud is a cloud manager for your Windows and Mac systems. The service originally made an entry into the Android and iOS ecosystems, it has now been introduced to the bigger systems, viz Windows and Mac.


AnyTrans for Cloud is essentially a multi-platform, multi-account and cross-platform solution for managing your cloud accounts. In fact, it is a capable tool that helps you move, upload, download, or find your important files across multiple cloud services you have subscribed to. No matter whether you are a professional or looking for the easier solutions for your private tasks - AnyTrans for Cloud can indeed be one of the best all in one solution for all your cloud accounts. The application is completely free and offers unlimited storage options. Of course, if you have additional requirements - you can go the premium plans.


A few indispensable features that make AnyTrans a formidable choice

Well, the fact that the tool lets you manage multiple cloud accounts at one place in itself is a huge advantage offered by AnyTrans. However, apart from that, it also offers you several advantages par excellence. Some of them are

One account - Multiple services

Have access to any of your favourite cloud services right from one single login. No more need to opt for multiple logins. You can manage your cloud services such as Dropbox, Google Drive, OneDrive, even iCloud Drive at one platform. You can access any content across these diverse platforms and transfer content across them.

Safer functionality and service

AnyTrans for Cloud can be used quite safely without any security issues. AnyTrans has put forth a host of security measures in place to handle the safety parameters. There is a 2-factor authentication from Google and Apple in addition to the 256-bit encryption. It relies on the authorisation system for every incident of file access. No one can have access to your data without your permission and knowledge.

Faster transfer speeds

The file transfer between cloud services or between your PC and cloud agent is incredibly faster. AnyTrans makes use of multithreading to ensure faster performance. You can easily indulge in bulk transfers at the fastest rate possible. You will definitely find the lightning faster performance to be an excellent option for transferring content across different cloud services or between your computer and cloud.

Share files seamlessly

Share your files with anyone - including colleagues, friends, family or just about anyone who want to share the file with. You can share the files through Facebook, Google+, Twitter or even through a link to the file. None of the files you share will be saved on the servers, making it one of the excellent options.

Sync your cloud services

The service offers you three different channels for sharing your files across services. You can opt for Premium Sync, Online Sync or Offline Sync options. You can either opt for individual sync across cloud drives straightaway or go with a scheduled transfer option as per your exact needs.


How to use AnyTrans for Cloud?

AnyTrans for Cloud is a cloud manager app that works seamlessly to control all your cloud storage services at one place. The service currently supports the following cloud services - Box, Dropbox, Google Drive, OneDrive, pCloud, iCloud Drive, Google Photo, Yandex, and Amazon S3.

Access your Cloud Services

Follow the steps below to work with AnyTrans for Cloud -
Download and install AnyTrans for Cloud on your Windows system.
You will need to register or sign up for the service by using your email ID. You may also choose to opt for signing up with Google or Facebook as well.
You can choose to remember the password so that you will not need to enter the password everytime you access AnyTrans.
To add your cloud account, click on the Plus sign and access the available cloud services. You can choose multiple cloud services to add. Please note that for every service added, you will need to authorise it from the respective cloud service.
Once you have successfully added a cloud service, it will be available under your Connected cloud section.
You can click on the individual services to have access to the files saved on the cloud service. Once you click on a particular folder, you will have access to a host of options like Refresh, Upload, Sync to Cloud, Move to, Copy, Starred, and Delete.
That is it. Isn't that a simple procedure to access the multiple cloud services on a single platform?


Cloud Management, Transfer and Sync

Here are the additional functionalities that AnyTrans offers you. Let us check out the functionality in a finer detail -
Launch AnyTrans for Cloud as has been already explained in the previous steps.
Choose the cloud storage you want to add new folders to.
Click on the New icon at the top left corner.
Choose New Folder from the context menu.
You can then right click on the newly created folder and rename it.
AnyTrans lets you manage your cloud content efficiently. Access your folder and choose the content management options from the options available at the top right corner.
You can make use of multiple options to manage your cloud content. Some of the options available include reload cloud content, upload content from computer to cloud account, collect the file you need, make a duplicate to target folder, transfer content to another folder, upload content from computer to cloud account, delete unwanted content, check Sync Task, Sync List and Completed Task and check Uploading, Downloading and Finished File.
To sync your files to cloud, you may follow the steps here below. Please note that you need to have at least two cloud services added to AnyTrans for using the Cloud Sync functionality.
Sign in to your AnyTrans account and choose the option for Sync at top right corner.
You may also choose a set of files to sync on another cloud service.
On choosing your folder on the target cloud, you will need to choose between three difference channels for sync - Premium Channel, Offline Channel and Online Channel


Choose the channel you want to opt for. You may also choose between One Way Sync, One Way Cumulative Sync and One Way Backup Sync.
The The Premium Sync channel will sync the files immediately on the premium servers. The Online Sync channels will make use of local bandwidth and your computer for syncing your files. The Offline mode is the slowest as it queues your content to be synced on a random server. You may also choose Schedule option to sync your files at a later date and time. The scheduler option is available only on the premium channel.


Plans and Pricing

AnyTrans for Cloud Manager comes with both free and premium plans. The free plan offers you to bulk upload and download options at two simultaneous threads working together. You also have access to a 30-day Premium plan in addition to 30 GB of Premium traffic subscription as part of the free plan.
The Premium plans are available with three payment options -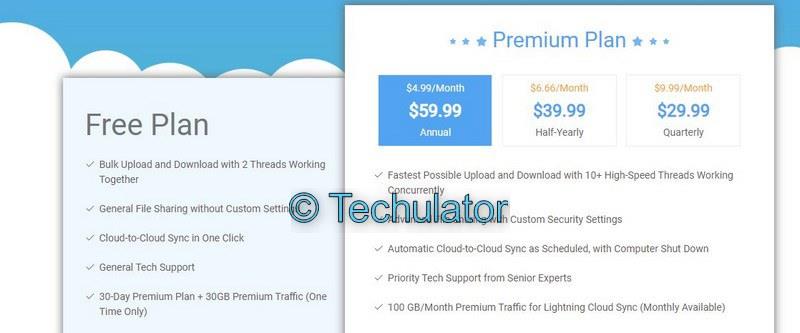 Annula Plan - The plan is available at $ 59.99. The effective pricing will be $ 4.99 per month.
Semi Annual Plan - The half-yearly plan is available at $ 39.99 for six months. The effective charges per month would be $ 6.66.
Quarterly Plan - The quarterly plan is offered at $ 29.99 for three months. The effective per month charges would be an expensive $ 9.99 in this plan.
All the premium plans come with more than 10 simultaneous high-speed working threads. The plan also comes with 100 GB of premium traffic per month. This premium traffic quota will be available every month. The premium plans also have an access to priority support from expert support service.


The Concluding Thoughts

Well, AnyTrans is indeed an excellent service that brings all the cloud service under one roof. Moving or viewing the files from your cloud services is simple and easy to manage. The safety and the cross-platform nature of the tool make it a great option for your needs in cloud data management.
Like we have already mentioned while discussing the features, the tool is amply supported by the high-end security options. The 2FA authentication and added features would ideally make it one of the safest options you can rely upon. Download the free version and check out the features and functionality. You can always opt to go Pro if you are satisfied.