6 Best Mobile Wallet and UPI apps of 2018: Enjoy Cashless India

Are you tired of keeping money in your pockets? Are you looking some online e-wallet or UPI based help? Then you should be going through this list of best virtual wallets in India to ease your online or offline payments.


With digital payment ecosystem becoming advanced, from shopping to banking everything has become virtual. Today we live in a world where it is impossible to live without internet. Since most of our daily activities are based on our smartphones, there is no need to explain the importance of digital payments. From making payments to sending money to friends and families, there is a lot that you can do with mobile payments.

Since this payment platform had evolved a lot in the last couple of years, there are a lot of companies who are competing against each other to bring better services to their customers. I have personally tried many of their services and came up with a bunch of apps that shine best in this field.

So in this article, I am bringing you those best mobile banking Apps in India that will deliver the best online banking experience that you will ever need.


1. Google Tez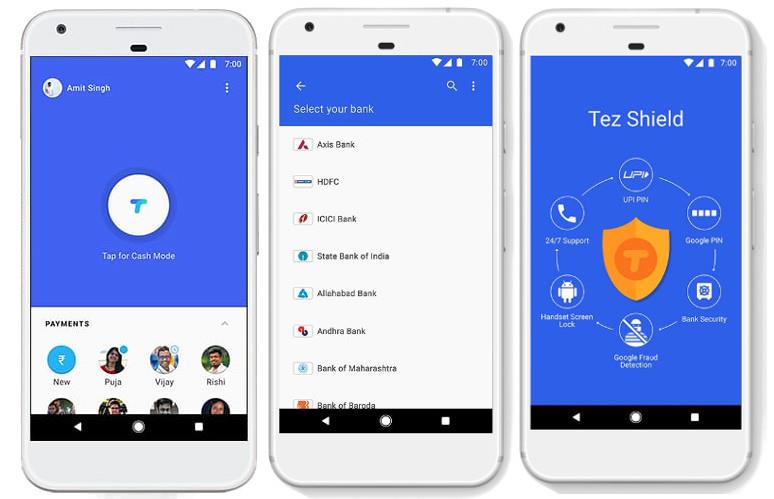 First, in this list, let's talk about Google's own mobile payment service app called 'Tez'. This app from Google which was released back in September 2017, was targeted at Indian customers by linking your bank account with the help of UPI. Tez delivers you almost all the e-wallet features that you'll ever need.

With Tez, you can pay friends and families across India directly from your bank. From splitting your bill to online payment, Google Tez is perfect in making money transactions easy. With 24x7 protection shield from Tez, you need not worry about your security ever. Apart from that, Tez also allows its users to discover great offers while you do your regular transactions. Another mentionable feature about Tez is the timely reminder which you can set for your monthly bill payments. By turning this feature ON, you never have to worry about your bill becoming overdue. If you always struggle a lot in reloading your wallets every once in a while just like your mobile phone, worry no more, as Tez works with your existing bank account it won't ask you to reload your Tez balance since there is no wallet here to maintain balance in.

Rating: 4.3 stars from 300K+ rating
App size: 8.1MB
Available on: Android, iOS, Microsoft windows


2. SBI Buddy

One of the most used digital banking apps in India is the SBI Buddy with over 10 million downloads on Play Store. With this e-wallet, you can send, request and transact money on the go. You can send money to anyone in your phone book and even on Facebook. For this, you first have to add money to your wallet using either Net banking or Debit card. Unlike Tez, SBI Buddy will be regularly poking you every now and then for reloading your wallet balance. Once you have filled your SBI Buddy app with enough cash, you can send money instantly to anyone with Buddy wallet or send directly to their bank account.

Rating: 3.9 stars from 83K ratings
App size: 4.7MB
Available on: Android, iOS


3. Chillr

Chillr is yet another great Instant Money Transfer app that can do any payments by connecting with any bank that is powered with UPI. Although this app provides similar features as that of above-mentioned apps, the most interesting feature that sets this app apart from the above both is that Chillr can add multiple accounts and stay connected with all of them at one place. Other features also include splitting bills with friends, send reminders to anyone who hasn't settled your expenses and even allows you to pay your monthly bills and recharge mobile phones on the go.

Rating: 4.4 stars from 59K ratings
App size: 7.9 MB
Available on: Android, iOS, Windows


4. PhonePe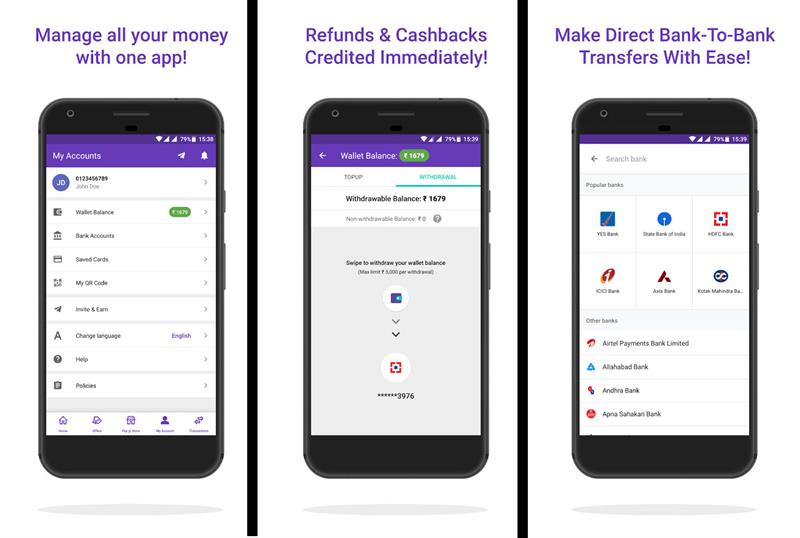 One of the finest mobile banking apps is the PhonePe. Apart from delivering all the above-mentioned features, PhonePe also lets users transact up to one lakh rupees in a single transaction. If you are someone who is looking for a UPI app to transact that much amount of money with the ease, then this is the app you might definitely want to try. Apart from all these, you are also eligible to get instant refunds and cashbacks if you happened to purchase or cancel order from any of the partner merchants of PhonePe.

Rating: 4.5 stars from 776K+ ratings
App size: 7.5MB
Available on: Android, iOS


5. MobiKwik wallet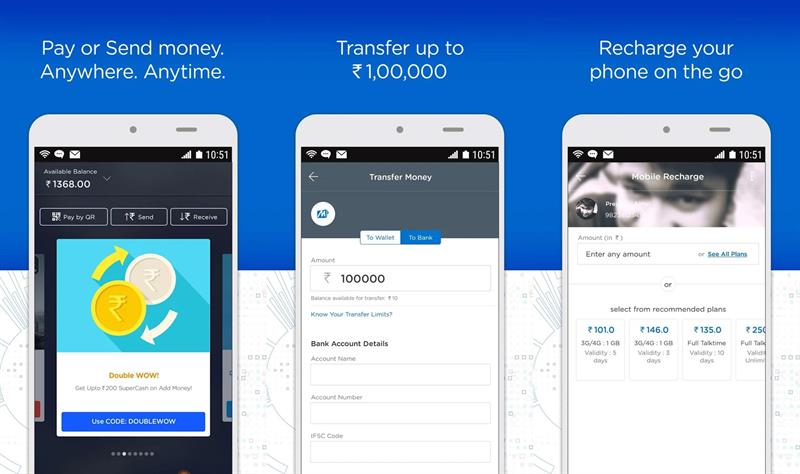 With MobiKwik you can do various activities like making fast online recharges, bill payments, online shopping, Bus and train bookings etc. With SuperCash & various other offers, you can earn huge amount as cash back and savings every time you do the transaction. With MobiKwik in your smartphone, you need not worry about your losing money ever again.

Rating: 4.1 stars from 868k ratings
App size: 6.8MB
Available on: Android


6. BHIM Making India Cashless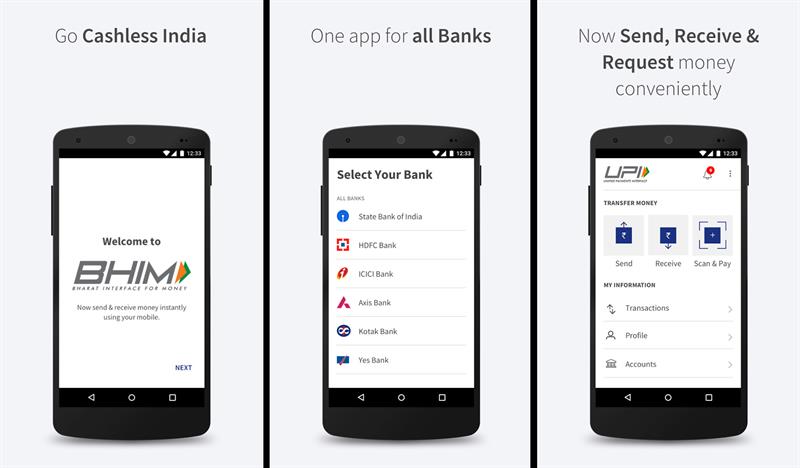 BHIM or Bharath Interface for Money is developed as part of the Digital India initiative by the NPCI which stands for National Payment Corporation of India. With BHIM, NPCI is putting forward a solution to make India go true cashless. With BHIM you can access all your bank accounts in one place. For things to work smoothly, you first need to register your account with BHIM and generate a UPI PIN. That's it! You are good to go with your first transaction.

Rating: 4.1 stars from 300K ratings
App size: 6.1MB
Available on: Android, iOS


Final Thoughts

So that's it! Above are the 7 best banking apps to enjoy online banking and experience being true cashless in India. Since it is also important to keep your accounts safe from hacking and other sorts of attacks, you should always research more about a specific app without installing them right away. Although you are free to download and check out each of these apps to see how the interface works, I wouldn't recommend using more than two apps for your UPI-based daily transactions. So what are you waiting for? Go and enjoy cashless India and roam around without having to lose your wallet ever again.