The best online stores in Dubai for mobile phones and electronic goods

Dubai is a shopping hub that gives customers an out of the world shopping experience. But, did you know that Dubai has a flourishing online retail business? You can shop for mobile phones and electronic goods on trusted online stores. Discover the best e-commerce websites in Dubai and what they have to offer.


Dubai is a shopper's paradise, especially when it comes to mobile phones and electronic goods. The product range is impressive, with the latest of the best international electronic and smartphone brands available in online stores and in the conventional brick and mortar stores. Shoppers are sure to be spoilt for choice, with the extensive range of superior-quality, yet reasonably priced electronic goods that they can purchase at both online and physical stores.


Shop for smartphones and electronic goods online in Dubai

Although Dubai is famous for its glitzy malls and plush physical stores, it also boasts of a parallel online business, which is thriving. And if you are one of those shoppers who wants to take advantage of technology and shop from the comfort of their couch, then this list of online electronic stores is sure to entice you.



When you shop on an online store, in Dubai, you can be assured of the best electronic products in the market, which includes the latest gadgets and mobile phones. Online stores allow you to browse through their entire range, at leisure. You get all the details that you need, at the click of a button - brands, models, colours, features, specifications and price. Price comparison websites in Dubai make online shopping a more profitable experience.

The list of online stores where you can purchase electronic goods comes highly recommended. These stores are known for their professional approach – honest pricing, timely delivery, genuine products and more. So, take your pick and begin shopping.


Feedbaac.com

Feedbaac is one of the most attractive sites for online price comparison in UAE. It has a comprehensive list of all mobile phones, cameras and other electronic gadgets. Products are organised into categories and subcategories. An easy to use search feature makes it easy to search and find the products of your choice. The user review part of the website allows consumers to share first-hand reviews of mobile phones and other electronic products to the readers. In addition, there is an editorial review section where subject matter experts do in-depth analysis and review of every product in their review centre in Dubai.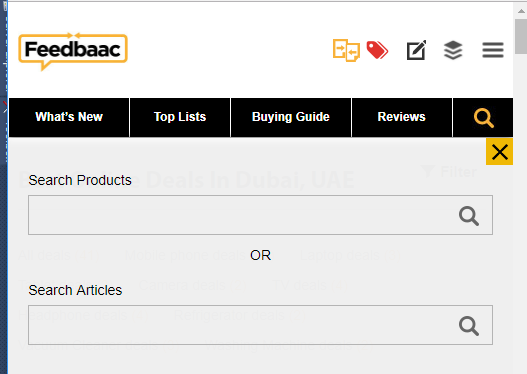 Feedbaac.com doesn't provide online shopping in Dubai but allows you to find the best prices by comparing the prices in all online shops in UAE. One of the most popular features of Feedbaac.com is the deals and offers in Dubai section. This section is frequently updated with the latest online deals in UAE.

Visit https://www.feedbaac.com for more details.


Souq.com

Souq.com makes it to the top of the list, of online shopping websites, and for good reason. It is the largest and most trusted e-commerce store in the United Arab Emirates (UAE). This is a one-stop online store that sells a wide array of products, including cosmetics, baby products beauty products, apparel, kitchen and home appliances, smartphones and electronic goods.

Shopping online on the Souq is quite simple. First-time customers have to register online. They can do so by logging in with their Facebook account or by filling in an online form and get instant access to the website. Note, that registering entitles users to all the discounts and exclusive deals that are on offer. Look out for Special Weekend deals.

The website has a customer friendly interface, which makes browsing very simple. You can select the category that you want and further refine your search using the drop-down menu.

Once an order is placed, customers can track the same, using the site's online tracking tool, which is updated at every stage. And yes, enjoy free delivery for orders above 100 AED and get same day delivery, for as little as 18 AED.

Find more details at https://uae.souq.com/


Jumbo

Jumbo, as the name suggests, is a huge name in the electronic business, in Dubai. It is one of the largest brick and mortar chain of stores, selling electronic goods across the UAE. And its online presence makes it even bigger.

Jumbo provides consumers with the opportunity to shop for electronic goods of all leading brands, with just a click. The range of products includes televisions and home theatres, vacuum cleaners, fitness devices, gaming consoles, laptops, tablets, smartphones and even headphones. Of course, there is much more on sale, which you can discover once you check the website.

Jumbo makes shopping a real experience with is super-saving combos, which make the deals ever so affordable. You will definitely find something that you need, at a cheap price. If you are inclined to do so, you can also drop into the Jumbo Electronic Store at Burjuman Center to check the products and the deals on offer.

Official website of Jumbo UAE - https://www.jumbo.ae/


Crazy Deals

This is an exclusive online retailer selling electronic goods. The merchandise on sale on the online store is, of course, huge, and includes pre-owned mobiles and a range of 'open-box & used' goods at heavily discounted prices. The online store's USP is its promise of real quick deliveries. Further, consumers can enjoy reduced prices on products through the 'Craze of the Day' feature, where great deals and discounts are announced, on a daily basis.

A special feature added to Crazy Deals is their extremely efficient customer and hotline service, through which customers can place orders for products that are out of stock. Delivery of such products is guaranteed as quickly as possible.

If you are looking for wearable electronics, watches, laptops, cameras, hard drives, routers, gaming consoles, electronic toys, tablets, smartphones or any other electronic gadget, check the Crazy Deals inventory.

Visit https://www.crazydeals.com/


Gadgetby

Gadgetby is a fledgeling, in the online retail business, but has spread its wings quite rapidly. The online store deals with a plethora of electronic items. Whatever it is that you are searching for, this store is sure to have it.

Gadgetby presents an exclusive range of computing devices and gaming accessories to shop from. The online store in Dubai also sells sports electronics, fitness products, audio-visual products, cameras, smartphones, laptops, tablets, home appliances and consumer electronics.

Shop at Gadgetby and have your order delivered within 3-5 hours. The store provides a 12-month warranty on all its products and a 15-day return policy. Orders can be tracked, in real time. Their special feature on Tech Updates notifies you of the latest technologies and innovations in the electronic world. They also provide a repair service.

Website: https://www.gadgetby.com/


Kingsouq.com

Kingsouq is a popular online store in Dubai. To begin with, you are assured of a two-week money back guarantee, if you do not like or want the product you have purchased. Next, the online store offers some amazing deals and customers can get excellent bargains because they sell goods at highly discounted prices. There are also a lot of prizes announced.

The electronic products available on the online store include a range of household electronics, consumer electronics and fitness and health gadgets. Shoppers can browse through their huge collection of electronic brands before deciding on what to buy. The range covers various brands of computers, phones and laptops.

You can shop by categories - and there are special tabs for products priced under 100 AED. There are special Facebook deals that can be availed of from their Facebook page. There are tabs announcing Clearance Sale and Special Offers. You will definitely have a lot to explore, once you enter this platform.

The online store makes free deliveries and gives you the option to pay cash on delivery (COD).

Website: http://www.kingsouq.com/



This is of course not a comprehensive list of online stores for electronic goods in Dubai, but the platforms that made it to the list are definitely the most trusted and come highly recommended by frequent online shoppers. Have you had a pleasant experience with an online store in Dubai that you want to share with us? Or is there an online store that you want to recommend. Please leave your feedback in the comments section.

And Happy Shopping in Dubai!