WonderFox DVD Video Converter - A Perfect Video Converter for your needs

Movies have always lured people since long. Ever since the concept of movies emerged, they have captured every human's imagination. We are all movie buffs though tastes may differ. Instead of having a huge collection of DVDs or other disks, it can be worthwhile to back up them to a portable device. WonderFox DVD Video Converter does just that - and much more. Let us get more information about this able software in the following paragraphs.


A video converter tool has become a necessity in today's age of digital life. You will feel the need for a video converter tool for a lot of your requirements. You may want to backup your DVDs or wish to immortalize a particular moment in your life, or maybe want to share an interesting event on social media. All these circumstances would demand an able video converter software. You may find several products that promise to achieve it. What about a software that can do much more than just that? WonderFox DVD Video Converter is a tool that can be your constant companion in all your needs that have anything to do with videos and their conversion.


What is WonderFox DVD Video Converter?

WonderFox is a well known name in the development of specialised solutions in the arena of multimedia. They have been considered to be one of the best when it comes to audio/video conversions and editing. WonderFox DVD Video Converter is a brainchild of this software development company that has received quite a few rave reviews.



WonderFox DVD Video Converter is a software developed keeping the DVD back up requirements of multimedia consumers. In view. The basic functionality of the tool is backing up the DVDs to a digital media. In addition to it, the software also has the ability to convert videos between multiple formats. It offers you several functionalities within one single application making it true One Stop Solution for all your requirements in videos and their management. It lets you download videos ( from several sources including YouTube) and edit them using a few simple editing techniques.


How does the tool work?

Well, you can consider it to be one of the simplest video converters you have come across. The interface is quite easy to understand and follow.
What makes it more user friendly is the fact that it has tutorials for every task you can complete with this simple piece of software. Right from backing up your DVDs or editing them, you will be able to find clear instructions without any need for ambiguity.
The software lets you convert your videos from and to any format. Some of the formats worth mentioning include AVI, HD MP4, HD MOV, FLV, HD WMV, AVI, MP4, VOB, MKV, TS/MTS/M2TS, WMV, MPEG, and WEBM. You can choose the format that best suits you or your device manually.
The application lets you save your preferred settings so that you will not need to grapple through the settings each time you want to convert your videos.


The Features that make it special

Well, WonderFox DVD Video Converter has everything that you would expect in a word class video converter. Let us go through a few features to get a clear understanding of the all powerful video conversion tool.
Some of the features we liked the most can be summed up as
Backing up your DVDs easily on your PC or laptop.
The tool supports almost all popular file formats.
You can also use it for conversion needs in audio files as well.
It can double up as your video downloader tool as well. It lets you download videos from many popular video sharing sites.
You can also make use of it to edit the videos you just created or downloaded.
In fact, it has been considered to be the best video ripper tool for your needs. The main functions of the software are DVD Backup, Video Editing, Video Conversion and Video Downloading. We will discuss each of these functions in a little more detail here.


DVD Backup

This is, in fact, the major function of the software. No matter whether your DVD has any issues, the software can take care of it.
You may have some issues with your DVDs. Some of the common errors can be Data cannot be read, cannot find the right title and other such error messages. You just need to click on Load DVDbutton and WonderFox DVD Converter handles the rest of the task.
The software is capable of backing up the scratched discs; You can easily back them up and convert the content to any of the formats like MP4, AVI or MKV. The tool supports copy protection removal. You can use any branded DVD from the likes of MGM, Paramount Pictures and 20th Century Fox. The copy protection on the discs will be removed.


Video and Audio Converter

The WonderFox DVD Video Converter offers you a multitude of output formats. File formats supported include AVI, MPG, MKV, MP4, WMV, MOV, TS, VOB, WebM, and Html5 video, MP3, AC3, AAC, and FLAC. We would hasten to add that this list is just representative and the software supports more than just those formats.



The ability for audio conversion can be an added advantage. And yes, if you are someone who has not much knowledge about the parameters like bit rate, resolution and those jargons - no worries. There are several presets you can choose for the optimum conversion process.


Video Downloader

WonderFox DVD Video Converter can double up as a video downloader for you. You can download videos from sites like Twitter, Facebook, and YouTube with ease. You do not need to go through any complicated procedure for it. Just paste the video link in the space provided for the purpose. The tool will take care of the download process.



Video Editor

This is yet another feature that completes WonderFox DVD Video Converter in being labeled as the One Stop Solution for all your video needs. You have some simple video editing tools that can be utilised to make your video more interesting.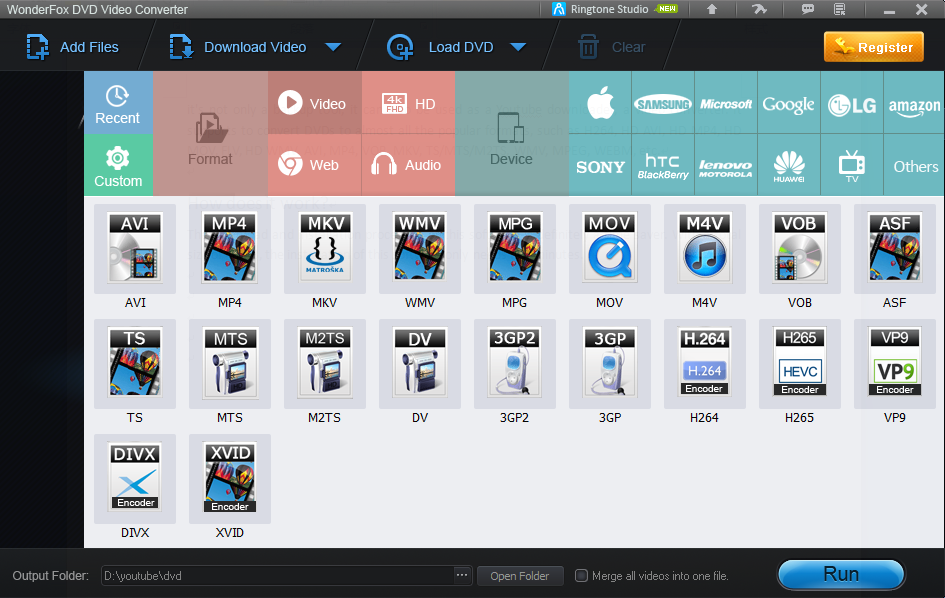 If you think your video contains certain unwanted portions, you can remove them. You can also add new subtitles or edit the existing ones. You can also add different videos together to form a composite video. The video editor also lets you change the video parameters like bit rate, resolution, and other settings.

Some of the other features apart from the ones we mentioned here, some of the other features worth mentioning would be
Specialised Decryption - You can decrypt any of your encrypted discs with ease. Some of the supported encryption technologies include Cinavia Protection, CSS, region code, RCE, Sony ArccOS, UOPs, and Disney X-project DRM.
Ringtone Maker - WonderFox DVD Video Converter lets you create unique ringtones from your videos.
Video Enhancement - The software has some special effects you can apply to your videos. Some of the special effects supported are Mosaic, Blur, Sharpen, Emboss, and Noise among others.


We are sure we have been able to incite an interest in you about the functionality of the application. If you think you should give it a try (in fact, we would want you to), you can visit www.videoconverterfactory.com/dvd-video-converter.


The Final Thoughts

WonderFox DVD Video Converter is indeed a worthy video converter for your needs. If you are facing issues in backing up your videos or converting them - this would be the perfect choice for all your needs. We would welcome you to give it a try. Just go for the All In One Video Converter software and sort out all the issues you have been facing with respect to your videos.
Give it a try and share your views with us.