Wondershare Video Converter Ultimate - A Comprehensive Review

Videos speak more than the words and that is exactly why we prefer viewing videos more than the text. However, there are several video formats being used. That makes them a little tough to viewable on all devices. That is where the need for a video converter tool comes in handy. Wondershare Video Converter Ultimate is one such great software that perfectly does what it is expected to. Let us go through the features that this piece of software offers.


As we said before, videos are one of the most popular and capable modes of communicating your ideas. If you want to learn something new, you can do it better if you have a video on the topic. But, yes but they come in a huge number of formats. You can come across a video that is incompatible with your device. And if you have multiple devices, the issue is more aggravated. A video may be compatible with one device but may fail to load on another. That is what necessitates a good video converter. And we promise, your search ends with Wondershare Video Converter Ultimate.


Wondershare Video Converter Ultimate - What exactly is it?

Well, you might have by now understood what is Wondershare Video Converter Ultimate and what it does. Wondershare has been the pioneer in the field of Video tools. The new Video Converter Ultimate is a new software that intends to handle all your needs in videos and their conversion.





Though essentially built as a video converter tool, Wondershare Video Converter Ultimate also packs in other important features. You can use it convert your videos from any one format into another. The software allows you edit, convert and perform several other functions.

To make it simple, we can state that whatever you need to do - you can depend upon Wondeshare Video Converter Ultimate.Click here

If you want to check out how it works, do check out this video,





The Components

Wondershare has included multiple features within a single application, thereby making it the one-stop solution for all your video needs. Yes, the software offers multiple functionalities which include DVD Burner, Video Editor, Media Server, Video Downloads and what not, making it the real Ultimatewhen it comes to your needs.

Let us go through a few features one by one -

Video Converter
That is actually the major function area of the tool. It can convert virtually any format of video file into some other format. The tool supports a huge range of file formats. A representative list of file formats supported includes MP4, AVI, MKV, WMV, MPEG-2, DIVX, MOV, Xvid, 3GP, and HEVC.




The interface is quite easy to use. You do not need to go through any steep learning curve to be able to understand and use the software. What makes it one of the excellent options for your video conversions is its faster conversion rate.
And yes, we would hasten to add that the software can help you in audio conversion as well. You can convert audio files from among the different formats like MP3, WAV, ACC, OGG, FLAC, AC3, M4R, and AIFF.
Either video or audio, you can be assured of a high-quality of-of the output files no matter whichever file format you are converting the file into. Wondershare ensures that the original quality of your videos is preserved.

Video Downloader
Apart from helping you convert your videos, Wondershare Video Converter Ultimate also helps you download videos. The service supports more than 10,000 video sharing sites.
Some of the supported sites include Dailymotion, Hulu, Break, Metacafe, BlipTV, and Vimeo. That would mean you do not need any additional tool for downloading videos if you have installed Wondershare VCU on your laptop.
You can choose the quality of the video file while you are downloading it. The tool does integrate with your browser seamlessly and thus you can easily copy the link to your favorite video and download it in whichever format you would like to. And yes, you can download the video as an MP3 file. That would mean if you are interested only in the audio part of the video, Wondershare allows you do so. There is one more advantage associated with the software - if any site does not allow you to download videos, you can stream it from within the software and record it.

Video Editors
Maybe your videos need a little bit of editing. With Wondersahre Video Converter Ultimate, you can even do it with ease.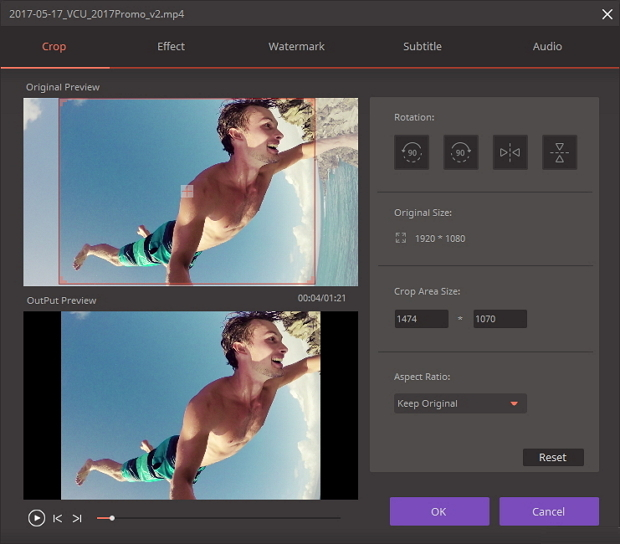 The video converter feature packs in a few advanced video editing features. In addition to the videos you just downloaded, the service can also be used to edit the videos that are already saved on your laptop, or PC. That would make it a standalone video editor application on your device.
The tool offers over fifteen different editing options. Apart from these editing features and filter, you can also use Wondershare VCU for changing a few parameters like contrast, brightness, and sharpness.


Some salient features that make VCU an excellent option?

Wondershare Video Converter Ultimate is a perfect choice for any of your needs in video conversions or other requirements. Apart from the basic functionalities outlined here above, it can also perform a few allied tasks as well. Some of the features that we fell in love with include
Use it to burn DVDs - You can easily burn your DVDs on Wondershare VCU. You can use it to burn your CDs or VCDs as well. There is no support for Blu-Ray disc as of now, but it is expected soon.
Video Streaming functionality - As we mentioned before, you can use VCU as a media server. That would mean the tool can be used as a streaming application for your videos. If you have ChromeCast, AppleTV or PS3 kind of devices, VCU can be your best option for video streaming.
Multiple site support - The video downloader option within the application supports over 10,000 sites. Isn't that proof enough to indicate that almost all your favorite video sharing sites are supported on Wondershare VCU? We would consider it the best feature ever.
Faster performance - Be it video conversion, video downloads or editing, VCU performs all the functions faster. Video Conversion speeds excel almost all the competing video converters.
The Final Thoughts

Wondershare Video Converter Ultimate is indeed your ultimate tool in any of your needs in videos. The huge number of formats supported by the tool makes it the best in its class. It supports as many as 150 file formats and that makes it the really ultimate option to go with.
If you want to check out the features of the app, you can opt for the trial version. Once you explore the options and features that the app offers you, you can go ahead and opt for the paid version. Have any of our readers used the app? If yes, we would look forward to your experiences with the best video converter software.