Top Five Screen Recorder Software tools in 2017

Screen recording, screen capturing is one of the most in demand task in the software world. If you want to explain the tasks your subordinates need to complete, they can be best explained through screen recordings. We will discuss the top five Screen Recorder Tools available for you in 2017.


Screen Recording plays a major role in most of our day to day tasks. It is one of the most widely used media to showcase your apps, games, and utilities. Why only that? Screen Recording is what would help you share your creativity and expertise in playing games like Angry Birds, or even Minecraft. This article will bring up the top five Screen Recording Software tools for the benefit of the creative lot out there who are looking for a perfect Screen Recording Tool for their needs.


What are the benefits of a Screen Recorder?

We are aware that videos are the best explainers. If you want to explain the tasks that your employees or accomplices need to complete, video tutorials are the best option. You can use videos to demonstrate the working of a software in a step by step manner. Screen recordings can also be used to record tips and tricks for the ready reference of working with a software or an app.
Screen Recordings can be an excellent media for showcasing the product reviews. You can also use a Screen Recording to gain tech support when you are suffering some recurring problem on your computer.


The Top Five Screen Recorder Software Tools

Well, there are several options when it comes to choosing a good Screen Recorder Tools. That makes it a tough choice to the best among the rest. Some of the features that a Screen Recorder Tool should have can be summed up as
It should be capable of the picture in picture capture.
Added functionality, like editing and annotating, will definitely be something you would look forward to.
A good Screen Recorder Software should be able to support multiple file formats.
Having said that, you should be careful enough while selecting a Screen Recorder Tool for your needs. The free offerings available will have watermarks which may make the videos look awkward. They will ask you for payment after a few initial videos if you want to continue using the service further.
To make the task of choosing the best screen recorder tool, we present our list of top five screen recorder tools.


EZVID

EZVID is indeed the best free screen capture tool for all your needs. What makes it the prime choice is the fact that it can be used to record videos and upload them to YouTube quite instantly.




One of the advantages that EZVID has is it comes with a built-in video editor. The tool has a simple to use interface. It would be interesting to note that the interface has a Windows Movie Maker kind of look, wherein you can cut and add up pieces of videos together. Moreover, you can also add your own text and images if you so wish.
The software also has some additional features. It lets you add distortion effects to the audio on the recording. You can also add text to speech functionality and an option to add music to the video file. However, there are some points that may disappoint you. One of them being that it has no export option. You can only upload it to YouTube due to some copyright issues. It needs around 10 GB of hard drive space and can be a concern for the older machines, though.
Get to know more about the tool on www.ezvid.com.


TinyTake

What EZVID lacks, TinyTake has it. It is yet another screen recorder software you can rely upon. It claims to be the best screen recorder tool.



There is a catch though - it can capture your desktop footage and even the webcam action, but there is no support for in-game action recording. Though the official site claims it to be free, the free version offers you just five minutes of recording each time. If you are YouTubing, it should be enough for you.
TinyTake offers you GB of cloud storage on its servers for free. The tool quite feature rich and offers a lot of functionality, but most of the extra features are available only on the paid version. The built-in video viewer is best optimised for mobiles. You can also use the graphics from your hard drive and annotate the videos.
If you are interested, you may visit www.tinytake.com.


Camtasia

Well, Camtasia is the premium product we have included in our list. We can simply state that it has simplified the task of screen recording and made video recording everybody's task.



Apart from recording videos. the software also lets you import videos from any external source. In fact, you can use it to create interactive videos which can be used in cases like classrooms and workplaces. It is capable of recording multiple videos and audios. Animating the videos is one of the features that makes it a perfect choice for a high-end screen recording software.
Camtasia is well integrated with Google Drive. It does offer a free version so that you can record videos on mobiles and then transfer it to Camtasia.
You can get more information by visiting the official site at www.techsmith.com/camtasia.html.


Icecream Screen Recorder

From a premium service, we are back to another versatile free screen recorder tool. The tool from Icecream Apps has a complete support for Windows OS.



One of the best features that we liked with the tool is its ability to choose any area on the screen to capture an image or record a video. It has an easy to understand and simple to use interface so that even a novice can work with it. It offers you a wide choice of options and tools. It claims that it can be used for creating professional quality videos. Some of the noteworthy features are project history, screenshot to URL, and the hotkey support.
You can add or draw lines and arrows (and even text) to your videos. The tool lets you record the screen simultaneously with the webcam recording. There is also a timer feature that would help you set different screen captures. But, yes - the free version has a few limitations. You can record only 10 minutes each time. It supports WEBM file format on the free version.
For more information, you can log on to http://icecreamapps.com/Screen-Recorder.


CamStudio

CamStudio is the most popular screen recorder tool known for its widespread usage. It is an open source free tool.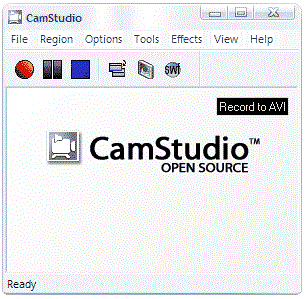 It can be used to create AVI videos from all the content from the audio and video on your screen. The software has an easy learning curve. The official website claims that you can learn it within a few minutes. The final video created is smaller in size, but offers great quality.
The built-in help files on the software are highly informative. The software does not boast of any extra features, but the features it offers are completely useful. You can add up to screen captions to your videos. It can record webcam videos along with along with screen recording. The service is completely free to use.
If you want to know more, you may visit the site at http://camstudio.org.


The Final Thoughts

That would conclude our top five list of the best Screen recorder software tools. In fact, the Screen Recorder Software Tools are what you would need no matter whether you are a teacher, software developer, or even a blogger. If you are into writing reviews or creating tutorials - having a good Screen Recorder will definitely be helpful in your endeavors. We assume our top five list would be helpful for you.
If you have used any of the tools featured in this list, do share your experiences with us. If you think we have missed any of the apps that are worhty of being in this list, we would welcome your suggestions to include them.