Shopmatic Go - An app for making you an online seller

Getting into an online business is not an easy task. You can register as a seller on Amazon, or EBay. However, if you have some handmade items on sale - there are some platforms for the purpose as well. We have a great platform if you want to sell something unique. Shopmatic Go is a great tool that lets you have your own online presence.


Online presence is a huge point in the direction of becoming a successful seller. Yes, if you have business acumen, you can always register yourself as a seller on well-known E-Commerce sites like Amazon, Flipkart or SnapDeal. But with these sites, you run the risk of being an also-ran.
If you have something unique to offer to your customers, and do not want to be one among the many - we have a couple of good market places. You will get a unique presence across the online world with those select apps. Shopify, Telr and Shopo can be some good examples. Shopomatic, a Singapore based E Commerce firm, has launched a new mobile app for making you a successful online seller. Shopmatic Go is a new app from the E Commerce chain that lets you create your own website on which you can sell your products quite easily. Instead of being on the sites like Amazon and the like, you can create your own website in just under two minutes.


What is Shopmatic Go?

Shopmatic Go is a free mobile app that has been put in place by Shopmatic. It is a tool to make your business online in just a couple of minutes. The name Go in itself indicates that you can create your personal website to sell your products online - On The Go.




Shopmatic Go will let you take pictures of your products, enable the payment gateways and sell your products in just under a couple of minutes. The app basically lets you sell your products by sharing your products online through your social profiles.
Shopmatic - in fact, has a full blown services for the startups and bigger corporates. But, Shopmatic Go is an initiative that aims to provide a better platform to the smaller sellers. Says Anurag Avula, CEO of Shopmatic
"We are signing up a lot of people who are bringing their own original products to the market - we don't have a lot of mobile phone stores and other commoditised products on the platform."

The Shopmatic Go is a mobile app that looks ahead to become an app meant for first time entrepreneurs and amateur manufacturers. It aims to be a mobile first initiative.


How does it work?

Well, the platform is primarily meant for the millions of informal sellers. The regular E Commerce sites, your business needs to be formally registered with the competent authorities. Shopmatic Go does not need that sort of prerequisite.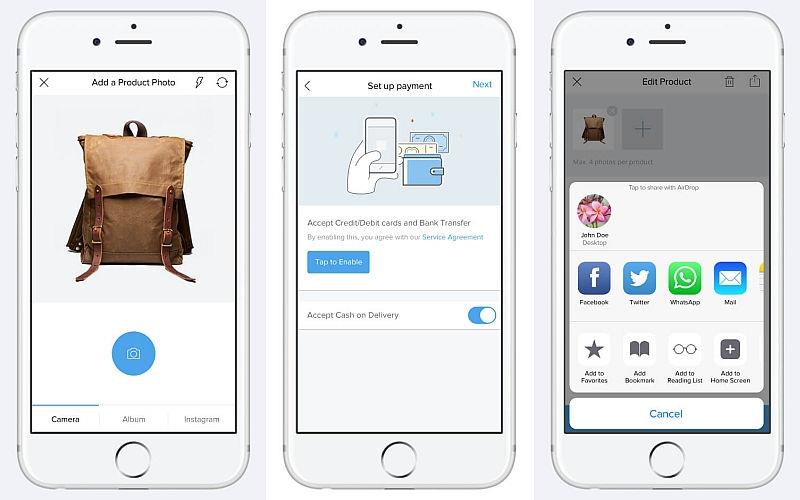 Shopmatic Go works on the principle of community. It would be comparable to what we normally do when we have something to sell. We contact the prospective buyers through social media or such community forums. Further communication continues through E-Mail or phone calls. Once the deal is settled, you settle down for the payment through the Cash On Delivery mode, or may share your bank details for the amount to be transferred. Shopmatic Go has all these concepts properly streamlined and adds a payment gateway to the process.
What makes it still more of a good option is that the service is free - at least as of now. You may need to pay the payment gateway fees. None of the services are charged. You just need to click a photograph of your product, and upload it to the product page. You can choose an image from your gallery as well. Provide your product details and pricing. Review your details and publish your online store. Now begin sharing your product details via social media, or Email.


What are the advantages of Shopmatic Go?

The app allows the millions of offline sellers to digitise their products and services. You can sell anything - a product, a service, or a unique product that you have developed.
Aurag Avula aptly puts it as a "support for the digital India campaign". Riding on the highest degree of mobile penetration in India, Shopmatic has plans to make the online marketplace easily accessible to those offline vendors who had plans to go digital, but were unaware of how to do it.
Shopmatic Go will give an opportunity for the local vendor to reach the national audience with ease. A carpenter in Kolkata will be able to sell its artifacts to a buyer in Bengaluru. That would, in fact, be a big impetus for the vendors to reach the prospective buyers with ease.
Shopmatic has tied up with different online payment portals like PayPal, Citrus among others. There are partnerships to aid you in getting your product delivered through courier partners like Aramex.


Who can benefit from the initiative?

The app is best suited for those vendors who are still growing. It can be a boon for the budding talents and developing businesses. Some communities that can benefit from Shopmatic Go can be
Hobbyists - Most of us have one or the other hobbies. We have hidden talents spread across the length and breadth of the nation. They can monetise their hobbies, and eventually turn it into a flourishing business.
A secondary Income - You can take help from Shopmatic Go to develop a secondary income making use of your hidden talent.
Existing Businesses - The existing businesses can take their business to online space with the aid of Shopmatic Go. That way you can cater to an audience beyond your geographical boundaries.
A testing Ground - If you have developed a new product, Shopmatic Go can be a good platform to test it for consumer reactions. That would let you gauge customer requirements before going for the formal launch.
A few features that set it apart

Simple website design
Shopmatic offers you a hassle free website created within a few minutes. You only need to choose a couple of design blocks and put your website together. No need to have any expertise in website building.

Multiple payment modes
With Shopmatic Go, you can make use of a payment option that best suits you. You can choose among Cash On Delivery, Card payments, Bank transfers, or even international transfers.

Efficient background integration
Shopmatic provides you an easy to go back end integration. You just need to take care running your online business. No more worries about the fussy management of the back end processes.

Multiple device compatibility
Once you set up your online store, you need not worry about having to set it up for multiple platforms. Your store will be accessible across multiple devices and platforms. Seamless cross platform integration will let you run your business from any device.


The parting thoughts

We would assume it to be a once in a lifetime option. Shopmatic Go can help you make your dreams come true without the need for statutory registrations and other such requirements for running a business. It will go a long way in getting your local business to greater heights. Moreover, the app is free. Why not give it a try if it can make you a successful online vendor? If you are good at some art, do put your masterpieces across the online audience and get benefited. Share your views and opinions with us.