5 Best Battery saving apps for Android

Is your mobile battery draining fast and you always need to carry a bulky power bank with you? Well you can be free from this hazard for a couple of times, if you try these Battery saving apps.


Saving your Battery
With the ever increasing load of usage in our phones, the battery drains out every day, and we either need to carry a Power Bank or need to plug it on for charging whenever we get a chance, and all these are quite hazardous for our battery life. To cut short these headaches and to give a you an extra shot of battery life, now there are apps for your specific phones of different OS. As an Android user, I was looking out for one such app that can save me in bad times, especially when I am on the move and not carrying around a power bank or even can be near a charging point within a couple of hours. And I found some awesome apps that were claiming to solve this problem in a gunshot. Here's a list of these apps which were competing each other with their exclusive features and assurance. Check them out if you get a pick for yourself.

1. Greenify
Greenify is a free battery saver app for Android that is listed in the Google Play Store. The app is functional in identifying every power consuming app that is stored in your device. Once the task of identification is complete, then the app sends them into hibernation. In this way, Greenify stops these apps from eating up the battery as well as protects your device from slowing down.
To make use of Greenify, one need not root the Android device, but if the device has already been rooted then it would be working as an added advantage for the app and would definitely deliver better performance.

Features at a Glance
In Greenify one can keep using the Greenified apps as usual and share content with it. There is no need to freeze it or de-freeze it to make it working.


There is no "Autostarts", so there is no risk of getting trapped into obscure app components, and you need not fear of losing any functionality while the app is running or active.


There is no "XXX Task Killer", so there is not even a remote chance of any stealthy-running app and their aggressive battery killing activity that itself would consume more battery power.
2. Yellow Battery
Yellow battery is yet another battery-saving app that has been specially crafted to optimize the battery life and to last it longer than usual and extend its usage by 50% or more after an extensive use.

Features at a Glance
The app has an optimized algorithm supporting it, in order to display standby time and analyze battery usage time at once even when your phone is performing various tasks.


The app gives the user an accurate suggestion of how to use the phone during making a Call, watching videos, working with Wi-Fi and Bluetooth etc. and it also gives an estimation of how much time they should take.


There is an option to choose the pre-set mode that has an automatic way to save the battery power for a long stretch of time. One can even customize the battery mode as per requirement.


The Fast optimization feature is specially included to save power with ease in a responsive manner. This is a functionality that is able to provide a fast relief to the phone when there is any activity that needs high power consumption and even time span so that one does not have to keep an extra careful eye on the drainage of battery.


The Deep optimization feature is there to save power, in a more effective manner than that of those one tap optimization and as a result the effect of this feature is long lasting.


The app has the functionality of analyzing the battery that keeps changing through time and then display the power-consuming apps by ranking them on the basis of the amount of battery they suck. Through this app it is easy to monitor the battery usage along with a time record and it would kill all the unnecessary apps that are running in the background and that consumes a large amount of battery juice.


You get information related to the phone battery. This information would be listed together in one page to display a quick overview of the device's battery property like the brand, the technology, its capacity and so on.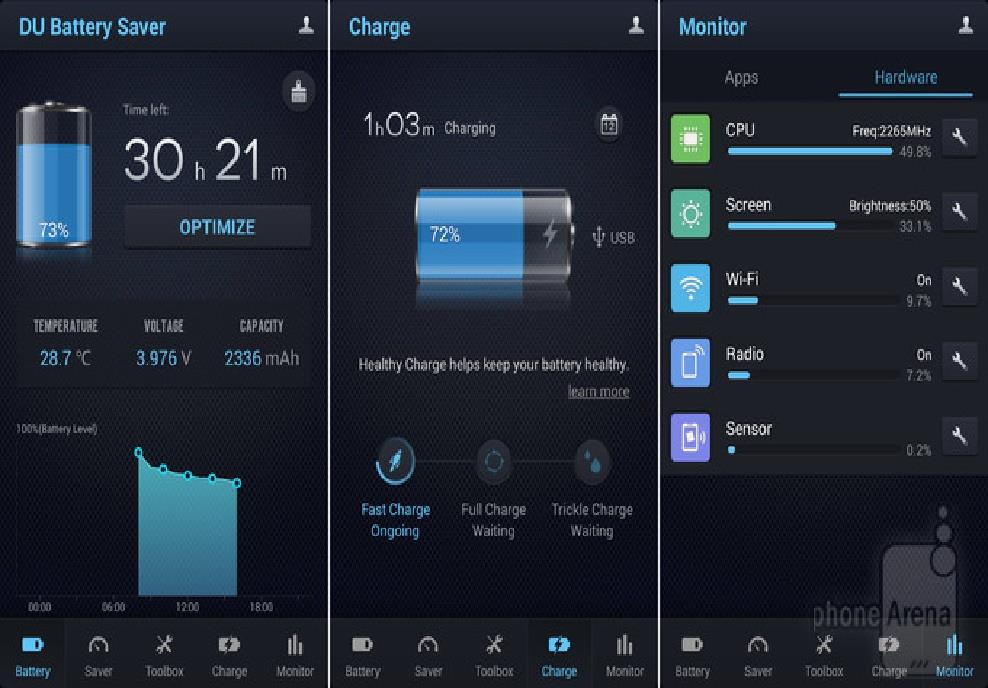 3. DU Battery Saver
DU Battery Saver is among those free battery saving apps which are efficient in making your battery long lasting and gives a 50% or more battery life for any Android device.

Features at a Glance



The app is geared up with an array of smart features like one-touch controls, preset battery power management modes and healthy battery charger stage that can easily solve all the battery related problems while extending the battery life.


There is a "cool down" feature in the DU app that works automatically following a systematic methodology of monitoring-managing-disabling the CPU-intensive apps to reduce the phone temperature and bring it down into a safer level while protecting the hardware parts of the device.
4. Battery Doctor
As one of the most popular Battery Saver App, Battery Doctor is performing better than many in reducing the drainage of battery by a constant killing of power consuming apps when they are not in use. There are even more that this app has to offer apart from its highlighted "one tap power saving" feature.

Features at a Glance


There is a one tap Power Saver Shortcut


Kills power consuming apps while the screen is off


Accurate display of remaining battery and charging time


You can Schedule the power saving modes


There is a 3 Stage Charging System


Toggle between Data/Wi-Fi/Bluetooth at your convenience


Control for Brightness and displays Battery temperature
5. Avast Battery Saver
Avast Battery Saver is from the Avast Antivirus house and they have provided all the major features in their new battery saver app that helps extend the battery life of any Android device simply by stopping the power consuming apps while they are not in use and then it goes on optimizing your device settings each time you put it on its battery boosting task.

Features at a Glance
There are five profiles to choose, Home, Work, Smart, Night, and Emergency.


The adaptive Smart Profile is to let the app adjust your phone's settings that goes at par with your general phone usage.


One can choose to receive alerts if they need to choose a different profile based on the recent activity and to commensurate the battery level.
The Verdict
Among the above listed apps I found the first one. i.e., Greenify to be working best for me. It is also an app that has earned a five star rating in almost every survey that has been taken so far. At the same time I found the other apps to be quite useful but some of them like Yellow Battery is yet to adapt some latest feature to list themselves in the first row of recommendation.