Why you should go for a smartphone with Corning® Gorilla® Glass

Until my recent visit to Corning in USA, Gorilla glass was just another smartphone screen for me. I have shared some of my experience in their Labs which demonstrates the rigourous quality tests behind the durable Gorilla Glass that protects several premium devices.


You walk out of a mobile phone store with a brand new phone in your hand and even before you could take a good look at it, you accidently drop it and now all you can do is gawk at the million reflections of your face on the shattered screen. As humans, we're bound to make mistakes, and clumsiness is just a part of being human. However, often the price we have to pay for this seemingly trivial flaw is too high – especially in the case of our electronic gadgets. This is exactly why Corning developed its first version of damage-resistant and durable Gorilla® Glass back in 2007. Gorilla® Glass 5 is the latest Gorilla® Glass, and has the ability to survive drops onto rough surfaces from 1.6 meters high 80% of the time. Corning® Gorilla® Glass has been used on 4.5 billion devices worldwide for obvious reasons. This stands as testament to the efficacy of the product and its superiority in comparison to similar ones in the market.


Why should you go for a phone with Gorilla® Glass?

One of the primary reasons why people buy new phones is that they broke the cover glass of their previous phone. I myself recently broke a phone last month, which had soda-lime glass. Since then, I started paying attention to the quality of glass during my research when buying a new smartphone.

Recently, I was invited by Corning to visit their labs and experience their manufacturing process. I was amazed to see the level of testing that is conducted in their labs for the best quality assurance. I had the opportunity to go through their lab and first had experience some of the tests used before the glass is moved to production.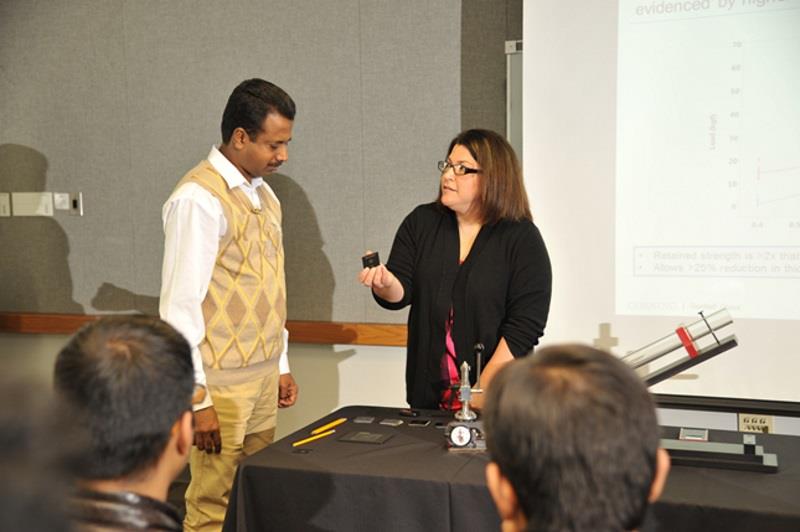 Taking a closer look at the differences between Gorilla Glass and other regular glasses

As stated earlier, Corning addresses real-world problems, and a dedicated team of scientists was assigned with a task of paramount importance – 'to recreate real-life situations'. It was found through research that approximately 70% of failed cover glasses were caused by drops on rough surfaces. The next challenge was to identify and simulate similar surfaces in the lab and test materials against those surfaces. Having done that, the scientists then concentrated their effort on finding cost-effective materials that could withstand a fall on such surfaces.



Taking a closer look at the Gorilla Glass

Gorilla® Glass 4 was an outcome of extensive research and rigorous tests on the toughest of surfaces. It survives up to 80% of the time when dropped from up to one meter on a rough surface, Corning has long been committed to helping OEMs achieve damage resistance while also supporting light-weight, thin device designs and superior optical clarity. And Corning has just recently announced Gorilla Glass 5, which raises the bar on toughness, able to survive drops onto rough surfaces from 1.6 meters up to 80% of the time.


Ball drop is one of many tests performed in the research labs at Corning to test the durability of Gorilla® Glass

Flex test is another type of test Corning performs in their research labs. While glass is generally thought of as unbendable without breaking, Corning's technologies allow it to bend a good degree without breaking.

Many of us keep our phones in our jean pockets or handbags along with other objects. An ordinary glass can easily get scratched, which would affect the display over a period of time. Gorilla® Glass has been made with superb damage resistance. In one of the tests, Corning showed us how they kept a phone with multiple sharp objects in a tumbler and shook it to represent an extended period of field use. The glass was nearly as shiny as before they removed it.


In one of the tests, Corning demonstrated how the Gorilla® Glass can resist damage even when placed with a bunch of sharp objects.
Why I would go for Gorilla® Glass?
It's better to be safe than sorry – we are all clumsy in our own way, and when our entire world from work to entertainment runs on our electronic gadgets, I feel better having Gorilla Glass.


We are always on the run, and sometimes our phones will have to share our jean's pockets with items such as car keys. We can't always be conscious of what is kept where, so it is only logical to use a phone with Gorilla® Glass so that you can worry less.


Even with all the reinforcements in toughness and durability, Gorilla Glass still has exceptional optical clarity, which is definitely a huge boost.

More and more phones are choosing Gorilla® Glass for their device cover glass. And it is for a reason – consumers are getting increasingly cautious about the display of their devices, and they don't want to keep buying new devices just because they accidentally dropped or scratched their expensive gadget.