Zoho Notebook App review - The New Note taking app

Zoho, a Chennai based software firm has come up with a new Note Taking app. Released both for Android and iOS, the app looks quite promising. The following article is an attempt at bringing forth the finer nuances of the app.


Taking notes on the go is something we always have been in need of. There are many apps out there that promise to do that. Zoho is one of such software firm that has been into and known for its range of Office Suits. After the success of Zoho Vault, they have come up with a brand new app for your Note Taking needs.

Zoho NoteBookis a free note taking app available for both Android and iOS operating systems. In case you have been using the other Note Taking apps like Google Keep, you would definitely feel at home with the new offering from Zoho.


What Is Zoho Notebook?

Well, as stated before and as the name itself indicates - Zoho Notebook is a simple note taking app. The startup should be hailed for venturing into the sphere already crowded with the likes of Google Keep (which has been quite popular of late) and EverNote.

The app has already received rave reviews on different platforms. It has been appreciated for simple and intuitive user interface. The app can record your notes in the form of text, video, audio and document to name just a few. One of the best features it offers you is the ability to create a dedicated checklist card.


Design and Interface

The interface is really slick and clean. And simplest at that. You can create different types of notes with the app. We attempted to create a few notes ourselves and found it quite easy to do it.

The first screen that would launch after installing the app would be different covers that the app has on offer. The covers are indeed beautiful enough. The basic idea is to have a Notebooks for each of the category you would wish to create, with a distinct cover for each of them - almost akin to the physical notebooks we used to keep in the days gone by.




Once that done, you will be taken to the screen to configure and save your Notes - these are called Notecards in Zoho Notebook. The cards available are Text Card, Checklist Card, Audio Card and Photo Card. You can use the inbuilt tutorial to get used to the app and its features.




You can create a Zoho account if you wish. It can be done by linking it with Facebook or Google account. Creating a Zoho account will let you sync your notes across multiple devices. The note will get automatically synced to the cloud.


Performance

We used the app for a couple of days. The app does work quite efficiently. We just loved the simplicity and ease of use it offers you. Even if you are new to the note taking, you will definitely get used to it faster.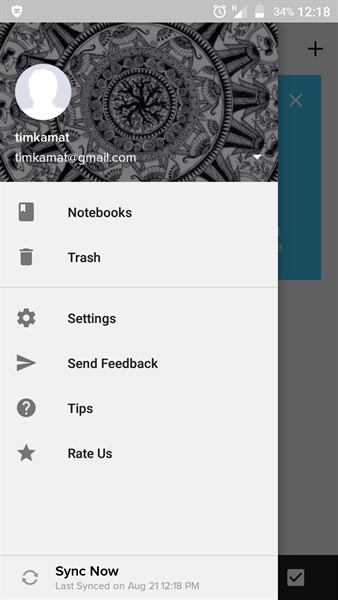 There is a little flaw though. Zoho Notebook will group each type of note as separate from one another. That would mean if you create an audio note, you will not be able to add text to it. It goes same with all types of notes. There is no interoperability between different types of notes. We hope to see the issue being resolved in the future updates to the app. Being unable to attach multimedia files as an attachment to your notes can be an impediment - especially when you are used to the competing apps like EverNote.


Special features of the app

The Zoho Notebook can double up as a journal if you want to use it as a diary. However, that does not mean the app is meant for high end users. It can be used effectively as a simple note taking app as well. The audio notes feature can be used in an effective way by the professional from the press and journalists. The ability to get the notes synced to the cloud makes it the best option when it comes to losing the notes inadvertently.

There is no web client and that would make you access the app on mobile device alone. That could be an issue though. Zoho has stated that the web based client is about to soon. The official website indicates that the web based client is under development.

The noteworthy feature of Zoho Notebook is it lets you create notes quite instantly without the need to fiddle through multiple settings. The ability to sync across devices is another added advantage. You would be able to create a note on one device and add further details to it on another device.

There are a couple of gestures supported on the app. Pinching will group your notes into a stack. Folding your note cards like an accordion is also possible with a simple gesture control. The gesture support makes it quite convenient to take notes.

There are a lot of customisation options available. You can change the look and appearance of your note cards and create a specific cover of your choice to suit your preferences.


Any bugs

The app does sync and saves your data to the cloud quite seamlessly. However, there were some reports to indicate that the sync is not instant across Android and iOS devices.

Gesture control lets you group your notes in stacks as stated above. But there is no tutorial to show how to ungroup them. The help section appears to need an overhaul. Grouping and sorting of note cards needs improvement. As of now, we do not seem to be able to sort the note cards on the basis of date.

Lack of a web version is a big issue. The audio notes or recordings you make are better accessible on a desktop than the smaller mobile screen. If you need to edit the recordings, it may not be convenient to do it on the device itself. However, Zoho has assured that the web client will be coming soon.


In conclusion

The Zoho Notebook is promising with its features. However, it does leave a lot to be desired. The app looks a little pale in comparison to the tougher competition like EverNote or One Note. However, the app is quite new. There is plenty of scope for improvement. We would love to look for the updates and are sure that most of the issues would be resolved. Moreover, the Zoho Notebook is free to download and use. So, are you using the app? Do share your opinion here.