Best food apps for the recipe specialist in you

If you are one of those who love cooking, you must be aware how helpful the recipe apps can be to you. Especially for those who are stuck with their office responsibilities, they are indeed a blessing. This article attempts a sneak peak into what could be a rewarding experience with your kitchen.


We have an app for every need these days. It should not be a surprise to find some good apps to help the cook in you. Many of them are not fit to be termed useful apps. However, there are a few which are really useful. We have listed the apps that you would normally be using. If you have kids who regularly complain about the food, these apps will be your saving grace.


#1. Grofers
Well, you plan to cook something special. And realise that a few ingredients are missing. That's exactly where an app like Grofers comes into the picture.




Grofers is an online grocery delivery service. The reason we have mentioned here - even when there are plenty of such apps are available - is quite simple. The service has its presence across all major cities in India. Besides, they have a prompt delivery schedule. You can get your groceries in just a couple of hours. So, you are free to plan a special dish at the spur of the moment without worrying about whether you have ingredients or not.

The app covers most of the major cities and is available in Delhi, Gurgaon, Mumbai, Bangalore, Kolkata, Noida, Pune, Ahmedabad, Chennai, Hyderabad, Jaipur, Lucknow, Surat, Chandigarh, Kanpur, Agra, Indore, Nagpur and Vadodara. Deliveries are prompt and you can get them within a few hours time. You can even schedule deliveries to a specific time as per your convenience.

The products catalogue is indeed quite wide spread. The app has tied up with all major retailers like Reliance Fresh, Sahakari Bhandar, Apollo Pharmacy and Nature's Basket to name a few. Sweet retailers on board include Haldirams and Om Sweets among others. The app also has tied up with many manufacturers like Patanjali, Nestle, Dabur and Ashirvaad.

The app lets you get Grofers Cash which are refunds which can be used for the next purchase. You can make payments through multiple channels like Credit/Debit cards, Netbanking, Wallets (like PayTM, PayUMoney etc.) or can even opt for Cash on Delivery.

The app is available both an Android and iOS.


#2. InnerChef
This app is for those who are not experts in cooking. Maybe the expert cooks will treat this one as equivalent to cheating. It is helpful if you want to impress your guests with your (so called) culinary skills but are not good at cooking.




InnerChef is for those who love cooking, but are not comfortable with the hassles of cooking. The company calls its preparations a 15 Minute Meal. The meals are ready to cook. That does not mean the food is frozen. What you get in the package is the washed and prepared food ingredients along with the dressings. The app provides you a simple to follow recipe. The end result is a delicious meal that you have "cooked" yourself.

The menu is not wide spread. And that would be understandable as not many items can possibly be cooked within 15 minutes. The range of food items include Breakfast, Salads, Main Courses. Desserts and Cakes among others.

The service currently covers Gurgaon, South Delhi, Bangalore, Noida and Chennai. More cities are likely to be added to the list soon. Payments can be made by cards, netbanking or cash on delivery. The delivery schedule is between 11 am and 11 pm.

You can get this app both on Android and iOS.


#3. AllRecipes Dinner Spinner
This is one of the apps that promises ease of use and also provides variety unlike the other apps featured above.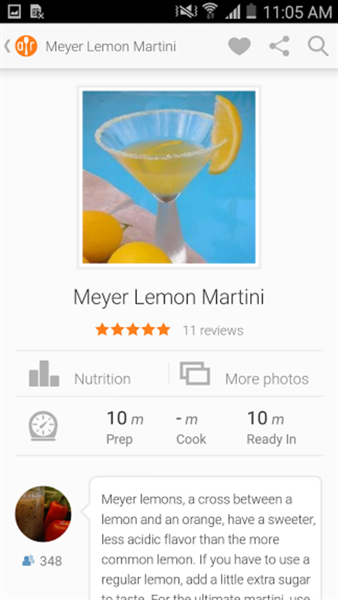 The AllRecipes Dinner Spinner offers you suggestions based on the ingredients you have with you right now. That means, you can just feed in the ingredients you have with you within the app and it lets you bring together all those ingredients to choose a perfect menu.

The recipes in the app are crowdsourced in a sense. The AllRecipes Dinner Spinner has a community of over 11 million cooks. The recipes include ratings and images as well. The app provides over 1000 videos of step by step instructions.

You can search for the recipes based on the season. The seasonal recipes change on a daily basis. The app is intelligent enough to identify the items on sale at your nearest store and will suggest food items based on those items. And yes, you can share your own recipes as well.

The app is available for free download both on Android and iOS. Do not forget to like or submit reviews for the recipes you like.


#4. Paprika Recipe Manager
Paprika is the most popular recipe manager available on smartphones. Available on multiple platforms, the app lets you access your account and your favourite recipes on any device you are on.

Paprika has multiple features. It comes with a unique in app browser. You can search for any recipe of your choice from websites. You can plan your dishes and meals well in advance, in fact, the app lets you plan your recipes for the whole week or even a month.

The app is sold separately on each platform/device. You can use the Paprika Cloud Sync service across devices. Please note that the Cloud service is free to use. Paprika also allows you to submit your own custom recipes. You can also get to know the nutritional information of the recipes you choose for your meal.


5. Escoffier Cook's Companion
This is a unique app in itself. It has no recipes, but aims to teach you on the ways to handle your kitchen.

If you are one of those who are entering the kitchen, Escoffier Cook's Companion is a perfect companion in the real sense of the word. The app works wonderfully to make you an expert chef. It has many sections within - a glossary of kitchen terms, programmable kitchen timers, a list of ingredients and measurement conversions.

One of the best features that we loved on this app are the timers. You can set different timers for various kitchen countdown tasks. The timers do run in the background. The measurement system, however, lacks accuracy. The developers have stated that they are aware of the issues in some measurements and the same will be resolved.

The equipment compendium lets you learn more about the kitchen tools and how to use them. In short, the app has almost everything that a newbie to cooking needs. It will guide you on how to store ingredients and why are they used in a particular recipe.

One sad part, however, is that the app is only available on iOS. We just hope it will come on Android as well - though there are lesser chances of it.


And in conclusion...
Well, that should be the ultimate list. Maybe you have your own choice of better apps that meet your needs. Even YouTube can be a good tutor to make you an expert cook. You can learn the best techniques possible for a regular day to day kitchen task. We egg on our readers to share their own favourite apps here so that we may explore more ways on the path to become a cooking expert whom everyone adores.