Top five hybrid laptops to buy in 2016

Hybrid laptops are those special breeds of laptops that can work both as Laptop and tablet. Also known as two in one laptops, these use convertible technology to be able to be used as dual devices. Though there are not many hybrid laptops available as of now, we can expect more of them with the launch of Windows 10. Let us go through a few good 2 in 1 laptops in this article.


The 2 in 1 laptops let you use them either as a tablet, or a laptop. There are different technologies used for the purpose. Some of them employ the detachable design where the touch screen itself doubles up as a tablet. There are a few designs that follow a convertible style wherein a 360 degree rotation of the hinge is used. Now with the launch of Windows 10 which is primarily focused for the touchscreen devices, we can expect more of such hybrid laptops. Let us find the best two in one laptops you can buy in 2016.


#1. Lenovo Yoga 900
Yoga 900 from Lenovo is a complete package when it comes to convertible laptops. It seems to have listened to issues reported in the previous devices like Lenovo Yoga Pro 3 and made necessary improvements.




Powered by Intel Core i7 processor at 2.5 GHz, it has Intel HD Graphics 520 for taking care of your graphics needs. The 13.3 inch QHD display assures vivid colors. 16 GB RAM ensures best multitasking experience you can ever imagine. The convertible has two USB type A ports and a USB type C port. All three USB ports are USB 3.0 compatible.
The Yoga 900 performs well without any lags. However, there are issues with Intel Graphics drivers and Windows 10. However, it is not a fault with Lenovo – you better need to know that the issue exists.

Price and availability
The Yoga 900 convertible is available exclusively at Croma stores at Rs. 1,022,090. Lenovo has brought up a Champagne Gold color variant.


#2. HP Spectre X360
It is one of the best looking and powerful devices from HP. Good battery life and solid build are a few of its unique features.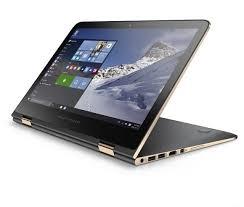 The hybrid laptop is bestowed with a great all aluminum design. The performance is quite satisfactory. The device is powered by Intel Core i5-5200 dual core processor. The laptop comes with 8 GB RAM. The price is indeed a good deal.
The laptop weighs a little too much. Also the track pad is a bit wider. It is a little too hefty for the tablet use.

Price and availability
The convertible from HP is priced at Rs. 124,998 on Flipkart. You will need to pay an additional Rs.300 towards delivery charges.


#3. Microsoft Surface Book
It can be treated as the best ever thinnest and powerful Windows 10 laptop. The design is the best when it comes to the convertible laptops.




The Surface Book is powered by either Intel i5 or i7 processors. The onboard RAM is 8 GB coupled with 128 GB internal storage. There are different variants with storage options ranging up to 1 TB. The hybrid laptop from Microsoft is equipped with two USB 3.0 ports along with a memory card reader.
The device has a futuristic design. However, there are a few shortcomings which may disappoint the fans. Battery life is not much in tune with the expectations. And then there are the usual Windows 10 confusion still prevalent.

Price and availability
Pricing in India has still not been made available. However, the laptop is available on EBay India for around Rs. 1,30,000 to 1,40,000.


#4. HP Pavilion x2
The HP Pavilion X2 is one of the cheapest Windows 10 convertible. It is the smallest convertible at a screen size of 10.0 inch.




Powered by Intel Atom processor at 1.33 GHz, the 2-in -1 from HP has been released in time for the Windows 10 release. It sports 2 GB of RAM coupled with 32 GB eMMC internal storage. The HD display is efficient enough for the day to day functioning.
Completely made of plastic, the laptop feels quite sturdy and durable. In spite of being a smaller sized unit, the convertible has powerful speakers from Bang & Olufsen.
Having just an HD resolution can be annoying when it comes to streaming HD videos and high resolution images. But given the price at which the laptop has been made available, that should not be a concern. The lower memory can be concern as the operating system tends to be resource hungry.

Price and availability
The hybrid laptop HP Pavilion X2 is priced according to the processor it has employed. The price ranges from Rs. 29000 to Rs. 50000 across different e-commerce sites.


#5. Toshiba Satellite Radius 15
The hybrid laptop from Toshiba is a real treat when it comes to pricing and hardware. The 4K (UHD) capability makes it unique among the competing devices.




The design language is impressive with its thinner and smaller in size. Powered by Intel Core i7 processor at 2.4 GHz clock speed. 12 GB onboard RAM coupled with 512 GB internal storage makes it a good choice.
The laptop is truly lightweight as it is needed – being a convertible. The device promises you a battery backup of about 8 hours. The design is ergonomic and thus makes it comfortable to handle.

Price and availability
Pricing for Indian markets is not currently available. The device went on sale in US in the fourth quarter of 2015.


In conclusion
Convertible laptops are good options when you want the best of both worlds. It depends on how much you want to spend and what you plan to get. The convertible laptops featured above should be enough for all your needs. But still, if you find any other hybrid laptops worth to be in the list, you may respond accordingly in the comments below.